April 7
When God Doesn't Intervene
"Now Jesus loved Martha, and her sister, and Lazarus.  When therefore He heard that he was sick, He stayed then  two days longer in the place where He was."
John 11:5 & 6
They loved the Lord and He loved them, this they were sure of, so when their brother Lazarus fell seriously ill they sent word to Jesus.  Their words were few; "he whom You love is sick."   It was Jesus' love for Lazarus, not his love for the Lord that they were calling upon.  Martha and Mary understood that this is where a person's worth comes from; His love for us, not our love for Him.  They were banking on the Lord's love for Lazarus, believing that His love would give the healing their heart so desperately desired.  What heartache when He didn't come.   They did not understand.  Did He not realize how sick Lazarus was?  Why did He not come right away?   Their grief had shut out the light they were so desperate to have.
As these two sisters mourned the loss of their beloved brother, questions of doubt plagued their minds.  Why had He waited?  Was there a reason why He did not come earlier?  He came too late, so now what?  Did He not love us the way we thought He did? Why did our brother have to suffer and then die at such a young age?  Was He so busy doing the Father's work and healing everyone else that He could not make time for us?  Are the needs of others more important than ours?  How can anything good come out of this? 
Some years ago I taught a College and Career class filled with young adults from all walks of life.  They were full of life, all having their hopes and dreams of getting married, having a home and starting a family.   It was beautiful to see them grow in the Lord and in their relationships with one another, especially when they met their soul mates.  I was blessed to see many of them meet the Lord, their mates, and get married.  One young couple dated for four years as they attended college, and there was no one more faithful and dedicated to the Lord than these two.  The young woman's name was Anna.  She was radiant and as beautiful on the inside as she was on the outside.  She and Jeff had kept themselves pure until their wedding night, and had their whole lives ahead of them.  
They moved to another state because of Jeff's new job when they got married.  They had waited so long to be together and life was good.    Their one year anniversary came.  Where had the time gone?  Jeff had to travel out of town on business for a few days shortly after their celebration.  He was to be heading home the next morning when the phone call came to his hotel room; his beloved Anna was dead.   In an instant his whole life changed.  Some losses we never get over in this lifetime.  Had God not loved them the way they thought He did?  Were they being punished because He allowed Anna to die suddenly and alone in their house?  Where was the Lord in all this?   All these are normal reactions to hurt, beloved.  In time, Jeff came to see the loving hand of God in all things.  It wasn't understanding that his heart sought most, but the re-assurance that God did love him even in the taking of his wife. 
Grief seeks answers hoping to gain consolation.  Jesus seeks grief in order to give us consolation.  Jesus knew that a greater glory was to be found in the resurrection not in the healing.  The Lord will always seek the greater glory,  and in the glory will come healing in its time.  Even in the taking, God wants to give the greater gifts.
He loves me in all things and at all times.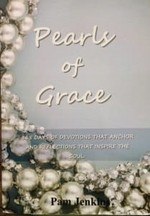 Pearls of Grace Devotional Book
Pearls of Grace is a book of devotions for the entire year, including a read through the Bible in a year calendar, broken down for every day. Beautifully written with encouraging words of hope and empowering words of joy and strength for every woman. Pam draws from the truth and richness of God's Word and gives real life examples in her down to earth style. A must have in your library, click here for more information.
For more from Pam Jenkins and Jabbok Ministries, please visit www.jabbokministries.com!
Listen to Pam Jenkins's daily broadcast on OnePlace.com.
For more from Pam Jenkins and Jabbok Ministries, please visit www.jabbokministries.com!
Listen to Pam Jenkins's daily broadcast on OnePlace.com.