April 29
The Grand Contractor
"For he was looking for the city which has foundations, whose architect and builder is God."
A dear friend of mine is an architect and works with a local firm here in town.  He's recently designed a Senior Citizen Center for our community and the building is in the progress of being constructed at the writing of this study.  He's a very talented young man who gives God all the glory; he's like my son in the Lord!  I was at a luncheon with him and talking about the entire process required for such a project.  His eyes lit up with such joy as he talked about his work and what satisfaction he receives when he gets to see his masterpiece go from paper to reality.  He said it's like "having your faith become sight"!  I love the excitement that comes when you walk onto a job site and you first see the foundations poured and then when you return a few weeks later the walls have been raised and its beginning to take form.   The entire process is intense and yet rewarding. 
He went on to talk about the hours, days, weeks and months it takes to design a structure because there are so many layers and details to consider and meticulously calculate.  He explained to me that the architect has to have a finished product in mind before He ever goes to the drawing table.  Nothing can go unchecked or uncovered because if it is, it will show up in the construction phase and then it's usually costly to correct.  It's an intense process but one that you have to love to do if you are going to make a career out of it.  He shared that the greatest reward comes the day you see your creation fulfilling the purpose it was designed to do.  You are there through the conception, the foundation, the walls, the completion, and those are all a marvelous experience, but the real joy comes when that building opens its doors to be all it was intended to be. 
Can't you just hear the spiritual undertones in our conversation, precious friend?  God was all in this conversation and we both just smiled and agreed this is exactly how it is with God and His child!  He's the Master Architect who takes great effort to plan out His design for you and how you will serve Him in His world.  Every detail He considers and carefully calculates.  Each phase God watches with such care and scrutiny, longing for the day that He sees His design become sight.  His love is very intentional to get us to the place where we are living our design because this is what brings glory to the Master Designer.  There's no glory upon the pages of design if it never comes to fruition.
Build a house for your glory in me.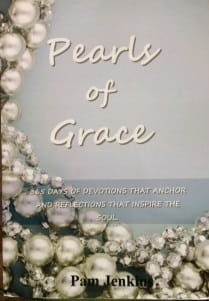 Pearls of Grace Devotional Book
Pearls of Grace is a book of devotions for the entire year, including a read through the Bible in a year calendar, broken down for every day. Beautifully written with encouraging words of hope and empowering words of joy and strength for every woman. Pam draws from the truth and richness of God's Word and gives real life examples in her down to earth style. A must have in your library, click here for more information.
For more from Pam Jenkins and Jabbok Ministries, please visit www.jabbokministries.com!
Listen to Pam Jenkins's daily broadcast on OnePlace.com.
Originally published Friday, 29 April 2022.