April 28
There is Beauty in God's Work
"He hath made everything beautiful in his time: also he hath set the world in their heart, so that no man can find out the work that God maketh from the beginning to the end." (KJV)
We hear of people whose lives were good one day and then, without warning, it all falls apart.  They struggle for years trying to reconcile the event with the love and mercy of God but they can't seem to do it.  We refuse to believe that God would cause or approve of calamity in our lives because He is a God of love.   I have many who are dear to me that have suffered unbearable loss.  Some responded in trust, even though it was painful, while others responded in anger and abandonment of their faith.  Our pains can lure our heart away from what we know to be true about God, even running fast in the opposite direction of truth if we are not careful to guard our emotions.  In time the heart becomes hardened and the tenderness of life becomes fallow ground.  This fallow ground in our life, on any level, is nothing more than a wasteland and a dishonor to God's name as long as it lays barren and un-kept. 
Tragedies are not God's punishments but rather, they are His catalyst for change in our lives and even in the world.  But His change is always for good, for His glory and beauty to be raised up out of the ashes of ruin and loss.  God will use pain and heartache to tenderize the hardness of our hearts and sometimes the hardness of another's heart through our sufferings.  But never mistake sufferings as God's vengeance or see Him as unkind or without compassion and mercy.  Everything God does is out of love for us and His love for the beauty He longs to bring forth.  His love is a love that seeks the highest good of the one loved.  This love never ceases, it never lets go or abandons its pursuit of the one who has its' affections.  It never quits loving, never.  And it will not abandon the work at hand until the beauty of God is revealed.
He is beyond good, beyond extraordinary, beyond spectacular, beyond great, beyond mighty, and powerfully Sovereign.  Who can even begin to find a word from the vocabulary of man to give adequate description of all that He is?  Who can do such a thing?  Only God Himself can.  He understands our weaknesses and lack of ability to grasp all that He is, so He unrolls the canvas of His will and takes in hand the brush of providence.  Painting out every meticulous detail He begins to unfold before His children a picture, but not just any picture, it's a picture of His love for His child.  The work of His artistry will captivate the weary one who takes the time to set their eyes upon it. 
He wants us to get it!  God so wants us to grasp the fullness of the boundless unconditional love He has for us.  He exerts such effort and power, yet with a tenderness which is unexplainable so we will come to believe that He loves us.  And to us who have been captivated by the canvas of His love story, we will never be the same.  Fall before the God who loves you and sees you just as you are and there lavish Him with the same love He has given to you.  Confess your undying need and yearning of want for more of Him in your life and wait before Him in silent wonder.  Give Him time to draw near and hover about you.  Savor His presence and ask Him to allow you to know the touch of His favor and nearness. 
Praise Him for His faithfulness to pursue you, even when you may have been running hard in the opposite direction.   He always takes us back. 
I will not settle for anything less than the beauty found only in the work of God.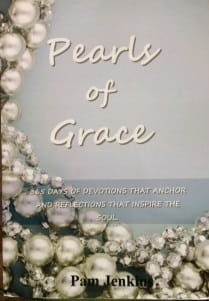 Pearls of Grace Devotional Book
Pearls of Grace is a book of devotions for the entire year, including a read through the Bible in a year calendar, broken down for every day. Beautifully written with encouraging words of hope and empowering words of joy and strength for every woman. Pam draws from the truth and richness of God's Word and gives real life examples in her down to earth style. A must have in your library, click here for more information.
For more from Pam Jenkins and Jabbok Ministries, please visit www.jabbokministries.com!
Listen to Pam Jenkins's daily broadcast on OnePlace.com.
Originally published Thursday, 28 April 2022.