April 26
When God Disturbs Our Peace
"As for the prophets; My heart is broken within me, All my bones tremble; I have become like a drunken man, Even like a man overcome with wine, Because of the LORD And because of His holy words.."
Jeremiah 23:9 (NASB)
Charles C. West wrote;"We turn to God for help when our foundations are shaking, only to learn that it is God who is shaking them "  There are those profound seasons in life when we find ourselves looking toward Heaven asking, "what just happened here?"  If you've ever had your peaceful life interrupted by sudden events of unwanted change then you understand exactly what I'm saying.  There are those times when God exercises His right to interrupt our lives through disturbances beyond our control.  He is very intentional in these times knowing full well what He is doing and the purpose He seeks to accomplish.  The understanding of God's dealings with us are far beyond the fullness of our reach, but we can know for certain that in each season of life God is at work.  He will shake our lives, even violently at times, leaving nothing familiar to us in order to bring us into the newness of faith that is only discovered in this process. 
God will shake those things that can be shaken in order that those things which cannot be shaken will be strengthened and be found more steadfast and undeniably immoveable. We like to anchor in to the ordinary and unchallenging way of living so by rote we become creatures of habit.  We like a safe, unshaken zone of living.  The easy life beckons to our weaknesses because there is no desperation of faith necessary to maintain this lifestyle.  So what does God do?  He steps in, unwilling to leave us in our comfort, and begins to rattle our security, our easy living, and the coasting of long days of existence.  It takes our losses, our sorrows, pains, challenges, sicknesses, rejections, and failures to drive us deeper into the presence of God.  Desperation births dependency, and a disturbed heart will lead us to the strong tower of God. 
When God shakes our world, He does so in order to secure us in who He is, and to teach us that our life stability is not in our circumstances but in Him.  There is no foundation that cannot be completely destroyed except for the one that has been founded in the immoveable God.  When we anchor in this constant, we are immoveable by life's situations, trials and conflicts, and every loss we endure will end up to be the greatest of gifts when the dust of sorrow settles.  Hope in Him today and you will never be disappointed.  And when your world is completely torn apart, shaken to the core and no good is in sight, look up!  The One holding your world is strong and able to bring you out into a better place, a stronger and more abundant life than ever before.  Anchor in Him and in Him alone.  He cannot be moved.
In order to secure us, God will shake us.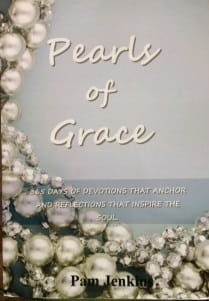 Pearls of Grace Devotional Book
Pearls of Grace is a book of devotions for the entire year, including a read through the Bible in a year calendar, broken down for every day. Beautifully written with encouraging words of hope and empowering words of joy and strength for every woman. Pam draws from the truth and richness of God's Word and gives real life examples in her down to earth style. A must have in your library, click here for more information.
For more from Pam Jenkins and Jabbok Ministries, please visit www.jabbokministries.com!
Listen to Pam Jenkins's daily broadcast on OnePlace.com.
Originally published Tuesday, 26 April 2022.