April 24
Our Undignified God
"…Thy thoughts are very deep."
The stories of God's dealings in the lives of His servants never cease to surprise and leave us gasping in wonder.  There is never a mold that God can fit into, never a cookie cutter pattern concerning His ways or plans to accomplish something.  Noah was instructed to build a huge boat because God said it was going to rain so greatly upon the earth that every living thing would be destroyed.  But yet, up to that point, there had never been a drop of rain fall from the sky.  God usually doesn't make sense to us, in fact it's a rarity! Most of the time I haven't the foggiest notion of what He's up to but that's okay, He doesn't have to let  me in on His dealings.
Moses was told to go to the most powerful ruling force of the known world and demand that they release their slaves to go free with only a staff in his hand.  Israel was instructed to march around the most fortified city of that day and they would see the walls fall without ever touching them.  Time and time again God asks the absurd, uses the most shocking methods, and never ceases to amaze those who are privileged to witness it.   He had prophets lay on one particular side to prophesy for extended periods of time and even prophesy naked.  He sent Jonah into the belly of a whale and Jeremiah down into a cistern.
Over and over again we see the working of God in the lives of His people accomplished using the most unorthodox methods and leaving mankind scratching their heads.  GOD WILL NEVER FIT INTO OUR BOX. The more cultured our societies become, the less open-minded we are to the methods and ways of God.  Unless we can explain, control or manipulate the so called "workings" of God, we shy away from it or run in fear.  We want control, after all being refined means acting, speaking, dressing a certain way and certainly maintaining dignity.  I mean, after all, God wouldn't act "undignified" would He?  Absolutely He would! 
Remove the box and let God work.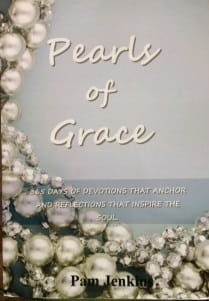 Pearls of Grace Devotional Book
Pearls of Grace is a book of devotions for the entire year, including a read through the Bible in a year calendar, broken down for every day. Beautifully written with encouraging words of hope and empowering words of joy and strength for every woman. Pam draws from the truth and richness of God's Word and gives real life examples in her down to earth style. A must have in your library, click here for more information.
For more from Pam Jenkins and Jabbok Ministries, please visit www.jabbokministries.com!
Listen to Pam Jenkins's daily broadcast on OnePlace.com.
Originally published Sunday, 24 April 2022.