April 16
Monument of Praise
"Though He slay me, I will hope in Him."
John Newton wrote:  "Jesus, my Shepherd, Guardian, Friend, My Prophet, Priest, and King, My Lord, my Life, my Way, my End, Accept the praise I bring."  His life's praise resounded from a heart that had experienced the grace and mercies of God to the fullest.  He loved much because he had been forgiven much.  His life is an invitation to all of us to come to Jesus just as we are.  Born in 1725, he was the son of the Captain of a slave ship.  Newton became a seaman on his father's ship as a young lad of 11 only to later captain his own slave ship.  His life would spiral downward reaching the lowest point in his life after he joined the British Military where he was stripped of his rank and publicly stripped down and scoured before his shipmates.  He was then sold as a slave himself to a slave trader in Africa.  But God, in His providence, would send out a friend of his father's to rescue him.  
God had other plans for John Newton.  God continued to work in Newton's heart tearing down each layer until He finally reached the depth of his soul.  Newton surrendered His life to God and His calling, becoming one of the world's most beloved songwriters and evangelical preachers of his day.  But in all his successes, Newton never forgot where God had brought Him from, what He had saved him out of.  If you were to visit his grave side today there you find his words inscribed; "John Newton, Preacher, once an infidel & libertine, a servant of slaves in Africa was by the rich mercy of our Lord and Savior Jesus Christ, preserved, restored, pardoned and appointed to preach the faith he had so long labored to destroy".  
His past did not amputate his future nor did it dictate it, but rather it became a building block, a glorious monument of praise that no one is beyond saving, no one is outside the reach of God's mighty saving hand.  An anthem of God's mercy and grace began to fill the heart and life of John Newton, overflowing to pen and paper as he penned the most beloved hymn of the church. Amazing Grace, how sweet the sound that saved a wretch like me, I once was lost, but now I'm found, was blind but now I see! What is your tribute to the Lord for what He has done in your life sweet friend?  Have you been so busy erecting a monument to yourself, or even to another, that you've missed the One who is the monument?  He is the monument of our lives and He should tower far above all else, deserving of all glory displayed before a world that will not know Him otherwise.  We are all John Newtons; all sinful and in need of a Savior who will not turn away from us, no matter how vile we may be.
My monument is built with praises for Thee.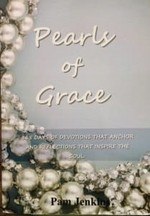 Pearls of Grace Devotional Book
Pearls of Grace is a book of devotions for the entire year, including a read through the Bible in a year calendar, broken down for every day. Beautifully written with encouraging words of hope and empowering words of joy and strength for every woman. Pam draws from the truth and richness of God's Word and gives real life examples in her down to earth style. A must have in your library, click here for more information.
For more from Pam Jenkins and Jabbok Ministries, please visit www.jabbokministries.com!
Listen to Pam Jenkins's daily broadcast on OnePlace.com.