April 15
Attitude Adjustments
"Have this attitude in yourselves  which was also in Christ Jesus…"
Have you ever woke up with the "mully grubs"?  You don't know why but, when you opened your eyes that morning you discovered that you were in a bad mood and getting back in the bed and starting over was not going to help.  Has there been a time in your life, maybe even now, where you found yourself in a season of meanness or disgruntlement?  Have you ever been around someone, or even worked with someone who seemed sour all the time, just not happy and no matter what you did or did not do. they could never be satisfied, never joyous, never content?  Maybe you are one of those people?  Have you ever found yourself unhappy and worst of all you just don't know why?  Emotions can change on a dime even if our circumstances haven't.  They are unstable at times overtaking us like a tsunami from the depths of our life, wiping out everyone and everything in its rage.   
A woman once shared that she was sitting at home one evening and she had already been in such a bad mood for several days as it was, when she had the overwhelming urge just to be mean to someone.  She said she looked around and the only one home was her husband, so you can imagine the rest of the story!  I'm sure every one of us can relate because we've all had those moments, those days and maybe even months when we were unlovely in our character, harsh in our dealings with others, cutting with our words and unbridled in our grumblings.  We can blame it on PMS, our health, menopause which is lovingly referred to as "mean-a-pause", character flaws, or we excuse our behavior at the expense of others actions and even condone it due to our circumstances.  The truth is, we many times just take out the key, unlock the gate and tell our flesh to have a free for all.  You see, beloved, our flesh loves a parade especially when it's atop the float leading the way! 
Paul told the Christians who were at Philippi that we are to have the attitude of Christ. So, what would have been the attitude of Christ?  Would He have been controlled by His emotions?  Do you think Jesus would have been unkind to another because He woke up in a bad mood that day?  Do you think He was destructive in words or actions?  He came not to condemn the world but to seek and to save that which is lost. The attitude of Christ would never have been one that acted unbecoming on any level.  It does not matter if we have a confrontational personality, if we lack tact, if we speak what's on our mind, if we are not the gentle type, or if we are just not a "morning person", the attitude of Christ is to be our attitude as well.  We are to cloak ourselves with Him, with His nature every morning and bed down with it at night.  We are to be hidden in Him, beloved, and then it will not matter what our emotions are or are not, for we have put Him on parade.  
Do you reflect the beauty of Jesus?  Does your face radiate the joy of the Father?  Do your words express the love of the Savior?   Do your actions reveal the selflessness and the tender mercies of the heart of God?  Attitude is everything, precious one, for through it ownership is declared and true character is showcased. 
Mold my attitude to Jesus.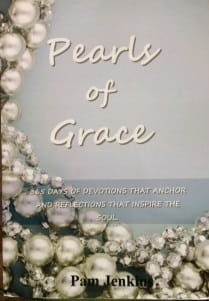 Pearls of Grace Devotional Book
Pearls of Grace is a book of devotions for the entire year, including a read through the Bible in a year calendar, broken down for every day. Beautifully written with encouraging words of hope and empowering words of joy and strength for every woman. Pam draws from the truth and richness of God's Word and gives real life examples in her down to earth style. A must have in your library, click here for more information.
For more from Pam Jenkins and Jabbok Ministries, please visit www.jabbokministries.com!
Listen to Pam Jenkins's daily broadcast on OnePlace.com.
Originally published Friday, 15 April 2022.