April 13
A Woman Prepared
"Alas for the day!  For the day of the LORD is near And it will come as destruction from the Almighty."
There is a day, unknown to us, that the LORD God has prepared, set apart for Him in which He will claim that which belongs to Him.  It will not matter who you are, what you own, what position you hold upon the earth, how much money you have in the bank, or what your net worth is.  It will not matter what people think of you, how many friends you have, how many homes you own, what your platform of influence is, how successful or unsuccessful you are.  Beauty and physical size will have no bearing. Neither will your  dress, your demeanor, your gifts or talents.  It will make no difference how many movies you made, record deals you were given, how many awards or titles you held.  Your resume, your education or experience will be unimportant.  Only one thing will matter, were you ready?  Were you ready to meet God face to face?  
Time will stand still as we know it and all opportunities will be lost forever to serve or give to the Lord.  Eternity will soon begin and judgment will follow. How many of us will be prepared, and how many will be caught off guard?  Can you say that you are pleased with your life to the degree that you are ready to stand before God and give an account for it?  I believe most of us would give an emphatic "No."  Unless we take purposeful steps to prepare we will, most certainly, be caught off guard.  God warns repeatedly that no man knows the hour of His coming and that it will come as a thief in the night.  How many people are prepared, waiting for a thief when he breaks in?  This is God's Word for us, beloved, may we take heed to it. When He comes most will not be ready.  The question is, will you?  Are you? 
Unless we are ready this very hour to meet the Lord, absolutely satisfied with our service unto Him, believing we have given Him our all, then we are unprepared.  We must put oil in our lamps, precious one!  We must make arrangements for His coming.  We must get our house in order and align ourselves to His will and to His Word.  Whatever is out of place and is not rightly lined up with the plumb line of holy living, must be cast off and the way of righteousness embraced.  We, as God's children, must walk wisely knowing the days are evil, making the most of our time.  We must take every measure to finish well.  It's time, oh daughter, to make haste and be about the Father's business; may He find you so doing when He comes. 
I prepare to meet my King.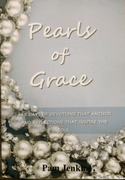 Pearls of Grace Devotional Book
Pearls of Grace is a book of devotions for the entire year, including a read through the Bible in a year calendar, broken down for every day. Beautifully written with encouraging words of hope and empowering words of joy and strength for every woman. Pam draws from the truth and richness of God's Word and gives real life examples in her down to earth style. A must have in your library, click here for more information.          
For more from Pam Jenkins and Jabbok Ministries, please visit www.jabbokministries.com!
Listen to Pam Jenkins's daily broadcast on OnePlace.com.