April 11
Lord, What Should I Do?
 They said therefore to Him, "What shall we do, that we may work the works of God?"
Countless times I have said to the Lord; "Just show me what you want me to do and I will do it" or simply, "Father just tell me what to do."  By nature I am a fixer, a doer of whatever is needed to make the situation right.  What frustrates me is when I believe I've done the right thing and it still turns out wrong.  We want a list compiled by God that will give us step by step instructions of what to do and when to do it so we will avoid failures and ensure our successes.  Some people just seem to know what God wants them to do, right?  Others just seem to take a jab in the dark hoping to hit the Lord's target somehow.  At times, serving the Lord has been challenging for me,  to say the least, in that I haven't always known what God wanted me to do, especially concerning people and their situations.  Does God want us to know what to do or does He want us kept in the dark?  How can I know what God wants me to do?
The people in John Chapter 6 were asking this same question; "What shall we do, to work the works of God?"  No one had taught them what the works of God were.  They were in essence asking; "What does God want us to do?"  Oftentimes after we become a believer and follower of Jesus Christ, we stay excited for a while with our new found life and then as the honeymoon stage wears away we find ourselves wondering; "What now?"  How do I know what God wants from me is a question I've heard over and over again from others and even from myself.  These precious people had a desire to please God, they just didn't know how, and the Lord honored that desire by giving them a clear answer, just as He has us; "Believe."
We see great and mighty works of God that others do and our immediate response is; "Lord, show me what you want me to do so I can do what they are doing."    In reality all God wants for us to do is believe.  This is the work of God, beloved. Believing.  Faith is the work and without it the author of Hebrews tells us that it is impossible to please God.  "And without faith it is impossible to please Him, for he who comes to God must believe that He is…".(Hebrews 11:6.)  So what does God want you to do?  Believe!  Faith in God is the moveable force of obedience in your life and you will never lack for direction of action.  Are you looking for a big assignment?   Your assignment is faith, precious one.  Don't be content to walk the paths of the ordinary.  Why not step out in pioneer faith and leave a blaze for others to follow. 
Just believe.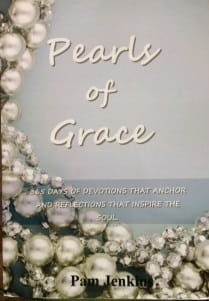 Pearls of Grace Devotional Book
Pearls of Grace is a book of devotions for the entire year, including a read through the Bible in a year calendar, broken down for every day. Beautifully written with encouraging words of hope and empowering words of joy and strength for every woman. Pam draws from the truth and richness of God's Word and gives real life examples in her down to earth style. A must have in your library, click here for more information.
For more from Pam Jenkins and Jabbok Ministries, please visit www.jabbokministries.com!
Listen to Pam Jenkins's daily broadcast on OnePlace.com.
Originally published Monday, 11 April 2022.