June 3, 2016
5 Steps to Help You Make Wise Choices
Gwen Smith
Today's Truth
Then they prayed, "Lord, you know everyone's heart. Show us… (Acts 1:)
Friend to Friend
The book of Acts is an account of the birth and growth of the early church and of the work of the Holy Spirit. After His death and resurrection, Jesus remained on earth for 40 days then ascended into heaven.
Just before He ascended, Jesus gave the disciples a fresh and compelling mission - one that you and I share in. He told them (and us) "…you will receive power when the Holy Spirit comes on you; and you will be my witnesses in Jerusalem, and in all Judea and Samaria, and to the ends of the earth." (Acts 1:8)
Wow.
Power … Holy Spirit … witnesses… I imagine they must've been shaking their heads in wonder and scratching their heads in curiosity! What can He possibly mean?
The people in the crowd that day watched Jesus leave the earth. Literally. They witnessed his ascension as he rose to heaven and stared at the sky when He disappeared from sight. Then they went back to Jerusalem from the Mount of Olives and prayed together constantly in expectation of the power He had promised. (Acts 1:12-14)
It was a new and vigorous day for the early church. A time when leaders were vital to guide believers in the grace, truth, and teaching of Christ.
Judas Iscariot, the one who betrayed Jesus, was no longer around, so the group of 12 disciples dwindled to 11. The disciples, now apostles, agreed that they needed to add a new team member to help with the mission that Jesus called them to so they put their heads and hearts together to fill the twelfth spot on their ministry leadership team.
Here's how Luke says the disciples made their decision.
"…Therefore it is necessary to choose one of the men who have been with us the whole time the Lord Jesus was living among us, beginning from John's baptism to the time when Jesus was taken up from us. For one of these must become a witness with us of his resurrection."
So they nominated two men: Joseph called Barsabbas (also known as Justus) and Matthias. Then they prayed, "Lord, you know everyone's heart. Show us which of these two you have chosen to take over this apostolic ministry, which Judas left to go where he belongs." Then they cast lots, and the lot fell to Matthias; so he was added to the eleven apostles. (Acts 1:21-26)
In reading about this process, I begin to see some wise principles rise that I will apply when choices in my life need to be made.
#1. Assess/ Define your need (v.21)
#2. Consider your options (v. 23)
#3. Pray (v.24)
#4. Look for God's direction (v.26)
#5. Accept God's answer (v. 26)
I look over this list and connect the process to the decisions that lie ahead of me. Doing this helps me think beyond my emotions and reminds me to include God in the center. To pray like the psalmist did:
Let the morning bring me word of your unfailing love,
for I have put my trust in you.
Show me the way I should go,
for to you I entrust my life. (Psalm 143:8)
Are you facing any decisions today? This week? This month?
If so, I encourage you to approach them with this 5 step Biblical process. While it won't make your hard decisions easy, applying these principles can position you to make informed choices that are yielded to God's leading. Which is always wise.
Let's Pray
Dear Lord, Thank You for being willing to help me make wise decisions. Forgive me for the many times I leave you out of the picture and do things on my own. Help me today with these things, Lord: ___________. Show me the way I should go.
In Jesus' Name,
Amen.
Now It's Your Turn
More practical advice awaits you today, friend! Read James 1. Then write down at least one verse that challenges you where you are and spend a few moments in prayer about the areas you need God's wisdom with.
More from the Girlfriends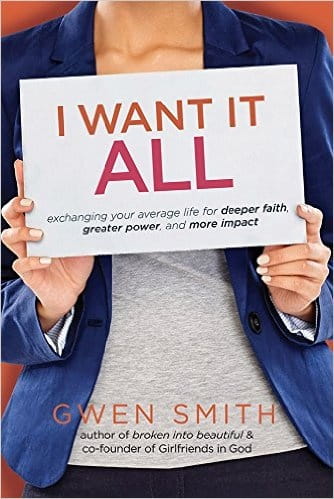 I Want It ALL is now available! This new book by Gwen Smith will help narrow the gap between average ordinary living and the not-so-ordinary promises of God found in His Word. We are meant to be women of impact who expect great things and move in the power and grace of Jesus. That's the message of I Want It ALL. Order yours today from Amazon, Barnes & Noble, ChristianBook.com or your favorite retailer.
Connect with Gwen on Facebook| Twitter| Instagram| Pinterest
Seeking God?
Click here to find out more about
how to have a personal relationship with Jesus Christ.
Girlfriends in God
P.O. Box 1311
Huntersville, NC 28070
info@girlfriendsingod.com
www.girlfriendsingod.com
Click here to learn more about hosting a Girlfriends in God conference in your area or having one of the GiGs speak at your next women's event.
Originally published Friday, 03 June 2016.