How to Live United in Peace with Your Spouse
By: Amanda Idleman
Make every effort to keep yourselves united in the Spirit, binding yourselves together with peace. - Ephesians 4:3
Isn't the case that before you get married, you seem to think you and your fiancé have so much in common; but, after a few years in you realize you couldn't be more different! Every person has unique strengths and weaknesses, making unity something we have to work at. Over time it can become easy for the differences to glare at us and the commonalities to become overlooked.
My husband and I met as teenagers and we fell in love fast. At the time we met, I truly believed we were just alike. I saw my fiancé, at the time, as a sweet and easy-going guy. It wasn't until years later I found out he is also a very logical and strong-minded (sometimes highly opinionated) guy.
As we've grown up together, more of our differences have been revealed. Also, over time we've both changed. Maturity, new stresses, and new demands have formed us into different people than we were 10+ years ago.
My husband discovered that he likes having a plan, more than going with the flow, and this is something we didn't know when he was younger. I love that we both have been gifted with different strengths and weaknesses! Nonetheless, there is a danger that comes when I focus too hard on the ways we do life differently. I can forget that we are in this thing together and forget that our differences are designed to work in unity toward reaching common goals.
Unity happens when we center our talents on meeting a common objective. In marriage, our most basic common objective is to love our spouse, 'til death do us part. That sounds so simple but even remembering that we are working together to stay in love for a lifetime can be straight-up hard work.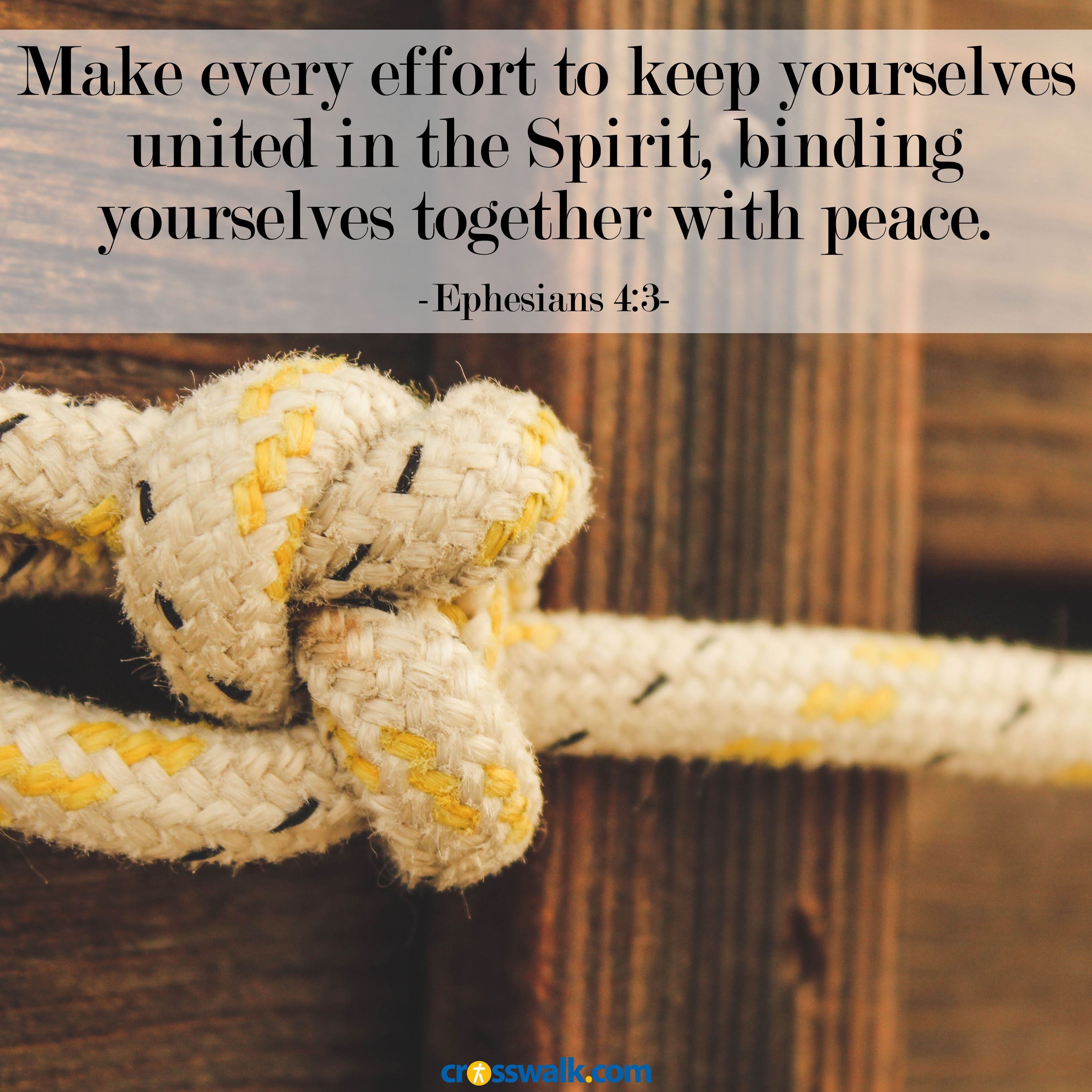 We need guideposts in our lives to remind us of what we are working toward. Maybe your vows should be framed in a place in your home you frequent, reminding you and your spouse that you are both working toward maintaining a loving, long-term relationship.
Do you have a dream you are working toward together? This is another way to promote unity. The dream could be as simple as completing a DIY renovation project in your home. It doesn't have to be huge to bring you together. No matter how big or small the common goal, the act of coming together to get something done is a great way to renew your bond as a couple.
Here's another idea: create habits in your daily routine that make for check-in points with your spouse. If you wait until the end of a day to talk, it's really a struggle to connect. Sharing a few minutes in the morning before work, sending lunchtime text messages, committing to a before-dinner couch recap of the day, or coming together for a time in the evening before bed are some great possible ways you can incorporate checking in with your spouse into your daily routine.
Unity is a picture of perfectly complementing one another. We can't be in unity if one spouse is doing all the talking or has all the control. We have to submit to one another in love, allowing there to be room for each person to use their specific gifts to meet the goals that you both desire to meet in any given season of life.
The most essential key to living together in unity is being connected to God's Spirit. Without the help of the Holy Spirit we are hardwired to start taking on life using only our own strength and thinking that our opinions are the only right ones around. The Spirit helps us to begin to approach life and marriage with humility. God gives us the strength to pause to consider how we can do life as a team, rather than a one-person show of proud glory.
Pause and pray and ask God to give you the strength to make room for each other, so you can live together in peace and unity.
---
Amanda Idleman is a wife, homeschooling Momma to three amazing kids and is passionate about encouraging others to live joyfully. Amanda also loves to write as a freelance writer and on her blog (when she finds a spare moment for it). You can find out more about Amanda at her blog rvahouseofjoy.wordpress.comor follow her on Instagram at rvahouseofjoy.
It's time we get real about marriage & relationships! Join marriage coach, Dana Che, as she and her guests deliver witty, inspirational, real relationship talk from a faith-based perspective. New episodes of the Real Relationship Talk Podcast drop every Tuesday.

Originally published Friday, 13 October 2023.