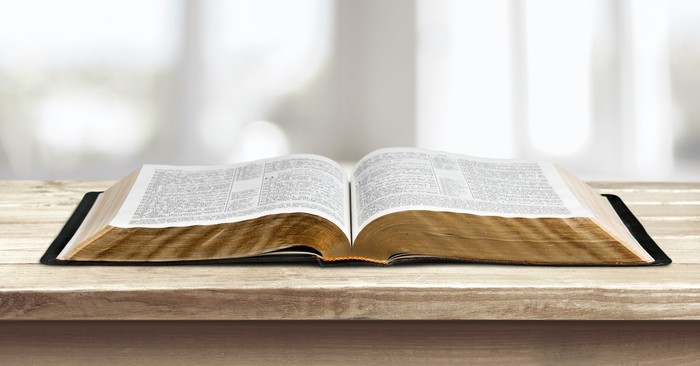 As Christians throughout the country mourned the recent passing of Dr. Charles Stanley, described as an "iconic pastor" by Religion News Service, I sought to learn more about him and what made him "tick." In reading about what others said about him, one of his attributes that stands out most in my mind is perseverance. This is a virtue that is encouraged in several places in the New Testament.
For instance, Romans 5:3-4 teaches, "And not only that, but we also glory in tribulations, knowing that tribulation produces perseverance; and perseverance, character; and character, hope" (NKJV).
Dr. Stanley's early childhood was marked by the personal tragedy of losing his father, Charley. Yet, he found consolation and hope from his mother, Rebecca Stanley, and his godly grandfather. The website Learn Religions observed that both family members "instilled in him a desire to trust and obey God's word." Rebecca Stanley clearly stood out as an example of perseverance and faith in the face of tragedy because, according to a New York Times article, she was an unskilled worker earning only $9 a week at a textile factory in Danville, Virginia. So she faced grinding poverty as she raised her son.
Stanley's First Major Struggle
The New York Times article also related a story about Stanley's efforts to achieve the role of senior pastor at First Baptist Church in Atlanta. Although he had achieved a great deal, including a 1971 doctorate in theology from Luther Rice College and Seminary and the position of associate pastor at First Baptist Church, he endured a rocky time after he applied for the senior pastor role when the former pastor stepped down. A couple of the obstacles that confronted him were:
Initial rejection
One church member publicly described Stanley as "power hungry" to the newspaper, The Atlanta Constitution, because of his efforts to be awarded the senior pastor position. In fact, the Times related a story about one church board member punching Stanley in the face during a heated meeting because Stanley had warned him not to use a curse word.
Difficult teachings
When he looked back on that time in 1982, Stanley told The Constitution that he was teaching biblical subjects – such as the Holy Spirit, the Lord's return, and evangelism – which made some people in the congregation uncomfortable. He is quoted by the Times as saying, "There were a small group of men who'd always made the decisions, and when I would say we've got to obey God, that'd disturb them a bit," adding, "I became a thorn in their plans. But I was willing to stay or leave, whatever God wanted." However, God got the last word when Stanley was appointed senior pastor in 1971.
In the face of this obstacle, Stanley never backed down from teaching what he knew to be biblical and right, even if it ruffled feathers. After all, Jesus never backed down in His teachings either when some of His doctrines ruffled feathers. So, while Stanley was willing to submit to God's call regarding that senior pastor position, he persevered in seeking it as he waited to see what God would do.
The Divorce That Nearly Destroyed His Ministry
The New York Times also related one of the most heartbreaking periods of Charles Stanley's ministry for two reasons – the deterioration of his marriage to Anna Stanley and the resulting rift in his relationship with his son Andy Stanley. As his marriage deteriorated, he was faced with the specter of losing his position as senior pastor at First Baptist because the church had a policy that barred divorced men from serving as ministers or deacons, and he was in agreement with that policy. The situation caused a split in the church.
It was Anna Stanley who filed for divorce in 1995. She then dropped the lawsuit but re-filed it later. While Mrs. Stanley was insisting that their marriage was broken, Dr. Stanley was insisting that he wanted to reconcile. Although all the issues in the marriage were never completely revealed, she told the Atlanta Constitution, "I am dismayed by my husband's refusal to accept the critical state of our marriage." According to a report by Entrepreneur Mindz, the divorce came about because of "many years of marital disappointments and conflict."
In fact, Mrs. Stanley seemed to be somewhat more vocal about the problems in the marriage than her husband. According to an article from Okay Bliss, she wrote in a letter to the church, "I have been a faithful and supportive wife to Charles. Long ago, however, Charles in effect, abandoned our marriage. He chose his priorities, and I have not been one of them."
While it is impossible to make a judgment regarding the Stanley divorce, Charles is not the only pastor husband who has dealt with the conflicting demands of following Christ by preaching His Word, ministering to his congregation, and maintaining a marriage. Focus on the Family outlines how a pastor can struggle with balancing the needs of his congregation and the needs of his wife. The article observes, "Those who follow the high calling to the pastorate and who invest their lives in shepherding God's people often find themselves depleted with little left over to invest in their own marriages." If we add the fact that Dr. Stanley's ministry extended beyond his own church to radio and television broadcasting, it is easy to understand Anna Stanley's frustration.
Pastors must contend with what God wants them to do in their calling and the needs of their wives. Charles Stanley may have felt very challenged to put Jesus before his marriage because of Scripture like this: "If anyone comes to Me and does not hate his father and mother, wife and children, brothers and sisters, yes, and even his own life also, he cannot be My disciple." Obviously, Jesus was not directing those who followed Him to hate anyone, especially their own relatives, but it was clear that He was throwing down the gauntlet for those who would follow Him in ministry that following Him comes first above all else.
Yet, it is possible to carry Jesus' words to an extreme that can destroy a marriage. Focus on the Family also states, "Too often, pastors and their spouses languish under the hidden pain of a marriage in crisis. They feel alone. They feel shame. They feel their role as spiritual leaders should make them immune to serious marriage struggles." This seems like an apt description of Charles' and Anna's marriage struggle. Sadly, Focus on the Family's ministry Hope Restored, which helps pastorate couples take a few days "away from it all" to get help in reviving their marriage, had not yet been established at the time of the Stanleys' marriage troubles, and their divorce was finalized in 2000.
Beginning in 1995, Anna's divorce filing motivated some church members to ask Charles to resign, and his own son Andy, according to the New York Times article, suggested that he read a letter of resignation to the church, giving the congregation the choice of allowing him to continue as pastor or accepting his resignation. The entire divorce issue resulted in some contentious publicity, and the Times reported, "All the rumors seemed to be true. His son had joined the church faction trying to get rid of him. His son had betrayed him."
Perseverance in Faith Wins Out
Charles originally stated at the time of the first divorce filing that if his wife divorced him, he would resign from the senior pastor position. So, when a judge finally approved the Stanleys' divorce in 2000, some were wondering whether Charles would step down from his senior pastor's position. However, according to the Baptist Press, the church administrator informed the congregation that Charles would retain his leadership, and "the congregation rose in applause." The vice chairman of the church's deacons reportedly told the Atlanta newspaper, "He is our pastor and will remain our pastor."
Charles reportedly said, in his memoir, that God directed him not to resign. He wrote, "God simply said, 'You just keep doing what I called you to do until I tell you differently.'" He never remarried. Not only that, he eventually reconciled with his son Andy.
Despite the contentious trials in his life, Charles Stanley kept serving the Lord in the way he had been called until his retirement. Then, at his recent death, he was fondly remembered by thousands of people who came to First Baptist Church in Atlanta to pay their respects to the pastor who inspired them and, in many cases, led them to Christ.
Photo Credit: ©GettyImages/artisteer
Cathy Wentz lives with her husband, Brian, in Cedar City, UT, and has been a believer in Jesus Christ for more than 30 years. She has two grown children and four grandchildren, all who live in Cedar City. Her writing experience includes working as a newspaper reporter for eight years, and she currently serves as a public relations assistant for a local orthopaedic surgeon, which involves writing blogs, social media posts and other web content.
---
---