Originally published Wednesday, 04 February 2015.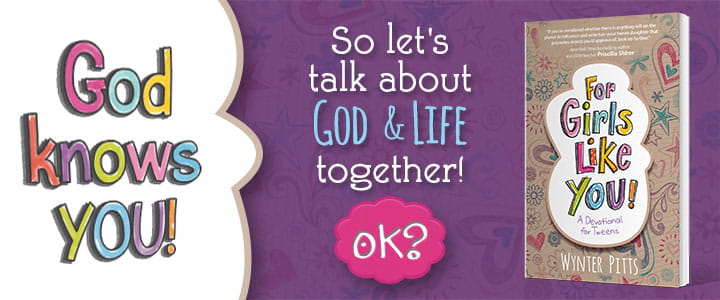 It's the official release week of the For Girls Like You Devotional for Tweens!!!!
I am...well, I feel...mmmm....ok, it really is just too much to put into words. I just may be speechless for a while. My hands are raised and my heart is full!
Humbled. Grateful. Blown Away.
Can I be honest? The truth of it is, I wrote this devotional with and for my daughters. I'm simply a grown up little girl, desperately seeking to raise my girls with a passion and heart for Jesus--because I know, first-hand, that these peculiar years between princess dresses and lipstick matter.
These years, those years and every year in between matter, a lot!
Our girls need to know Jesus' Love. His Grace and His Truth.
They need to feel secure in who God created them to be and they need courage to walk bodily in His Truth.
With the For Girls Like You Devotional, I want to encourage our girls in their spiritual growth in a way that they can relate to, understand and enjoy!
And...We are having a special GIVEAWAY to celebrate!
When you buy a copy of the For Girls Like You Devotional on Amazon here, Barnes and Noble here, on the For Girls Like You website here before 2/9/15 you can WIN 1 of 4 Girl's Devotional Kits specially packaged from my girls to yours!!
The gift packages will include: For Girls Like You Journals, a Glitter Bible, T-shirts, and MORE!