On-Demand Interview with Sally Lloyd-Jones of the Jesus Storybook Bible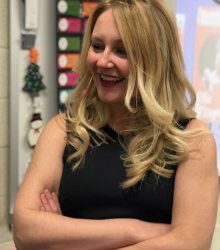 In honor of Easter, I recently had the privilege of sitting down with New York Times bestselling author Sally-Lloyd Jones! Sally has written the best children's Bible on the market, the Jesus Storybook Bible, that's sold over 3 million copies and been translated into 44 languages and counting.
Watch the interview on demand.
In this interview, you'll hear her talk about:
* Her personal story, which begins in Africa
* The unexpected road to her success
* How her life as a little girl informs what she does today (including touring with Amy Grant!)
* Tips for connecting with children
* How to dispel coronavirus fears
Plus, this episode includes a special treat:
* Sally reads an excerpt of her Jesus Storybook Bible (Gather your children!)
Rev. Noelle Kirchner, MDiv., believes we don't have to live with full schedules and thin souls. A busy mom of three boys, she is passionate about making faith fresh and relevant. Noelle is a graduate of Princeton Seminary and an ordained Presbyterian minister who has served in churches for over ten years. She has written for places like the TODAY Show Parenting Team, Huff Post Parents, The Laundry Moms, and (in)courage. Her faith and family cable television show, Chaos to Calm, features parenting hot topics and has hosted three New York Times bestselling authors and one Emmy Award-winning journalist. Watch her episodes or sermons, connect with her on social media, and follow her blog by visiting her website, or receive her free devotional e-book.
Comments