Originally published Friday, 26 July 2013.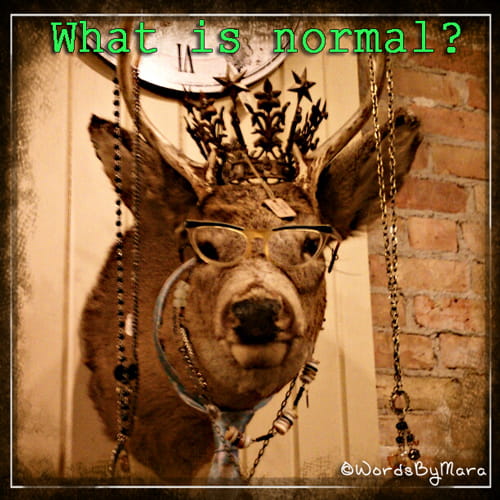 What is normal?
My sense of normalcy has been flawed since the age of 15. Half my life has been spent in doctors offices, physical therapy, and pharmacies. It seems to get worse and at times I can lose hope that it will ever get better.
Some days I might be weary of this reality but I try not to worry about what the future holds for chronic pain and endometriosis. I try not to worry about what it means for creating a family. I try not to worry about future surgeries or testing.
None of this is in my control. God goes before me and He's already standing at the end of my life. So why worry about the future or the present?
My new sense of reality changed the moment my back started to hurt 15 years ago. I was developing all the same health issues as my family, but it was much earlier in life. Why didn't I panic?
I have stared blankly at the ceiling of the operating room prior to 4 different surgeries and didn't panic. I've sat on the examining table of back surgeons, chiropractors and neurologists and didn't panic. I've spent 10 years searching for the answers to my most excruciating pain and didn't panic.
Truthfully, there have been moments of worry but I cannot fear the worst knowing that my God has brought me to this place for a reason. There's a reason behind my chronic pain. There's a reason for new symptoms and there's a reason that God chose me for it.
On the most difficult pain days, I try to remind myself that God gave this to me because He knew I could handle it. He knew that my strong, yet stubborn nature would get me through it. And God knew that when the strength of my own heart and spirit began to fail… that I would turn to Him.
We always need God, but without my pain would I even know Him? I can't answer that question. Only God knows.
There is a song by JJ Heller that can summarize how I feel about life with chronic pain.
"Sometimes life doesn't make any sense,
Of war and pain and accident,
He's praying 'I don't know, I don't know
What You're doing, but I know who you are'." - Who You Are, JJ Heller
I will never be able to wrap my mind around the reasons why we suffer here on earth. Why we lose people. Why we cry and fear.
Perhaps the answer is simply… sin. Because of sin, we have to pay the price.
No one is perfect. Or normal. Or without sin.
We'll never understand the normalcy of another person's life. We can't understand their version of a pain scale or how far they're able to push themselves. Only God knows.
So until the day that we enter God's Holy Kingdom, we will continue to sin, worry, grieve, fear and cry out in pain. But never forget that God loves you and promises to bring you through it.
If you're feeling alone in your pain and suffering, remember that there are others that understand what you're going through. I know that it's hard at times, but try to stay positive and let God lead you. The Lord can bring you through even the deepest despair if you call on Him. Our Heavenly Father holds you in His hand and will never leave you alone.
Isaiah 41:13 brings me great comfort, "For I am the Lord your God who takes hold of your right hand and says to you, Do not fear; I will help you."
-----
Find me on Facebook for more encouraging posts throughout the week. Have a blessed weekend.