Originally published Saturday, 01 August 2015.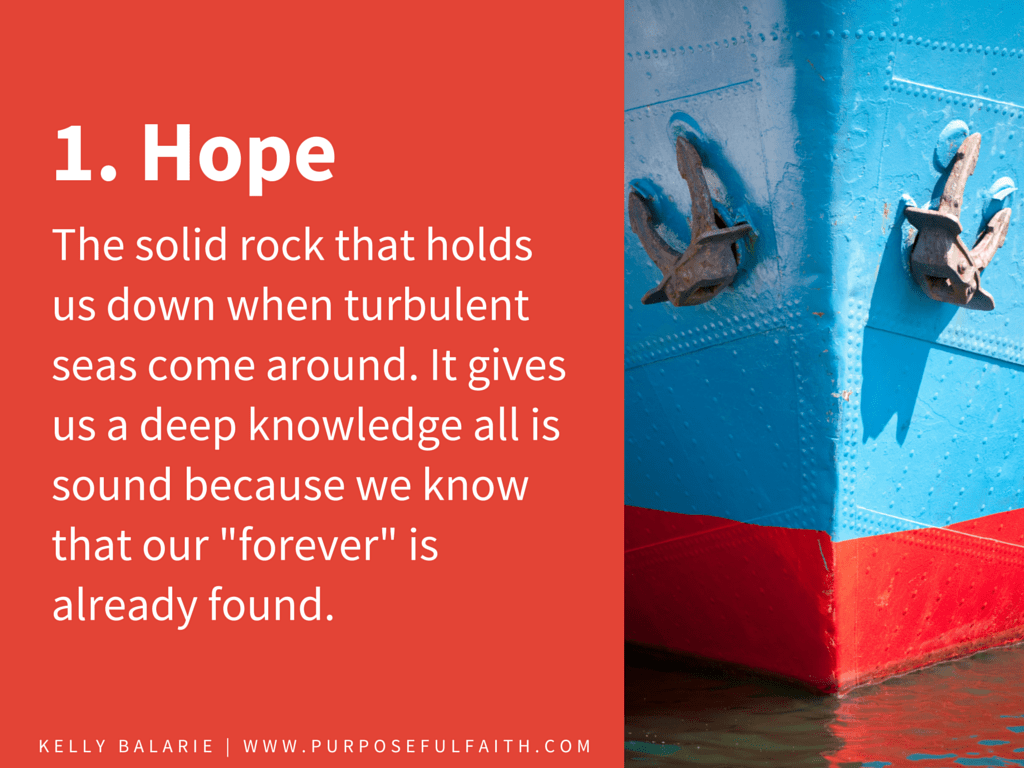 I remember the times when I didn't know who I was or where I was going.
I certainly didn't think I had the power to hold firm, fast and strong in the face of big waves.
My life bounced left, right, up and down and I seemed to move with the winds.
I felt out-of-control and as lost as a shipwrecked vessel looking for it's next savior.
And, then I found him.
He showed up.
And anchored me.
He set my feet on new paths, through new ways, giving me a new hope.
But, what is so amazing about his anchor that it is not like a traditional anchor. What history proves is that anchors of yesterday are made of solid rock.
And, this makes a whole lot of sense to me, because as one who was pulled from the meaningless sea of nothingness and turmoil and fear and hopelessness, I remember where my security was derived. I remember that rock; I know it well.
It is him.
The rock who is precious.
Bursting at the seams with hope.
Expanding my view with his power.
Exploding with virtue to continually rescue.
The corner stone.
For this is contained in Scripture: "BEHOLD, I LAY IN ZION A CHOICE STONE, A PRECIOUS CORNER stone, AND HE WHO BELIEVES IN HIM WILL NOT BE DISAPPOINTED." 1 Pet. 2:6
Oh, how once I was disappointed, but now I am not.
This stone gives new strength in the winds of failure, of not being, of not knowing.
This stone, time and time again, gives us a chance to see new places, new people (and old for that matter) from new sight. In our safety we can see their heart wrestling through their own storms, verses solely focusing on ours. It revises our view of the world as we burrow deep down into his safety.
His anchor holds normal anchor power, but at a magnified rate. His rope is always attached, confirming we are taken, owned. This rock can't leave us. It is always nearby. It sometimes steadies us for a time of enjoyment, of pleasure and other times it steadies us to prepare us for something greater, something bigger - like preparing our heart, fishing for men, or for traveling afar to bring good news.
The solid rock of Christ doesn't always remove us from the storm,
but it always secures us as we get through it.
The point is - it is hope encapsulated.
For in this hope we were saved. Now hope that is seen is not hope. For who hopes for what he sees? Ro. 8:24
It sums up the definition of hope; this rock has hit death in the face and knocked down it's power to fight us back from eternity. Hope is resurrected.
Plus, it is certainly the only way to endure a storm to encounter, not just peaceful, but joyful and celebrating waters.
We have this hope as an anchor for the soul, firm and secure. Heb. 6:19
It can't be untied from our bow; if we know that rock, he is forever tethered to our soul.
This rock is as present as the reality of the pains that hit us; they can't take us down.
It secures the deepest places that shake inside of us, so we become steadfast in his will.
The eye of the storm has no power of the rock that holds our lives together.
Get all Purposeful Faith blog posts by email - click here.
Join Kelly on her blog, Purposeful Faith, on Twitter and on Facebook.