Originally published Tuesday, 13 February 2018.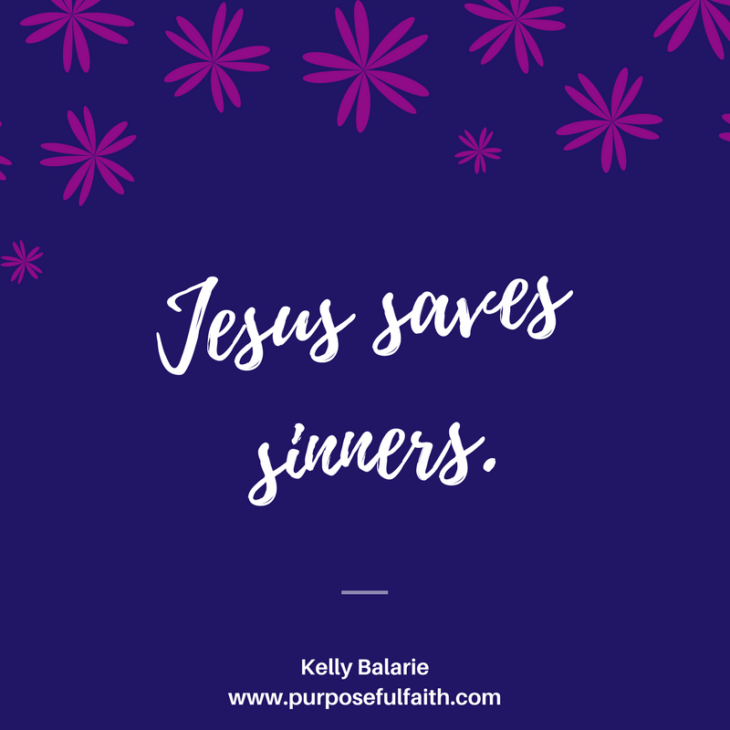 "While we were still sinners…" Ro. 5:8
Take notice, the line above does not read…
"While we were trying really hard to improve…"
"After we had started to get wise…"
"Once we read the book of John three times…"
"As soon as we looked like Mary, not Martha…"
"After a huge and long prayer that really showed God you loved Him…"
"After we proved we would have Christian value for the future…"
"Because you did better things than the other woman..."
No. While you were a sinner. . . while you had dirty knees and an unclean heart, while you still were doing that horrible blasted thing you always do, while you brought nothing to God on your own…right then, Jesus chose to die for you.
"Christ Jesus came into the world to save sinners." 1 Tim. 1:15
Jesus, sans sin, saves sinners. Lamb of the world. King of Kings. Lord of Lords. Lion of Judah. He came (and got) what he was after: our sin and our hearts. What we hate in us, Jesus annihilates. He throws it as far as the east is from the west, and remakes us into His image. Glory.
What love is this?!
Right now, love calls you deeper. Will you respond? What must you clear out so Love can make His way in and renew your spirit? So that you can abound in freedom?
No matter how unworthy, messed up, horrible or guilty you feel, there is nothing that can separate you from Jesus' love. There is no amount of feelings that can devalue the price Jesus paid on the cross. There are no lengths that can't be erased by his grace.
Invite Jesus in, no matter how badly you feel about things. No matter how wrong you may have been. No matter how bad that thing from the past really was. No matter how hurt you feel. No matter how badly you've been sinning.
Jesus will take it, then remake you. It is that simple.
"But God demonstrates his own love for us in this: While we were still sinners, Christ died for us." Ro. 5:8
He loves you.
Prayer: Jesus, all of you is what all of me needs. Everything else is of no merit in comparison to your glory and grace. Fill me with you and lead me in your ways. Thank you for the price you paid, to love me. I love you so very much. I confess, (share with Jesus here). I need your help (share more with Him here). What do you have for me, God? In Jesus' Name, I pray. Amen.
Get Kelly's short daily blog post by email - click here.

Join the 4 Days to Fearless Email Challenge.
Or, book Kelly to speak at your next women's event or conference.