Originally published Wednesday, 20 May 2015.
Do you remember when you bought your first home?
Probably, no matter the price, you put a large bulk of your saved money into the down payment.
That's how it worked for us.
With no extra money to buy furniture, I felt like it wasn't just the echoes of empty rooms that were resounded in my heart, but the echoes of not having enough.
I can't have people over, when the first thing they see is that room!
I can't even enjoy this house, until we can actually sit down!
No one is walking through that front door, until things change around here!
But, God - he had different plans. His different plans, are always the best plans, for my not-so-well-laid plans.
He had plans to take my "not enough" and exchange it for "more than good enough." He always seems to do that when we are looking, seeking and praying after his will, doesn't he?
You see, the word "insufficient" doesn't reside in Jesus' vocabulary,
because he entirely defines the word sufficient.
If we have Jesus, we have the all-encompassing sufficient answer to every one of life's problems. It can just be very hard to see in the whirlwind of pain. He understands this and, in many cases, gently brings us right into his fold, when we are ready.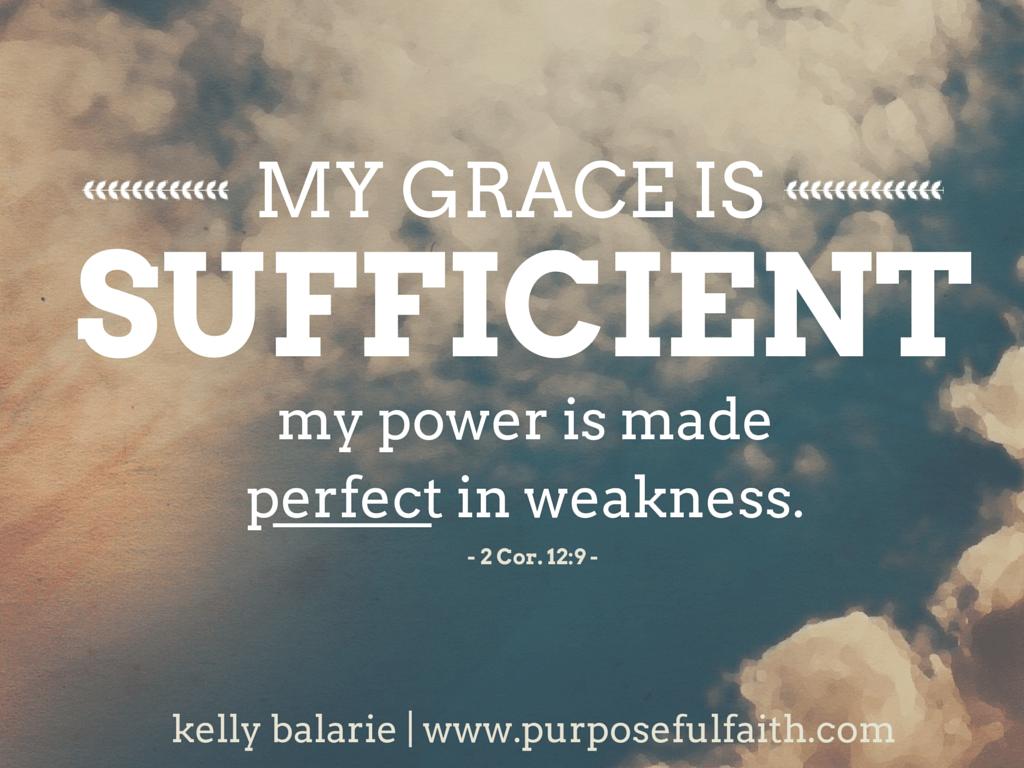 In my case, he exchanged my empty room and empty heart for something far greater,
way more hectic and a billion times more exciting.
My empty room, covered with the wallpaper of "not enough", became "more than enough" as the paper busted at the seams, exposing joy, peace and glory. We found our nightly ritual - a family worship session on the best dance floor in town - our living room.
We went in that room to dance and sing with all our hearts. We had more than enough!
We ran around with smiles wide and kids raised up. We had more than enough!
We saw our toddlers joy as they ran circles around us. We had more than enough!
We opened our hearts and eyes to see our great high and lifted God. We had more than enough!
When we look for Jesus, no matter our situation -
whether a small one like mine or a bigger one like death -
we find him.
He is the door to our "more."
He is the access to our joy.
He is the way to life.
He is the answer of peace.
He is the hope in all.
In my situation, I had much to be thankful for, but still, I was not content. I saw the door that I didn't want visitors to enter, but what I didn't realize was that my focus was on the wrong door.
I should have been looking at Jesus as the door.
I am the door. If anyone enters by me, he will be saved and will go in and out and find pasture. (John 10:9)
Jesus is always the access point to greater things.
If you have walked through Jesus' door of salvation, you are saved.
Not just saved for eternity's joys, but saved to enjoy Christ's present ones in today.
Are you seeking them?

If you have walked through Jesus' door, you are gaining access to your calling and mission.
Are you using your gifts, talents and finances for his glory?

If you walk through Jesus' door, you will find pasture.
Your Father wants to bring you much joy, peace and purpose in life.
Are you relying on him?
If we have chosen to walk through his door, Christ has presented us with eternal riches, his present day glory, focused missions, fulfilling callings, joy-filled songs, enduring character and his ever-present help in a time of trouble.
We no longer live in empty rooms of despair, discouragement and doubt, but our rooms become filled with the love and presence of Jesus Christ.
When we look for him, we realize we have - and always had - more than enough!
Keep your life free from love of money, and be content with what you have, for he has said, "I will never leave you nor forsake you." (Heb. 13:5)
Now there is great gain in godliness with contentment, for we brought nothing into the world, and we cannot take anything out of the world. But if we have food and clothing, with these we will be content. (1 Tim. 6:6-8)
But he said to me, "My grace is sufficient for you, for my power is made perfect in weakness." (2 Cor. 12:9)
Our great shepherd is leading us into his great, powerful and calm-of-heart pastures.
Will we follow him?
We already have "more than enough."
Get all Purposeful Faith blog posts by email - click here.
Join Kelly on her blog, Purposeful Faith, on Twitter and on Facebook.