Originally published Thursday, 09 July 2015.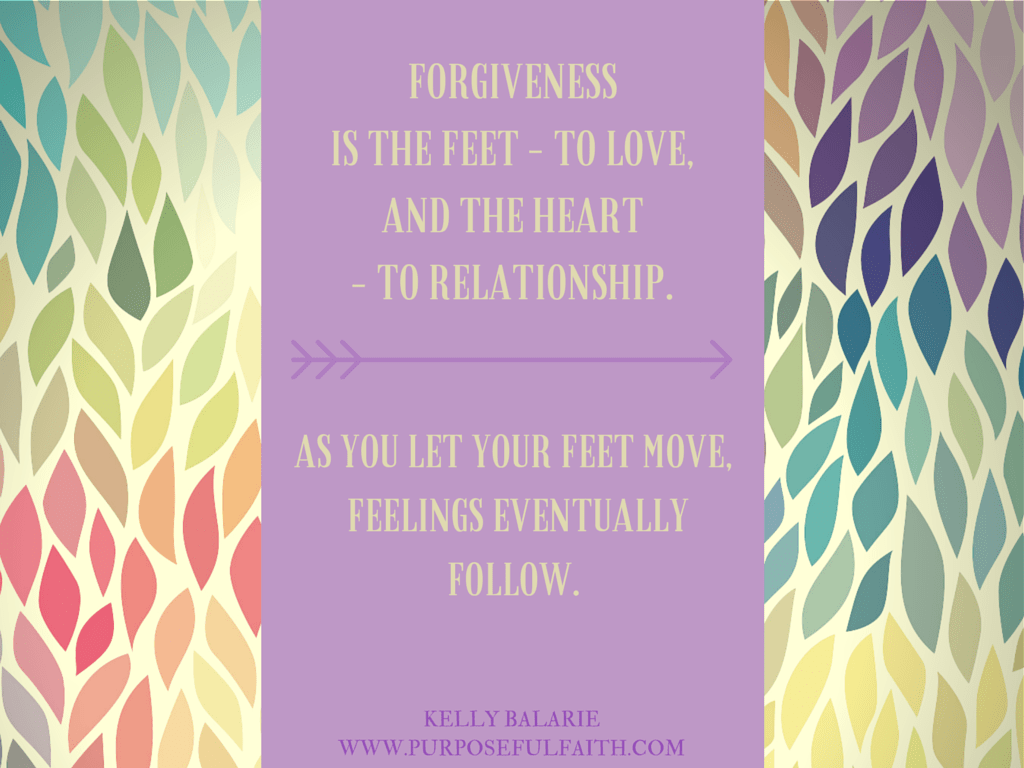 When I saw "that lady" my skin cringed a little.
She's the one who offended me.
The one who deserves my annoyance.
The lady I really didn't want to see.
It's nearly impossible to wrap your arms around the word "love," when you have your arms crossed with hate.
She didn't hit me like a monster truck might, with an intentional crash, but still she her hit-and-run approach was something I took note of. Intentional or not, she caused damage.
And, I wasn't going to let her get away without paying damages.
How do you let go when another doesn't realize the damage they have done?

Don't they deserve to know how they've injured you?
I wanted the reparations that should be mine. My heart was demanding it, although know one would ever know about that little secret.
I knew my insides were ugly, but I couldn't seem to get my insides - out - out into the hands of God.
She was seen with a halo, while I felt like a zero.
Sometimes, though, God works circumstances for our good, because he loves us and he knows our heart intends to be called according to his purposes (kind of Ro. 8:28).
Even when we don't know how to work or are too busy working on the wrong think or are thinking in the wrong way or are messing up, God often still works things out when we turn to him and let him work out the knots of our tangled up his purpose.
When we come back to God, he backs near to our heart again.
When we see an opportunity to love, and put it above ourselves, the love of God shows up.
A friend approached me and basically said, "You know, you have something, a little piece of information, a little inside scoop that could help that woman (aka: frenemy) out. Why don't you go over and share it with her."
What? Me?
Share?
With her? The blessing-taker, the joy-kill, the bane of my burdens?
Heck no.
How can I give to the one who is loaded to the brim with liquid gold while I am drinking out of the plastic cup of nothingness? How can I give when she practically made my drink to taste so bad.
I don't know about that.
My feet moved, but my heart stayed still. They moved me right in front of her. My mind said, "You can't," but my Spirit said, "You can."
So, I did.
I poured out the information that she had been on the hunt for. I told her I would be her helper. I instructed her on the in's I could have kept in, but instead I helped her out.
And, what I noticed, is that fears and pain and anger went out too.
They left.
They scurried away.
Giving took the eyes off of my pain and placed them onto my gift. A gift much like the one offered for me, a sinner who didn't deserve love.
An undeserved gift, especially the act of forgiveness,
brings Jesus right to the center of relationship.
My arms came undone and fell open to receive and pour out love.
But I tell you, love your enemies and pray for those who persecute you, (Mt. 5:44)
If your enemy is hungry, give him food to eat; if he is thirsty, give him water to drink. (Prov. 25:21)
God knows something we don't (ok, a lot actually) and it is this: When we give to someone, we start to love them. We start to feel for them. We start to see that their issues are more about them, than they are about us. We start to see that they need us - and that we need them.
A generous person will prosper; whoever refreshes others will be refreshed. A generous person will prosper; whoever refreshes others will be refreshed. The generous will prosper; those who refresh others will themselves be refreshed. Prov. 11:25
As we reach out, we start to see all that is reaching into us through the act of love. We start to see it is not all about us and our rights, but it is simply about giving our rights to another, just as Christ did for us.
He is the justice-keeper, we are are the love extenders.
I learned, the joy is never found in the harboring of rights,

but it is always found in the helping of the hurt.
Forgiveness is the heart and soul of Christianity.
It is the feet - to love,
and the heart - to relationship.
As you let your feet move,
your feelings eventually follow.
For if you forgive other people when they sin against you, your heavenly Father will also forgive you. Mt. 6:14
Join Kelly on her blog, Purposeful Faith, on Twitter and on Facebook.
Get all Purposeful Faith blog posts by email - click here.