Originally published Monday, 10 October 2016.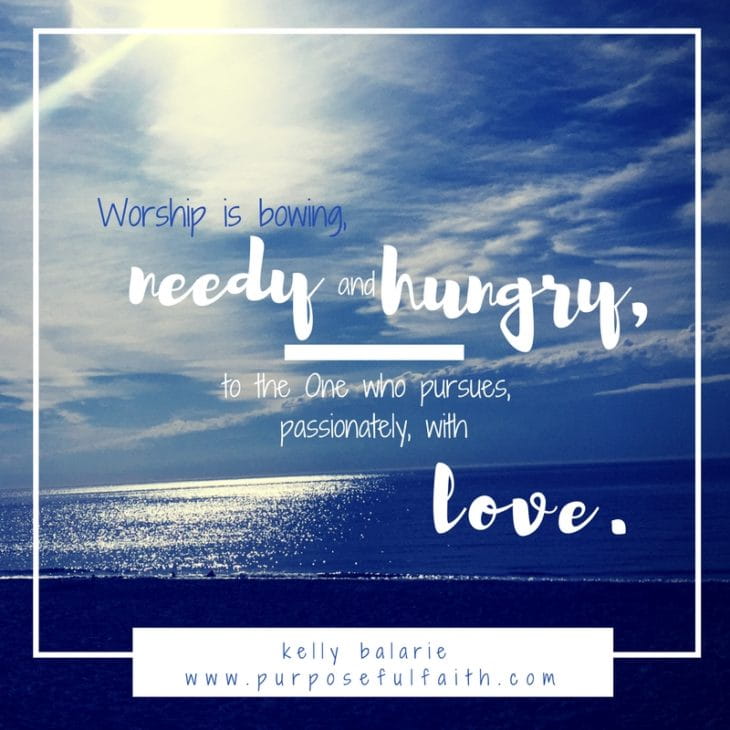 We watched her from our car - she walked slowly, cloaked, and hunched over, stepping onto the crosswalk we were sitting in front of. Like magnets, our eyes were drawn to her, her cart was filled with a hodge-podge of materials that glowed and shimmered in the sun. She stared straight ahead but stopped dead, right in front of our car. Mom, looked at me, I looked at mom and, in unison, we moved to the edge of our sticky-leather seats, "What is she up to, we thought?"
Despite the multiple changes of red lights to green and green to red, she didn't move. She was stuck there. There simply was no moving ahead to the adventure that awaited us ahead there was only - us and this cart-lady. Here eyes met ours inside the car.
Ever noticed? Often, this is how it is with worship. Something moves before our mind and it gets stuck there. It feels that there is no moving it.
Sure, we want to drive ahead and sing God's glory, yet that cart of worry and distraction stands before us. It is all we see. We miss his glory. We can't behold the treasure he wants us to see. We can't move into the joy of his presence.
What are we to do? Well, that day, we paid the lady off. I can't suggest you do this (it won't work well with God), but I can suggest you dismiss distraction in a similar fashion.
How to Dismiss Distraction and Drive into God's Divine Glory:
Pray. Ask God to remove what is pestering you to move in authentically worshiping him.  See yourself hand it to him. Ask him to hold it for you, to tend to it and to bring clarity to that situation.
Surrender. Truly let go of what you just let go of.
Just be. God doesn't need you to put on a show for him, he just desires your needy heart come to him. Often, worship is the act of saying nothing, while you know he is everything.
Worship is coming needy and unknowing to Him who's moving and pursuing you passionately with love. It is bringing your poverty before him who is rich. It is letting him hold you as you are.
It is climbing onto the lap of His care. It is looking at his face with awe, admiration and appreciation. It is waiting to see what he will do - with you. It is not performance-based, but heart-abandoning.
Therefore, whoever humbles himself like this little child
is the greatest in the kingdom of heaven. Mt. 18:4
Worship is not only about hymns, but it's about humble openness, willingness and readiness to soak in the Creator, the Author and the Perfector of faith. It is about seeing his glory beyond the alerts, schedules and notifications continually pinging you. It is about getting quiet in the rush. It is about listening for truth over lies. It is about asking for more rather than existing with less.
It is about being with Him.
Get all Purposeful Faith blog posts by email - click here.
Join Kelly on her blog, Purposeful Faith, on Twitter and on Facebook.