Originally published Thursday, 20 November 2014.
Sometimes we see life gearing up to deliver a punch that we think can take us down. We see it winding back, we see it gaining power and we immediately know what to do – we get afraid. We curl up in a ball of fear. We fear big threats, we fear little threats, we fear people, things, places, times, meetings, kids, parents, dogs, heights, pain and money. We fear fear.
Even more, the fear of the unknown can drive us mad. We don't know how things will turn out. We don't know how we will turn out. We don't know if we will get through it. Our worst-case scenario plays out over and over again in our mind. We see the sucker punch coming. We see our bloodied bodies left in the dust. We see the anguish and the pain.
What do we do when we see it coming? How do we take charge of this bully called "fear"? How do we prevent it from ruling us? From standing over us and mocking us? From pushing us around?
There are 3 ways to stand up to the fear bully. But, you have to be ready to fight back, much like someone else we all know of – David!
Little David stood up against one big bad bully named Goliath. Could have have cowered in fear? Yes. Could he have walked away from God's mission because it was scary? You bet. Could he have told the Israelites to get out here in fight instead of him – a one man shop? Absolutely.
But David fought decapitating fear in 3 ways:
1. He remembered and drew strength on God's faithfulness in the past.
The Lord who rescued me from the claws of the lion and the bear will rescue me from this Philistine!" (1 Sam. 17:37)
2. He looked up to the One Giant larger than the giant.
He looked upon the strength of his Lord, not at the strength of his arms.
He looked at the power of his God, not the power of the obstacle in front of him.
He looked at the might of the Almighty, not at the might of other possible fighters.
He knew that nothing could stand against the power of the living, working, powerful armies of God.
"…Who is this pagan Philistine anyway, that he is allowed to defy the armies of the living God?" (1 Sam 17:26)
3. He didn't listen to the naysayers. He didn't look at the circumstances. He didn't let who he was hold him back from what God had set before him.

"But when David's oldest brother, Eliab, heard David talking to the men, he was angry. "What are you doing around here anyway?" he demanded. "What about those few sheep you're supposed to be taking care of? I know about your pride and deceit. You just want to see the battle!" (1 Sam. 17:28)
"Don't be ridiculous!" Saul replied. "There's no way you can fight this Philistine and possibly win! You're only a boy, and he's been a man of war since his youth." (1 Sam. 17:33)
If you are not fearing something today, you likely will be tomorrow.
What if you were to approach the looming punch differently? What if instead of cowering down to the giant bully called "fear", you choose to do something differently?
Imagine for a moment, a little boy. He stands before the meanest, baddest, strongest bully the school has ever seen. But, for some reason this boy stands smiling. This boy stands proud, fearless and courageous. He stands strong.
We might wonder why?
He has no fear, because he sees something the other kid cannot - his own Father. His father stands directly behind the bully and he stands waiting to help his son, to protect him and to ensure the right outcome to this situation.
And, your father is standing right behind your giants too. Maybe you can't see him today, but he is there. Maybe you can't feel him right now, but he is there.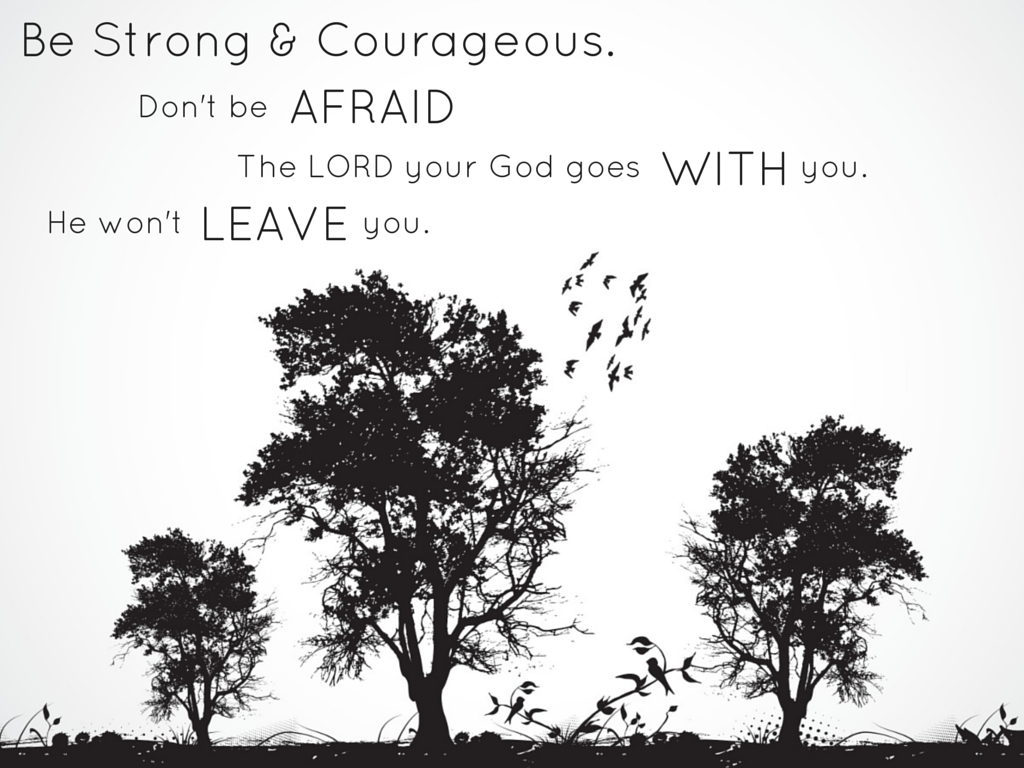 If you believe God is right there for you, could you approach your giant differently?
There is no giant bigger than the giant of God.
Rather than running to hide, living anxious or cowering in fear, look to Him to gain strength. See how he has delivered you in the past. Lean on his faithfulness. Don't let naysayers intimidate you or circumstances rule you. God will deliver you when you trust him.
Our God is greater. Our God is stronger.
God will put the giants of your life into perspective. He Is. They aren't.