Originally published Thursday, 07 May 2015.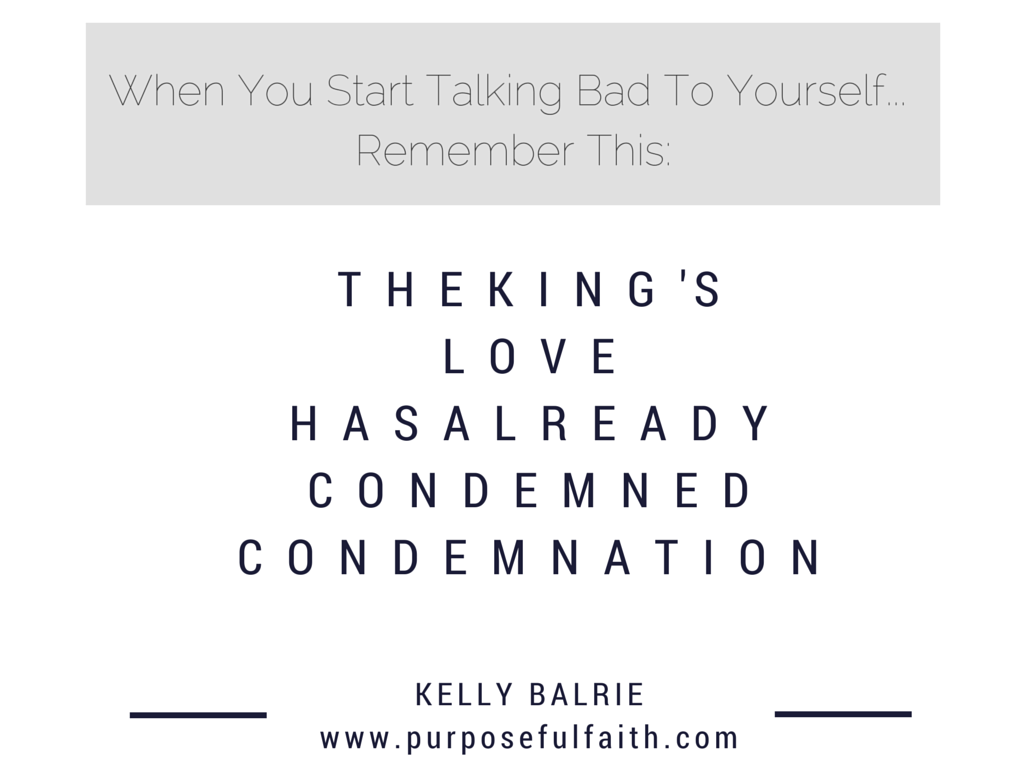 I think to myself:
You are not doing that right.
You're coming off as a know-it-all.
Kids don't love a mom who acts annoyed.
You always drop the ball with your husband.
You are being too selfish.
You are a continual mess-up.
God won't bless that.
Condemnation. Like rain, it sure can pour down. Yet, somehow I have grown to think it's an ordinary part of life. It's like a fly in the house. Sure, it's annoying, but I can deal with it. Sometimes, it even becomes familiar. Provided it doesn't bother too much, we can co-exist.
But I wonder, how much does it hurt me to co-exist with condemnation?
Because when I think of it, I see that self-condemnation left unchecked...
leads to self-loathing and self-loathing left unchecked...
leads to self-inadequacy and self-inadequacy left unchecked leads to...
a fear-filled turned-in spirit that doesn't turn-out towards God or others in faith.
Condemnation may not injure our current actions, but it sure impacts our future ones. It may not hold us back from dreams, hope and a future in the present, but it's lasting effects do bite.
And yes, friends, I do know that God says, "There is no condemnation in Christ Jesus," but sometimes I just don't consider that in the moment - the moment when the thoughts move in as fast as a freight train.
Mostly, in that moment, I am just trying to get by, to live the hand of cards dealt - even when they leave me flushed with thoughts of how much I lack, what I can't do and where I can't go.
Sure, I hate those cards, but at the same time I am used to them. That doesn't make them right though.
Yet, as I stare intently at those cards, wanting something more, my eye starts to focus on the King, the King who wears the crown. The King who is high. The King who can change the game.
I remember his love, I see his royalty and I admire his crown. I see something. I grab hold of something...
I realize the King's love has already condemned condemnation.
His love is what changed - and changes - the game. And it is what changes my thoughts.
Let your eyes look directly ahead and let your gaze be fixed straight in front of you. Prov. 4:25
If I can keep my eyes fixed on what is love - Jesus - my thoughts will follow him. He will lead my mind in truth. The King will teach me the right way to go.
The good man out of the good treasure of his heart brings forth what is good; and the evil man out of the evil treasure brings forth what is evil; for his mouth speaks from that which fills his heart. Lu. 6:45
I know Jesus calls me towards obedience. I can't help but think of this verse: take "every thought captive to the obedience of Christ?" 2 Cor. 10:5
I want to be obedient.
Next time, that hand is dealt and that fly buzzes, I am going to ask myself 3 questions:
1. How does Jesus see you in this moment?
2. Is this thought rooted from a place of Christ's love?
3. Could I imagine Jesus speaking these words to me?
Perhaps, then, I can discard the things that trump his love and grab hold of the ultimate King of hearts. Perhaps then bad hands won't be a precursor to bad actions. My eyes will be set on the King.
Join Kelly on her blog, Purposeful Faith, on Twitter and on Facebook.
Get all Purposeful Faith blog posts by email - click here.
Don't miss an ounce of encouragement.