Originally published Tuesday, 15 March 2022.
The quilt is about to jump off the bed. I think it'd like to, with all the lives it has lived before it happened to be pieced together by fingers holding a thin silver sheath of metal and robust white thread.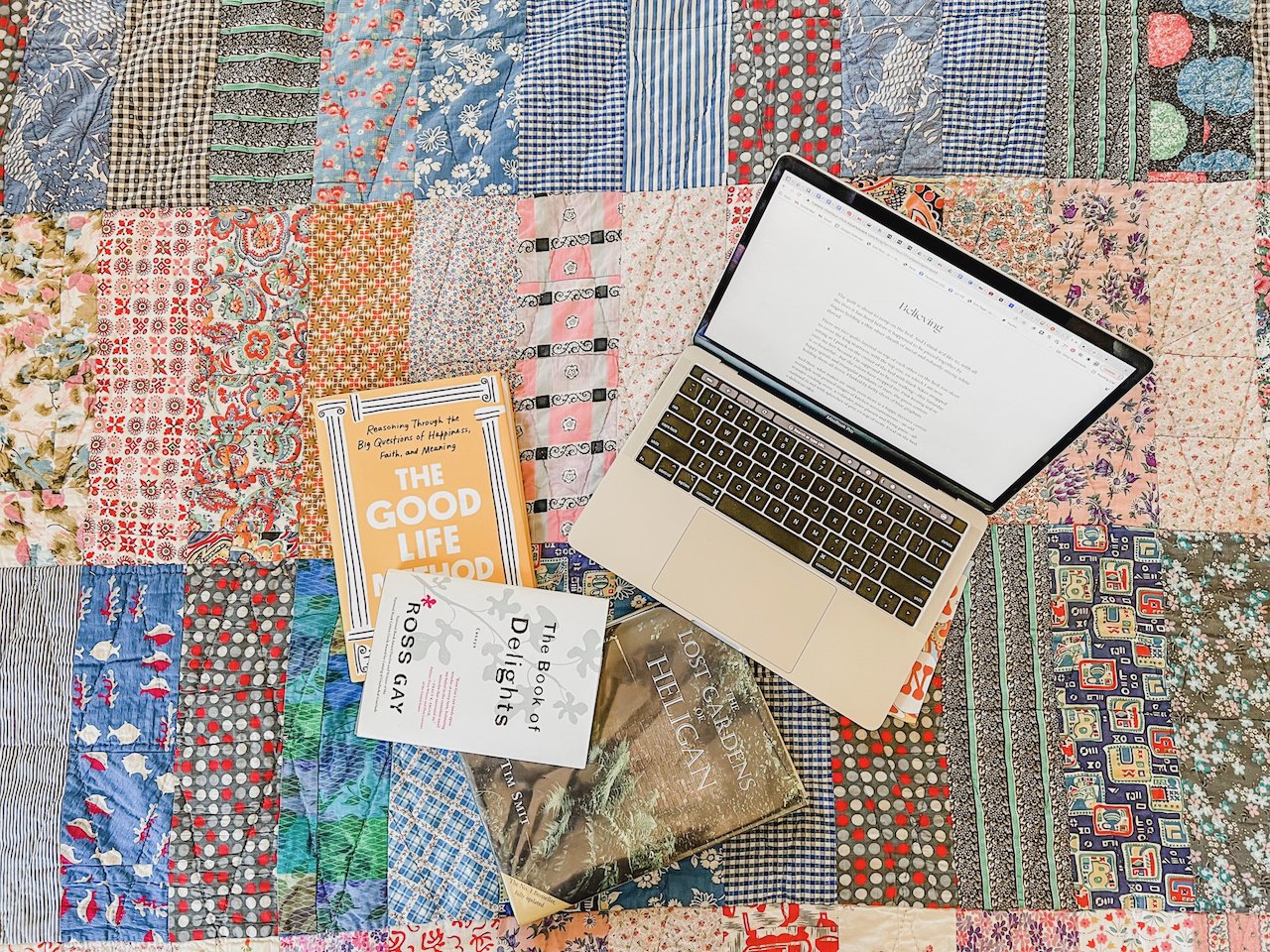 There are two quilts layered on top of each other, too short to cover the king mattress, with the top one, on which I am now sitting as I perch on the corner of it with black Nikes strapped onto my feet because I'm supposed to be out walking—this day, still, is so beautiful—but the colors have stopped me. Pink kissing red in happy spirals and triangular pendants of stars, the green centers holding them all down. Flanked by hefty slices of blue gingham.
And then, what makes me smile even more is a happy decisive cotton rectangle with printed images of kitchen accoutrements—an old wooden cooking stove, a colander, juice glasses and frying pans—all outlined in red with splotches of gray on top of ivory. Food on the bed, a delicious idea.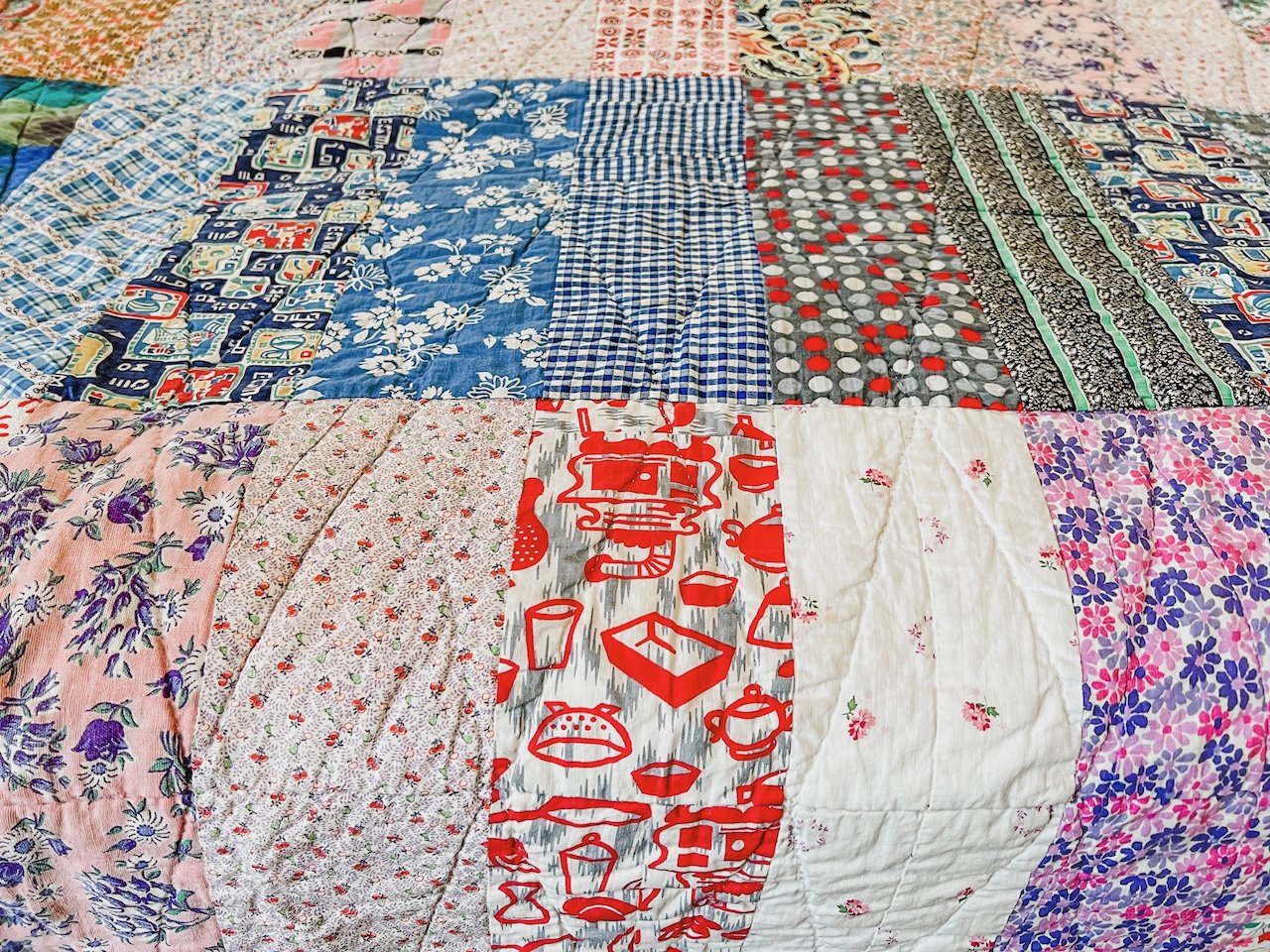 I like to imagine the stories woven into each piece, touching our skin. Bouquets of flowers and paisley and polka-dots and squares and swirls and stripes. I am amazed by the decisions, first of the genius fabric designers who created so many happy colors and patterns—and then the quilt makers, among them Justin's great-grandmother, who cut each rectangle and decided where it should go. The fabrics with pink are organized in a row, followed by a row of other prints grounded by predominantly red and green and blue.
At night, when we're sleeping, the quilts are too short and we wake up faithfully, too early, with cold feet, having pulled them up around our torsos and shoulders. I think about the hands that touched this fabric, how I get to sleep under stories of how the one kid who makes you laugh then leaves home and how the pile of bills may or may not get paid and how one country wants control of another country and there is no shelter and you are trapped and people are hurting and dying.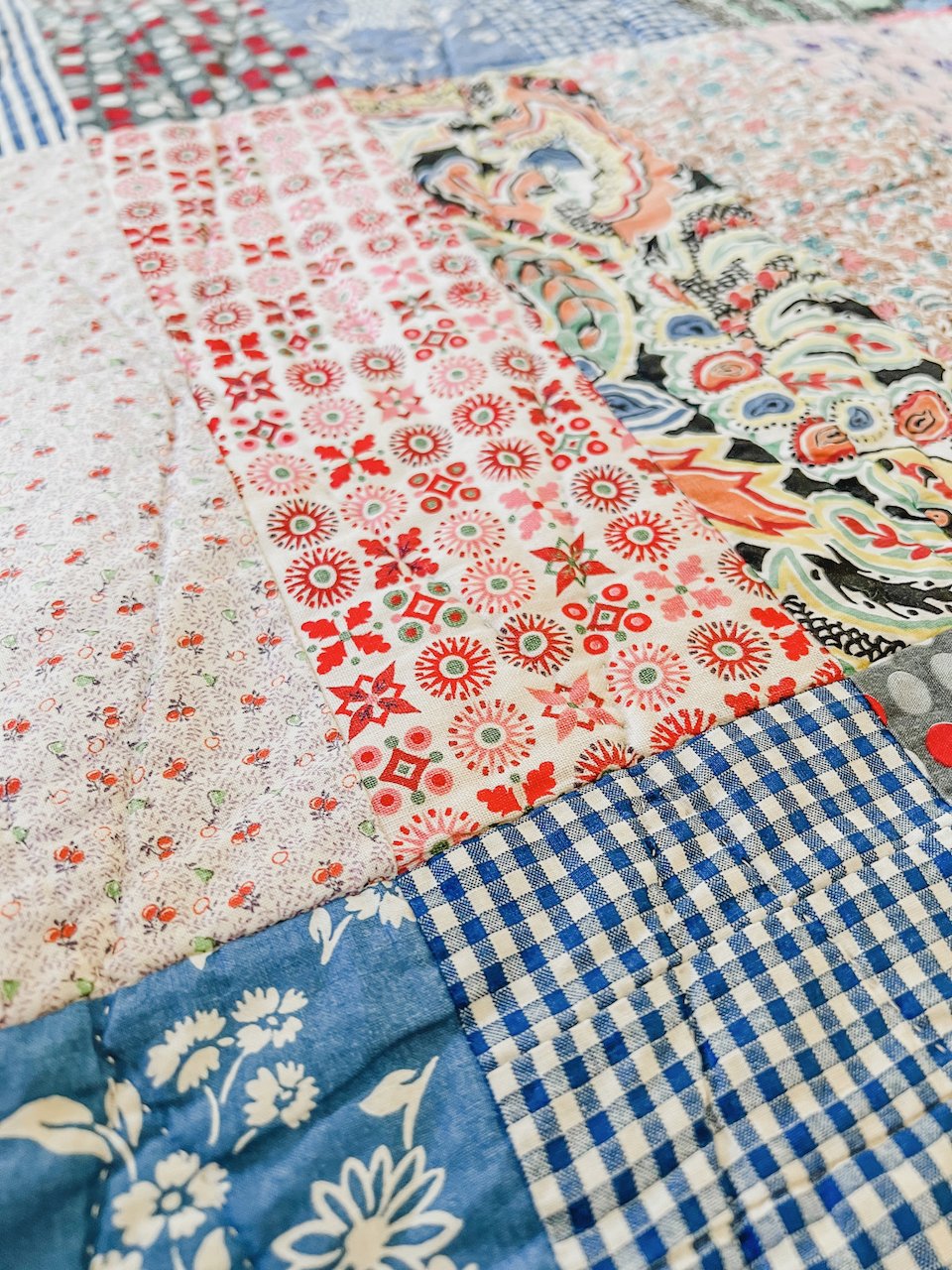 And the quilt tells the stories, dreams collected and prayers prayed, like a testament to possibilities turning good again because life must. We have to keep believing we are being held together, even in early morning dark.
---
What are you believing in because you have to? What is bothering you, exciting you, worrying you, stretching you? What around you is getting you to think and feel, notice and consider? Will you write a poem about that now? Uncover words—what it is you believe and what you don't—that share the whisper of your heart in this moment?
Share your poem on the prompt, "believing," as a comment below or with the beautiful, gentle, encouraging community at Loop Poetry Project. Please join us here.
---
Is that looking back is not worth more
than looking in, or is it looking out,
or is it really just leaving room
to consider how meaning is
beyond what you can grasp
unless, more or less, the
meaning of things is exactly what
you think it is. Perhaps then
you can resist the stifling of
monotony, how it pressures and
doubts and how your sitting in your car
not moving at all does not mean
you are afraid or maybe it means
exactly that but–let's not end here
when you are being missed,
one beautiful life waiting to exhale.
This post appeared originally at jennifer.camp