Originally published Monday, 10 February 2014.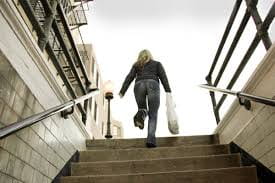 www.insideoutwithcourtnaye.org
Whenever you are about to embark upon something new in your life, then you'll have to get ready to experience some warfare. Stepping out into new territory can bring added pressure, unexpected issues, doubtful thoughts, and the list can go on and on. The vital key here is pausing and recognizing, "Wait, I'm stepping onto a new level, so I have to expect that there will be a new devil."
What this means is that as God opens new doors for you, then you'll need to understand that everyone will not be excited about it (especially the enemy). He does not want you to build God's kingdom in any way. If you're about to get married to a godly man, he'll try to wreak havoc in your relationship as you prepare to say your vows on your wedding day. If you're already married and trying to be submissive, he'll try to pin you and your husband against each other in some way (don't give in to it…keep trying, because breakthrough is coming). If you're single and you're realizing that you want to practice abstinence and wait until God brings you your godly mate, he'll try to bring up old worldly guy friends and even try to bring in a few new counterfeits to entrap you again. Be careful with this!
Just to mention a few more...if God has opened a door for a new job or promotion, get ready for those who are not as excited about it as you are and know that as the new pressures comes, that God will never put more on you than you can bear. You can handle it! Just trust Him. Whatever the case may be, you have to know that God is with you in the fire. And the enemy knows this. But hold your ground when you are tested with what has been entrusted to you and fight. Don't let him demote you!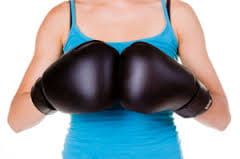 I'm reminded of Ephesians 6:16 which says, "In every battle you will need faith as your shield to stop the fiery arrows aimed at you by Satan." This has helped me big time! Lately, God has been opening some miraculous doors for me and deep down within, I am excited about it. But at the same time, I have entered into some serious warfare. The enemy is soooo not happy about it and he is making his case known to me. BUT…I will believe God! If God says go, I'm going. Any other way would be fear and a lack of trust on my part. And the Bible tells us, "If you love me then keep my commands." (John 14:21) Meaning, "If you love me, then do what I say. Obey me."
I hope and pray that this is helping you. It's time to put on our war clothes and fight for what God has entrusted to us or calling us to do on this new level. Second Corinthians 10:4 says, "For the weapons of our warfare are not carnal, but mighty through God to the pulling down of strongholds;" No doubt, we are in a spiritual battle. But we have to be careful that we don't fight with our mouths, entertain negative thoughts, or fight with our fists. If we have, then repentance and asking God's forgiveness is in order. We have to know that God is in this with us. The battle is the Lord's. All we have to do is keep praying, trusting Him, and moving forward as He directs us.
I'll close this post with an amazing encouraging quote that will help tremendously and a couple of Scripture verses. Here goes…"The task ahead of you is never as great as the power behind you." And Ephesians 6:10-11 "…be strong in the Lord, and in the power of his might. Put on the whole armour of God, that ye may be able to stand against the wiles of the devil." Get dressed, my sister. Don't let the devil sidetrack you with his cunning tricks on this new level. Keep your eyes on Jesus, remain in constant prayer, and be sensitive to the Holy Spirit. And don't forget to watch your attitude, expect the unexpected tests and trials, and hold your position. Know that if God called you to it, then He will bring you through it. Move up in faith!
Remember, Jesus is coming back soon! And those who endure unto the end shall be saved. So let's get ready from the Inside Out!
~Courtnaye
*Thanks for reading! I hope and pray that you've been enlightened from this post. Feel absolutely free to leave a comment or for questions you can email me directly at insideoutwithcourtnaye@gmail.com, and I will respond promptly. Also, tune in every Monday at 7:30am for new posts! Don't forget to "Like" my Facebook page (https://www.facebook.com/InsideOutWCourtnaye) and share this blog with friends, family, co-workers, or your women's group or ministry. I'd love to stay connected and help more women grow in the Lord! Thanks again and may God be with you!