Originally published Monday, 04 August 2014.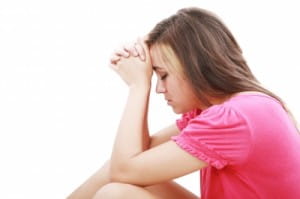 Some people know what a prayer closet is quite naturally, but then there are still many others who are not familiar with it at all. Simply put, it's a secret place where you can be alone with God to share your deepest hurts, pain, feelings, secrets (if you have any), and the like. It's a place where you can lay your heart and soul totally bare before the Lord. It's so personal. It's so intimate. And it's something you may want to think about incorporating into your life, if you haven't already considered it.
Now, I will say this. Having a prayer closet is a personal choice, and it can be pretty helpful as you walk with God. You literally can just release everything to him in that secret place. It's just between you and the Lord. If you've ever been there before, you would know what I'm talking about. And it doesn't necessarily have to be an actual closet. It can be a prayer room, small space, your bedroom, etc. The point here is that you find that spot in your home or apartment where you know that you can be completely alone with God.
And when you get to that place, talk to him and let it all out. It's okay to cry there. For some people it's hard to be that vulnerable. But you can be as open and vulnerable as you want or need to be in this place. Remember, it's just you and Him. Jesus did it also. Luke 11:1 says, "And it came to pass, that, as he was praying in a certain place, when he ceased, one of his disciples said unto him, Lord, teach us to pray, as John also taught his disciples." You can confess things, ask for forgiveness, repent, cry, etc. It's personal.
I'll never forget when my 9 year old daughter came to me and told me that she knew that I had a prayer closet. She noticed that I would go in my closet sometimes and not come out for awhile. I explained to her, the same way I'm explaining it to you. It's so easy, that even a child can understand it, and I pray that she incorporates it into her life one day as well. It's just really good to know that when I can't talk to anyone else about what I'm dealing with, I know that I can run to my greatest confidant in the world…God.
And better yet, He can do something about it all. Amen! Before I even come to Him, He already knows everything about me (and you for that fact). It's truly a secret place. It's a place where I can just rest in Him and just sit or lay there and release all of my heavy burdens, issues, hurts, etc. The Word is so true when it says in Psalm 91:1, "Those who live in the shelter of the Most High will find rest in the shadow of the Almighty. This I declare of the Lord: He alone is my refuge, my place of safety; he is my God, and I am trusting him."
So, do you have that secret place where you can rest in the shadow of the Almighty? Do you have a place where you can run to meet with the Lord alone? I pray you do, but if you don't, I encourage you to find it, whether it's in a closet or not. It's not by chance that you're reading today's post. He wants you to be able to come to Him in secret and share your heart with Him. You can tell Him any and everything, and remember that He is the best confidant! I think the greatest part about it is that He can make it right in every way. Romans 8:28 says, "And we know that all things work together for good to them that love God, to them who are the called according to His purpose." So no matter if you're dealing with relationship issues, kids, work, or your own personal issues, know that He's there for you and that He loves you. And He's available to you 24/7. You don't even have to make an appointment...He takes walk-ins. I pray you find that secret place sis. Until next time...
Remember, Jesus is coming back soon! And those who endure unto the end shall be saved. So let's get ready from the Inside Out!
~Courtnaye
*Thanks for reading! Feel absolutely free to ask a question or leave a comment. Tune in every Monday at 7:30am for new posts on www.insideoutwithcourtnaye.org. And don't forget to "Like" me on Facebook and share it with friends (Search for Inside Out with Courtnaye). I'd love to stay connected and help more women grow in the Lord! God bless you!