Originally published Sunday, 14 September 2014.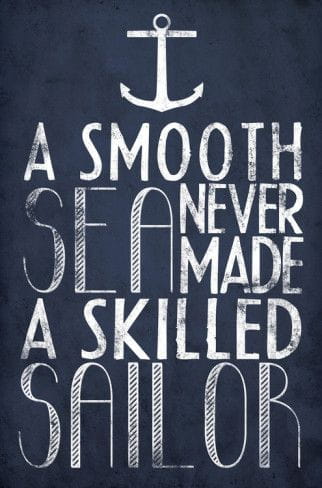 Life is hard sometimes. It really is.
It has a way of knocking us when we are down, making the storm we already felt, that much more severe.
We catch our breath and then we somehow seem to lose it again.
We tumble as a wave hits us and in our crashing around, we just pray for the shoreline so that we can breathe again.
And then, another wave comes.
I have experienced this in my own life and in the recent weeks, God has been showing me something:
Life with Jesus is more about refinement than it is about relaxation.
It is more about character than it is about comfort.
It is more about the development along the way than it is about the actual destination.
And so my prayer has changed.
Instead of "Jesus, just get me to the shoreline".
I have been praying, "Jesus, help me focus on you amongst the waves."
You see, I can not ask to be more like Jesus and expect my journey to be a calm one.
I am covered in flesh, often ruled by emotion and a full-blasted human so that whole, "dying to myself" thing will not just be a flip of a switch kinda thing.
It is not like biology, where you have a "growth phase" and then you're done, you have reached your maximum.
Faith is a process, a journey, a constant revelation of who Jesus is and what that means for your life.
And if I am being honest, the times my faith has grown the most is when the fear was most prevalent.
I had to fight with something bigger than myself. The waves were too large and I knew I could not do it alone.
I guess I am saying this: The position of surrender to Jesus often looks to the world, like defeat.
But my friend, you must change your mindset.
When the going get tough, the tough get going! And going where? STRAIGHT to the throne of Jesus!!! That is a blessing!
Your position of surrender, on your knees, in complete loss as to what to do and full reliance on the Only one who does? That is the sweetest and most vulnerable yet protected position to be in.
While it may not be preferred or welcomed, we often have to be broken down and our world has to be rocked before we really realize how much we need Him and how desperate our efforts will be without Him.
It is when we use our faith to fight our fear that we realize how strong our faith always was and how our fear never had a chance.
So while you may be discouraged and beaten down and just ready for the waves to stop, I encourage you to stop begging for it to all end and rather seek a new way to swim.
Rely on your Father.
You were never supposed to use your own strength to get through this.
You were never supposed to understand everything; you were always supposed to trust that He does.
Let your prayer change: Instead of the storm ending, how about you change it to seeking the calmer of the waves instead?
You know the quote, "A smooth sea never made a skilled sailor"?
It's true.
The sea is beyond your control, sailor. You must rely on Him to get through it.
You will be okay.
I promise. Alright?
Take heart and a deep breath. You can brave the storm
"Count it all joy, my brothers, when you meet trials of various kinds, for you know that the testing of your faith produces steadfastness. And let steadfastness have its full effect, that you may be perfect and complete, lacking in nothing." -James 1:2-4