Originally published Sunday, 02 June 2013.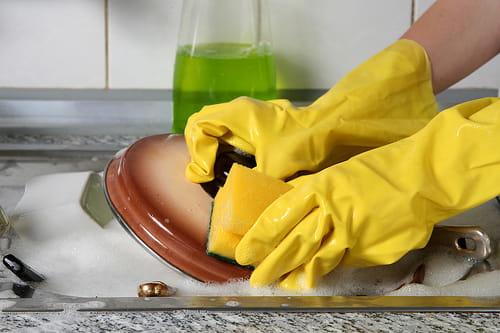 Naturally, this morning I woke up at 6:15 a.m., which is just fantastic since I wasn't planning on going to church until the 11:15 service.
So, I tossed and I turned, but I couldn't get my dad off my mind.
Knowing it was an hour later at Atlantic Beach (wish I was there right now!!!), I decided to call him.
"Cleere! I was just about to call ya sweetheart," my dad says.
My dad has conversations with me all the time in his head I swear, but that's a side note.
So we got to talking and he said, "Well I actually am about to sit down and read. I started washing dishes and getting anxious about work this week, when the story of Mary and Martha came to mind."
While he was talking, I was like "JESUS, gah you are so good" because literally last night, the story of Mary and Martha was on my mind all night. But I ignored it. Awesome.
My dad keeps talking, "And ya know how Martha was so busy preparing for Jesus and working in the kitchen that she didn't take time to just be with Jesus? I think I was doing that."
Light bulb going off in my head, right about now.
So that's why you wanted me to stop and read that story last night, Jesus!!! No wonder.
What happens in this scenario in the Bible is that Jesus is invited into the home of Mary and Martha, two sisters who were living together at the time.
Martha is the one who invited Jesus in, which I feel like we often overlook in this parable.
That is no small detail- Martha wanted Jesus to come in her house and she wanted to please Him and do for Him so she invited Him in.
But the scriptures say that once Jesus was in her home, Martha was "distracted by all the preparations that had to be made," (Luke 10:40).
Martha's focus switched from Jesus to doing for Jesus.
Instead of just relishing in His presence and being with Jesus, she let her flesh get distracted and felt the need to perform.
Now, don't get me wrong, serving others and helping one another is important and something we are called to do.
But in this particular situation, Jesus says that Mary did was better. She chose to love on Jesus rather than do something to gain His approval, and that was something that could not be taken from her.
It was no coincidence that I was too busy sending emails last night to listen to the nudge in my spirit to read that story.
I was too busy being Martha when Jesus knew I desperately just needed to be Mary.
You see, this is the thing: Jesus is in the business of heart transformation, not behavior modification.
That doesn't mean that your actions and behavior are not important, but your behavior is determined by your character and your character is determined by your heart.
Therefore, when you spend your time at the feet of Jesus, your heart is transformed and your actions naturally follow.
Think about it- If Martha was distracted and she didn't have an iphone/ipad/HDTV, then I am sure Jesus is well aware that our world is prone to distractions.
But first and foremost, we must make spending time loving on Jesus is our number one priority.
A clean kitchen can easily be taken away, but a replenished heart?
Never.
It's a Martha world full of Martha mindsets. But that's okay, leave the kitchen and the dishes. Life will be just fine and they won't run off anywhere.
Quit pullin' a Martha. Put down your iphones/ipads/pots/pans & go hang with Jesus.
Happy Sunday, friends!
"As Jesus and his disciples were on their way, he came to a village where a woman named Martha opened her home to him. She had a sister called Mary, who sat at the Lord's feet listening to what he said. But Martha was distracted by all the preparations that had to be made. She came to him and asked, "Lord, don't you care that my sister has left me to do the work by myself? Tell her to help me!" "Martha, Martha," the Lord answered, "you are worried and upset about many things, but few things are needed—or indeed only one. Mary has chosen what is better, and it will not be taken away from her." -Luke 10:38-42