Originally published Tuesday, 26 January 2021.
The Proverbs 31 woman that we read about in Proverbs 31:10-31 is a mother, wife, entrepreneur, and more. But these titles do not make up the sum value of who she is as a woman, and in the same way your value is rooted in much more than what you do or what people call you.
Although many have defined the Proverbs 31 woman by what she does and the titles she holds, it's more important to take a deeper look into the character of who she is as a woman to truly be encouraged by her example.
So even if your laundry isn't folded, hot dinner isn't on the table every night at exactly 6:00, and your home isn't Pinterest perfect, please believe me when I tell you the example of the Proverbs 31 woman is not out of your grasp.
Here's the thing, let's say you did do all those things and check off all the Proverbs 31 boxes, but you were mean, selfish, and greedy. Would it matter that you only looked like the Proverbs 31 woman?
Anyone who puts in the effort can fake a Proverbs 31 life and put on a Godly veneer. But God is looking for more from His daughters. In first Samuel 16:7, God says:
"For the LORD sees not as man sees: man looks on the outward appearance, but the LORD looks on the heart." (Samuel 16:7 ESV)
Anyone can put on a Proverbs 31 mask. But acting like a Proverbs 31 woman and being a Proverbs 31 woman are two totally different things.
In my study of the Proverbs 31 woman, I have discovered 7 characteristics of who she is on the inside that make her a truly virtuous woman.
These characteristics are not only limited to a certain type of woman, what she has or even what she does, but any woman who chooses to live according to these virtues.
If you've ever felt less than a woman because you're not the picture-perfect homemaker that we assume Biblical womanhood requires, and the Proverbs 31 woman exemplifies, then stay with me because I hope that learning about the 7 virtues of the Proverbs 31 woman will help you realize that her example is not out of your grasp.
1. DIGNITY
"A wife of noble character who can find? She is worth far more than rubies." (Proverbs 31: 10 NIV)
First, the Proverbs 31 woman is a woman of dignity. Not only is she worthy of praise, but she knows her value. It's important for a woman to know her worth and the value she adds to her home, community and world. A woman will either add to her home or take from it. However, a woman cannot add value to her home if she does not realize she is valuable.
2. PATIENCE
"She selects wool and flax and works with eager hands. She considers a field and buys it; out of her earnings she plants a vineyard." (Proverbs 31:13;16 NIV)
Second, the Proverbs 31 woman is a woman of patience. The scripture tells us that she "considers a field and buys it" implying her willingness to patiently make the best decisions. Anything good is not only worth the hard work, but it's also worth waiting for. This beautiful life the Proverbs 31 woman built did not happen overnight, and neither will yours.
3. DILIGENCE
"She sets about her work vigorously; her arms are strong for her tasks." (Proverbs 31:17 NIV)
Third, the Proverbs 31 woman is a woman of diligence. She is a hard worker but don't confuse her diligence with busyness. Her work is not only fruitful, but it also makes her stronger.
4. GENEROSITY
"She opens her arms to the poor and extends her hands to the needy." (Proverbs 31:20 NIV)
The Proverbs 31 woman is a woman of generosity. With all that she had worked for and acquired, she freely gives to the poor. She truly is blessed to be a blessing intentionally seeking to help others.
5. COURAGE
"She is clothed with strength and dignity; she can laugh at the days to come." (Proverbs 31:25 NIV)
The Proverbs 31 woman is a woman of courage. She knows what she can control and courageously trusts God with what she cannot. She can laugh at the days to come because she is encouraged in the truth that God has ordered her steps. Because she trusts God with tomorrow, she can have peace for today.
6. WISDOM
"She speaks with wisdom, and faithful instruction is on her tongue." (Proverbs 31:26 NIV)
The Proverbs 31 woman is a woman of wisdom. With God as her guiding source, she has clarity on the decisions she makes, how she lives her life, and the words she chooses. She carefully cultivates a Godly life on the eternal truth of God and not the temporary and fleeting distractions of this world.
7. DEVOTION
"Charm is deceptive, and beauty is fleeting; but a woman who fears the Lord is to be praised." (Proverbs 31:30 NIV)
The Proverbs 31 woman is a woman of devotion. She's not praised because she is giving, a good businesswoman, or how well she takes care of her home. She's praised because she is first devoted to God. All of her virtuous qualities are founded on her devotion to the Lord.
All of these virtues: Dignity, patience, diligence, generosity, courage, wisdom, and devotion represent the intrinsic values of Godly womanhood. These are not what a woman looks like, but who she is.
In the comments, I'd love to hear from you. What virtue of the Proverbs 31 woman do you admire most?
As we learned today, it is the Proverbs 31 woman's devotion to God that makes her the virtuous woman that we read about in the Bible. The same is true for you. To help you cultivate this type of devotion, I've created a free Proverbs 31 Prayer Guide just for you. Click here to start praying like the Proverbs 31 woman today.
If you are interested in learning more about the Proverbs 31 woman, and what it means to practically live as a woman of virtue, I want to invite you to my next online video Bible study series called "Worth More than Rubies: A Grace-filled Bible Study on the 7 Virtues of the Proverbs 31 Woman." Too often when we think of what it means to be a godly woman we focus on what women do instead of who we were created to be. Learn how to cultivate the heart of a Proverbs 31 woman and live a life of faith, courage, and legacy by joining our study "Worth More Than Rubies" at www.belovedwomen.org/rubies. I look forward to studying "Worth More Than Rubies" with you.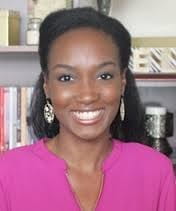 Christina Patterson is a wife and stay-at-home mom with a passion to encourage women in the love of Jesus Christ and the truth of God's Word. When she is not folding laundry or playing blocks you will find her with her head deep in her Bible or a commentary. She holds her masters in Theology from Liberty University and is the founder of Beloved Women, a non-profit providing resources and community for women to truly know who they are in Christ: His Beloved. She blogs at belovedwomen.org.