Originally published Wednesday, 01 October 2014.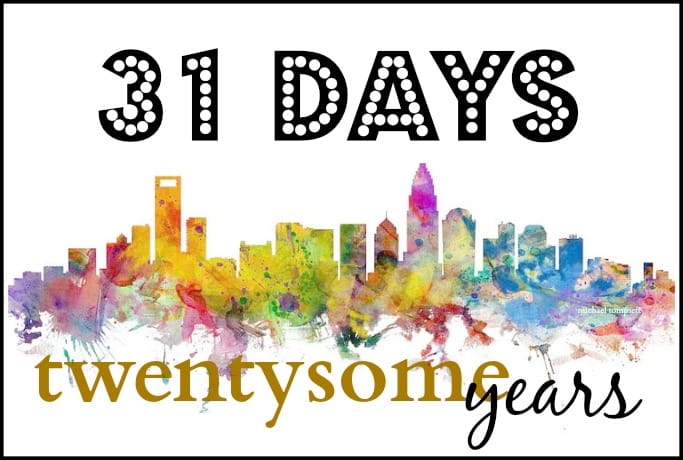 it's october! my favorite three months of the year are upon us and i am so unbelievably happy about it. this month, i'll be celebrating with bloggers from around the globe in the nester's 31 days challenge. i know what you're thinking, but this is not an instagram monthly photo challenge or a 30-days-of-thankfulness extravaganza (as great as those are, i suppose). i decided to join this challenge because of what myquillyn says about it:
"this is about falling back in love with writing. this is about being afraid and saying yes anyway. this is about encouraging others with something you've been through or taking that first step into learning something new."
the point of the 31 day writing challenge is to select a topic and write on that one topic for the entire month. that's a long time. when i first realized those were the rules, i was intimidated. choosing and committing to a topic is not my style. if you've been reading, you know i'm not very good with following rules. within about ten minutes of praying through a specific focus, however, i really felt like the Lord guided my decision through two questions:
1. what am i an expert at?
2. what am i passionate about?
answer number one: very little outside of my job, probably. i'm decent at grammar and logistics, but let's be honest, you'd quit reading if i posted about that for 31 days. i'm pretty good at getting things on mega-sale, but you know. i can't compete with all those coupon mom blogs. the thing i'm an expert at is being twentysomething. i'm 29 and have navigated a decent amount of experiences in those almost-ten years. a lot of it has been hard. a lot of it has been really fun. but i'm definitely good at being twentysomething. thankfully this takes little skill beyond managing to stay alive, but i'll still accept expert status.
answer number two: i'm passionate about being genuine, about the value and importance of community and about encouraging others through my own experiences. being in your twenties (or around there) is hard. no matter what. no matter whether you have a career, are married, have babies, still live with your parents, are still in school, are making six figures, etc. adulthood is really fun in an if-i-want-to-eat-an-entire-pan-of-rice-krispie-treats-and-watch-movies-until-2am-on-a-worknight-there's-no-one-to-stop-me kind of way, but it's nothing like i thought it would be. i don't have everything figured out. the thing that upsets me so much about the blogging/social media world is how not genuine it is. i often i end up feeling inadequate or bad about myself when i fall into the trap of comparison. i can't afford tory burch boots or celine bags. i don't go to nyfw and my house is a mess more often than it's clean. i don't look perfect in every photo i post. i don't take photos of my outfits because honestly, they're probably only photoworthy about once a week, if that. the reality of the situation is that i buy most of my clothes from the goodwill or marshall's and the days i spend more than 15 minutes on my hair are rare ones. this is real life and i want my blog to be a place where readers (specifically women in their twenties and hopefully beyond) can relate. feel encouraged. feel like they have community. feel like they're not alone in the struggles of adulthood. feel like they're enough in the eyes of our Father, even without those killer Tory boots.
and thus, i give you 31 days : twentysome years. every day in october i'll be posting something relevant to women in their twenties. some days will be fun. some days will be serious. i haven't planned all the days yet and i'm really not totally sure what it's going to look like. i just know that i'm passionate about this topic and that i'm not alone in my frustration. i am praying that these posts encourage you and draw you closer to Christ as you navigate through the early (or not so early in my case) stages of adulthood. thanks for following along and i hope you'll share these posts with a twentysomething in your life!
all posts will be available at www.bloomingbranchblog.com, or you can follow along via the permalink here.
xoxo
watercolor image via michael tompsett