Originally published Monday, 07 January 2013.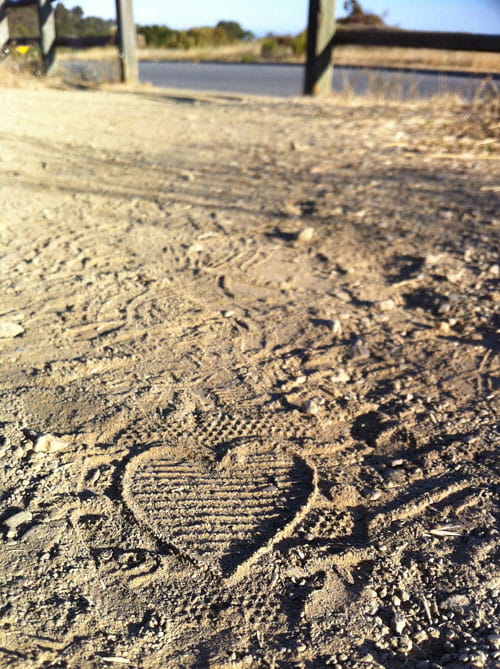 "Having come to know Jesus, we are forbidden to return by the way we came." St. Gregory
The year has turned a new page.
It's here.
One moment, I'm sure of where I'm heading. Another moment, I'm thinking, maybe it's time to change course instead.
It's a voice that's not very loud. It's a voice that's soft.
Still. Like a stone cast upon a pond standing cold in the winter, my heart thinks it's resting when it feels a ripple cascade from the center.
Come back to me, Bonnie.
But, don't come back the way you came.
I want you to journey ahead — by traveling another way.
Like the wise men who traveled long and hard, to follow the star that finally led them to Jesus, God is telling me in more ways than one.
It's time for your homecoming.
And I want you to return — by a different route.
Homecoming
I was talking to Marguerit in the church quad after worship service. The week before Christmas.
I tell her it was my birthday a few weeks ago. And it wasn't such an easy occasion to celebrate. I had mixed feelings about marking a milestone. I looked back on where I've been and I feel the pressure to make this year different. To make it count.
Marguerit is an expert in gerontology. She teaches on the social and psychological aspects of aging. Yes, I know I'm really not that old. People say I look young. I can't take any credit. I tell them it's my Asian genes, that make me look like I'm just hardly out of college.
But, inside I feel old.
This past year, I've had to relive old wounds and memories, that have come alive through post-traumatic stress.
With each flashback, I'm sucked back into a time machine, and I'm four again. I'm alone, standing barefoot, in the dark of a basement. I'm cold and crying, standing tippy toes against the window pane of a gray sky, wondering if my momma has left me for good this time.
The other day, as I inhaled a bite of winter air and moved my legs in its rhythmic pace for my morning walk and prayer, I noticed a heart-shaped imprint left on the dirt path. I thought about the girl who wore those sneakers, and I'm suddenly feeling seven, with floppy hair and choppy bangs that poked me right below my eyebrows whenever I ran.
I remember how lost I felt, gripping my little sister's hand, as we walked down my grandma's driveway, to climb into my father's old green Nova and sit on vinyl seats in the back. Unlike my parents, I never signed my name on any divorce papers. Divorce was a brokenness I experienced in my heart -- during those last visits with my father weekends.
Even against the rattle of his old Chevy engine, I rode in a vacuum of silence. But my heart was far from being quiet. There was world of pain that comes from separation that I never allowed myself to experience.
Returning to this world of pain, to journey through it — it's what Jesus calls healing.
This is the journey of healing is my heart's homecoming.
My Full Voice
I was the strong one. I was the one who always smiled, who only cried just a little. And for the times I cried a lot, it was always alone. And never for too long.
This is how I came to Jesus as a little girl, drawn by the love and the light of a loving Savior, a gentle Shepherd who spoke my name and smiled to see me.
But, now God's taken me on a spiritual journey that leads me back to the places where I've been wounded. Jesus is there too.
But, I'm finding a different Jesus walking with me. He is Jesus with eyes dripping with tears for me. He is intimate friend, chest heavy with understanding, sullen and sober with my memories. He knows the pit of loneliness. He's still my Shepherd, but His arms open to hold me, rather than nudging me to walk forward as He's done in the past.
I'm seeing with painful clarity the truth of life's imperfections and the marks they've left on my soul and in my story. And it's very disorienting to understand why Jesus would want me to revisit the past, at a time in my life when I feel there's so much more I can do without the healing.
Jesus doesn't seem to explain very much. Which can be very frustrating.
Instead, Jesus keeps pointing to the changes He wants me to make.
These are not changes that are easy to check off a list. When I make these changes, there will be people who will not be happy with my choices. Expectations are a very painful thing to break.
I don't know how my life will look like, but I recognize the Voice of Jesus, who whispers -- Speak. In your full voice. I won't be able to explain very much.
I will feel frustrated.
Yes, even afraid. But, I must go.
Because I want to go where God leads me.
I want to go the other way — where the Shepherd of my Heart calls for me to return.
Home Another Way
I'm sure the wise men expended a great many emotional, financial and personal sacrifice and expense to keep following the star — for so many unknown number of days.
You'd think having finally found Jesus, they would finally return home the way they came. In peace and with ease. The moment they found Christ, they were overjoyed and ecstatic. They were able to finally give their gifts to Jesus and experienced the thrill of reaching their goal.
But, their journey wasn't over. They could not return home the way they came.
They received news their lives were in danger.
They had to go home another way.
If you're like me, looking into the new year and wondering, how in the world will I navigate my plans in the midst of sudden changes?…
If you are burdened with anxiety, fearful it's too late — that the journey of faith is taking too much time — with too many detours…
Jesus may be calling you to take a different route, to bring your heart to a new homecoming.
A Different Route
It's scary to unexpectedly find ourselves in a disorienting position — especially if you've traveled long and hard to reach a personal goal or dream for many years.
You and I have journeyed through many different lands, believing we had finally arrived at the cusp of what we thought would give us closure, joy and peace. But, having reached that place in life, we discover ourselves in circumstances we could have never predicted.
Marguerit tells me God's timetable is different from our own.
Jesus himself lived 30 years of his journey hidden, yet God chose to call him while He was single with only three years time to share His purpose.
God chose a different route for Jesus to make His way back home.
It's time for us to make our way back home too.
It's our heart's homecoming.
Back to that place inside us where Jesus is at the center.
To travel together — back to where we are at home with Jesus — feeling safe and loved.
We need to go back via a different route.
—-
----
What is the different route God is calling you to take?
How is God encouraging you -- in that quiet voice -- to take the next step to your heart's homecoming?
Pull up a chair. click to share a comment. share your heart as we turn over a new year.
~~~~~
join bonnie on her blog at http://www.faithbarista.com, on facebook or twitter.
Bonnie Gray is an inspiring Christian writer and blogger, offering encouragement to keep faith fresh in the daily grind. Her writing springs from the belief that the beauty of faith often takes place when life goes off script. Bonnie is the Founder of faithbarista.com and featured writer for Hallmark subsidiary DaySpring's (in)courage. Bonnie is currently working on her debut book, to be published by Revell Books. Bonnie is a native Californian living in the heart of Silicon Valley with her best friend Hubby, wrangling their two heaven-sent boys on the homestead.
** Don't miss! ** If you would like to receive new articles by Faith Barista, click to subscribe by email and get each post in this series served up hot and fresh directly in your mailbox. Free.
Photo courtesy of Photobucket.