Originally published Thursday, 04 December 2014.
There's myth in some Christian social circles that if we're struggling with discouragement, doubt or feelings of hurt or sadness, it may be due to the fact that we're not being grateful.
For most of my life, I've been afraid to share about the times I've felt overwhelmed emotionally, especially when I felt stuck–whether in friendships, ministry, my career, relationships or dysfunctional family dynamics—and particularly during the holidays.
I didn't want people to misjudge me, because I honestly have been grateful for everything God's done for me and provided.
But, does being grateful mean emotional amnesia?
Guilt and Compartmentalizing
I've always felt like I had to hold my breath until God resolved my journey so I could then show how God came through for me. I based my faith on how competent I was in being happy and strong until everything ended up wrapped up with a pretty bow.
But, most of life isn't like this.
I had to learn this the hard way. Compartmentalizing certain parts of my story led me to eventually experience anxiety and panic attacks so intense I literally struggled to breathe.
Most of us have been there. Sometimes, when I was down about things, someone would say, "Be thankful. There are so many people who are worse off." I know it was well intended, but it made me feel guilty and ashamed, so I hid those parts of me that suffered.
That doesn't sit right with me anymore. In my journey to heal, I'm experiencing a new freedom and intimacy with God that comes from confiding in my wounds and fears.
I don't think God wants to guilt us into feeling better about our struggles because others are suffering more.
Jesus didn't say to the blind man, "Be thankful you can walk."
Jesus had compassion for each person's plight and condition, never comparing.
Truly Known
Jesus brought honor to brokenness by inviting us to draw near, as is: "Come to me, all who are weary and heavy-laden and I will give you rest." (Matthew 11:28).
Jesus didn't say, "Come to me, all who are strong and worry-free."
Sometimes, we try to alleviate suffering by minimizing our need to be known. We end up living emotionally isolated lives, even though we're the most 24/7 digitally-connected generation ever.
The truth is that gratitude comes from being truly known–connected to things that break us–by sharing our brokenness with God and each other.
Jesus himself understands that being thankful doesn't necessarily take away the struggle. On the night Jesus shared a Passover meal of thanksgiving -- grateful for God's providence and protection -- Jesus confided in His inner turmoil – even though Jesus had literally given thanks for the bread and the cup earlier in the evening with His closest friends: "My soul is overwhelmed with sorrow to the point of death. Stay here … With me. I'm very sad. It feels as if I'm dying" (Matthew 26:37-38 (NIV, CEB).
Jesus didn't want the struggle, but He loved us.
Jesus chose to be broken.
This year, I'm learning to have the courage to be broken. I'm opening my heart to my real thanksgiving list. By redefining how we think about gratitude our journey of faith doesn't have to be just seen through the lens of success—or failure.
Here are 5 Ways God Redefines Gratitude
I'm thankful ..
1. I can be in need, so I can go on a new journey to find comfort. "As a mother comforts her child, so will I comfort you" (Isaiah 66:13).
2. I can feel sadness, so I don't have to live separated from my heart. I can cry and feel afraid because God loves all parts of my story. "You keep track of all my sorrows. You have collected all my tears in your bottle. You have recorded each one in your book"( Psalm 56:8).
3. I don't have to want suffering, but I can choose to embrace it. Because God doesn't see it as shameful. "Do not be afraid. I have reclaimed you. I have called you by name; you are mine"( Psalm 43:1).
4. I can fall apart, because Jesus carries me when I've gone as far as I can go. "Even to your old age and gray hairs, I am he who will sustain you. I have made you and I will carry you"( Isaiah 46:4).
5. For God's promises: I'll never abandon you. I'm never going to leave you. "For my father and my mother have forsaken me, but the LORD will take me in" (Psalm 27:10).
We can go on because beautiful things can be found among the devastation of letting go. We can be broken and real, because Jesus still chooses you and me.
If God's brought you on a journey through a season of brokenness, step out to give thanks. Not because you're strong. Not because everything is picture perfect. But because you are loved.
This article is an excerpt from Relevant Magazine: "10 Ways To Redefine Gratitude". To read the entire list of 10 Ways to Redfine Gratitude, read more at http://www.relevantmagazine.com/god/10-ways-redefine-gratitude
~~~~~
Pull up a chair. Share your thoughts. Share a comment below.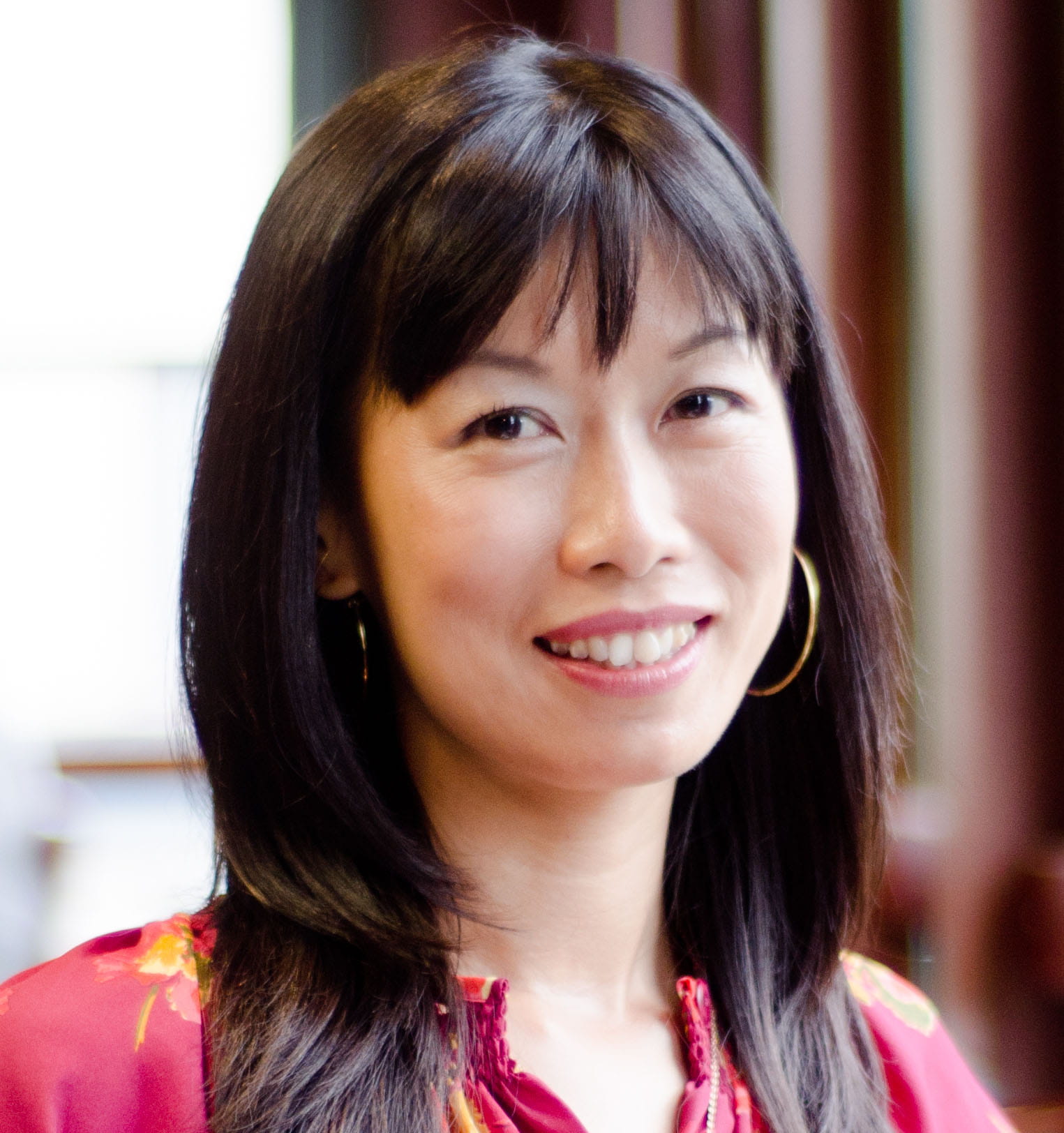 By Bonnie Gray, the Faith Barista, serving up shots of faith in the daily grind. Bonnie is the soulful author of Finding Spiritual Whitespace: Awakening Your Soul To Rest, which has garnered starred review praise from Publisher's Weekly. Bonnie writes for DaySpring (in)courage and her work has been spotlighted by Christianity Today, Relevant, Catalyst Leadership and she's been named in the Top 6 notable new religion authors. After graduating from UCLA, Bonnie served as a missionary, ministry entrepreneur, and Silicon Valley high-tech professional. She lives in Northern California with her husband, Eric, and their two sons.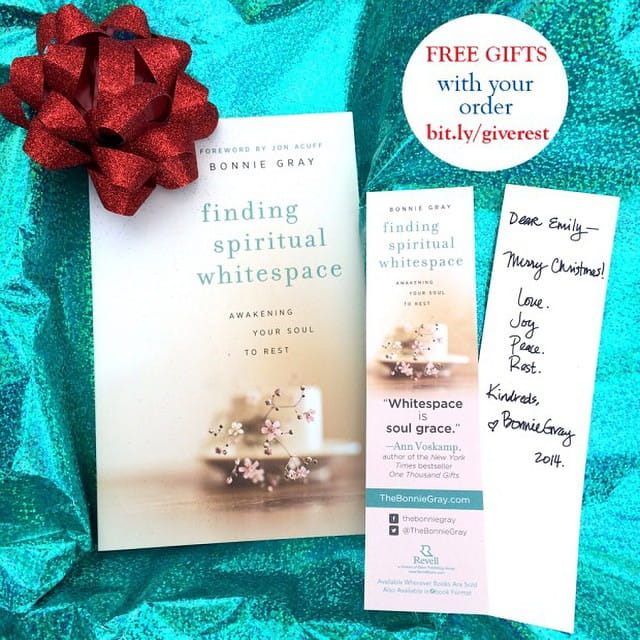 For inspiration to create space in your life to breathe, order a copy of Finding Spiritual Whitespace: Awakening Your Soul To Rest, which has garnered starred review praise from Publisher's Weekly. This memoir-driven guidebook for rest will nurture your heart to draw closer to God.
*December Special* Free Gifts with your order. Give the gift of rest to a friend -- and yourself -- this Christmas. Click here to sign up.
Learn how a life-long dream unexpectedly launched Bonnie into painful childhood memoires to discover a better story of rest. Visit TheBonnieGray.com to learn more.
"Whitespace is soul grace. Bonnie Gray ushers weary women into the real possibility." - Ann Voskamp, NY Times bestsellng author of One Thousand Gifts
"If you want to hear Jesus speak more tenderly to your soul than ever befrore, this is the book for you." - Lysa TerKeurst, NY Times bestselling author of Unglued
"We live in a culture that brags and boasts about being busy. Into that reality steps Bonnie with a new idea.
Whitespace is an important concept and Bonnie has captured it perfectly. -Jon Acuff,NY Times bestselling author of Start!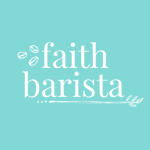 *Don't miss!* If you are new to Faith Barista, I'd like welcome you here. Click here to subscribe by email -(free) and get each post in this series served up hot and fresh directly in your mailbox