Originally published Friday, 05 August 2016.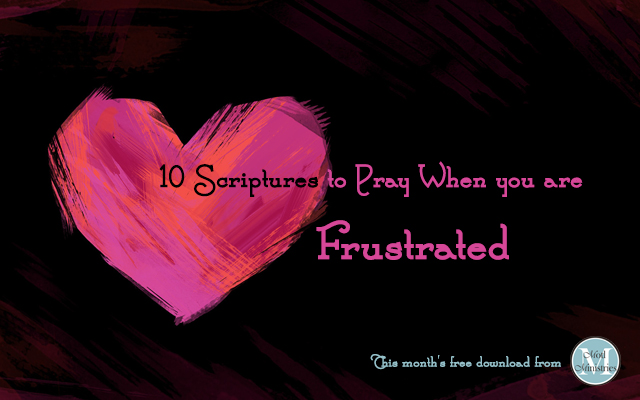 I was recently talking with a fellow mom of littles and we were both commiserating on how frail our patience can be. I HATE being impatient with my toddler. I HATE being impatient with my husband. But it happens, doesn't it? Even when we don't want it to.
As a college student I remember asking our Young Adult Pastor's wife how to stop being angry. She was a wonderful woman. But her answer left me feeling like pretty much the worst Christian ever! She said if you know something is wrong, then you just won't do it. Yup. I knew it. Worst. Christian Girl. EVER!
A while passed and the Lord brought me an amazing mentor (still thank God for her constantly!). I asked her, "How do I stop being angry?" She said, "I don't know, but we will pray." And we prayed while we went through Neil Anderson's Steps to Freedom in Christ (great resource, BTW). While I watched and learned from her, I picked up a few habits that keep anger from getting a chokehold:
Look for spiritual holes in your heart. Sometimes we can have sinful attitudes or habits that leave us with gaping holes. The good things God wants in our hearts just end up pouring right out those holes. So we've got to shore up the holes through obedience, faith, and prayer. Take bitterness, for example. Bitterness gives the enemy "an advantage" (2 Corinthians 2:11). Anything that gives him an advantage in my life I want rooted out!
Journal and pray through your emotions instead of... well, vomiting them all over people. My mentor would pray and write our her emotions before she took them all hot and riled to her husband. She would focus and pray before she enacted discipline on her kids. We need to communicate what hurts us and frustrates us, but too often we only end up passing on hurt and frustration because our emotions drown out our words.
When I am weak, I need to invite God's strength in! Owning our weakness and leaning into God's character makes our hearts available for the transformation Christ came to give us. If I keep muddling along in my weakness I am missing an opportunity to change. If I lift my total weakness to God, then He can come in and transform my weakness with His strength.
In my own personal journey, I've added a few habits too.
I've found praying Scripture the most powerful tool at my disposal. So I pray verses that describe God's character and my need/dependance on Him. The Scriptures I need to pray most are plastered on my calendar, fridge, in the car, on my bathroom mirror, EVERYWHERE!
Anger, anxiety, and discouragement are meant to viewed like the speedometer on my car; they aren't the steering wheel. Emotional responses communicate something about me, they don't command me. So if I am angry, I need to take some time and sift through everything that I might be shoving, not forgiving, not dealing with, and make sure my heart is clear of that kind of inflammatory baggage. I also need to take stock of how I am caring for my spiritual and physical life. Sometimes these emotions are just red-flagging us that we need more sleep, less caffeine, more quality time with the Lord, better fellowship time with people who encourage our faith, etc. We need to listen to them, but not let them lead us.
Wash your worth in the Word. I see a lot of difficult emotions surface in my heart and in the hearts of those who ask for counsel that stem from misdirected attempts to define worth. We get discouraged, stressed, and upset when we feel the constant need to prove ourselves (most often we are proving ourselves to ourselves!). If we get off that not-so-merry-go-round, we save ourselves a lot of heartache. (Check out Daily His Delight, if you think this is a struggle weighing you down.)
When in doubt, get more of God's word in! Spiritually it is really easy to starve ourselves. I've started using a method of spiritual growth I used in high school. I won't allow myself more time with a diversion than I've spent with Jesus. I watch what our family eats and try to get the most nutrient dense foods in them I can. So spiritually, how can I do less for my own soul-care? 
So, all that to say, we all get frustrated. But we don't have to stay there! Here's this month's download: 10 Scriptures to pray when you are frustrated.
And if you are looking for more practical encouragement on this topic, check out the series Managing Your Anger Before it Manages You.
Join us for more devotionals, resources and freebies by following Motl Ministries through email, fb, twitter or on pinterest.