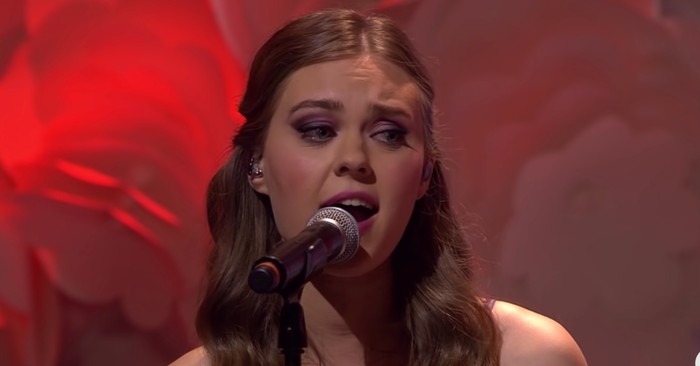 Country singer Emmylou Harris was moved to tears after the band 'First Aid Kit' performs a touching tribute song.
Like millions of other fans, many discovered their love for Emmylou Harris' music at a young age. After all, she is an iconic legend when it comes to country music. So much so, sisters Johanna and Klara Söderberg of the Swedish duo, First Aid Kit stood up to tell their story of how they fell in love with her music in their early teens.
"It was quite the musical revelation for us. We were so inspired that we wrote this song which is about the joy and the magic of singing together with someone that you love," Johanna Soderberg said. What the band didn't expect was that Emmylou would be sitting in the audience!
Would you be able to sing or even speak if you found out that one of your icons was sitting in the room? These two weren't sure. But, the pair hit every note perfectly revealing a whimsey and beautiful love song:
I'll be your Emmylou and I'll be your June
If you'll be my Gram and my Johnny too
No, I'm not asking much of you
Just sing, little darling, sing with me
The song references Emmylou's romance with Gram who died in 1973. It also references the iconic romance of legendary Johnny Cash's and his wife June Carter Cash.
What happens next is so sweet and tender. The 71-year-old music legend was caught on camera with tears streaming down her cheeks. She quickly removed her glasses and wiped her tears with a tissue as quickly as each tear fell.
When the audience thundered in applause, Emmylou raised her hands to clap above her head. It's no wonder the First Aid Kit duo honored her. She has become one of music's most revered voices, releasing close to thirty albums and collaborating with everyone from Dolly Parton to Bright Eyes across her 50-year career.
These young ladies embodied the words of 1 Timothy 5:17, " Let the elders who rule well be counted worthy of double honor, especially those who labor in the word and doctrine."
Source: Godtube
Credit: Polar Music Prize
Originally published Monday, 19 July 2021.