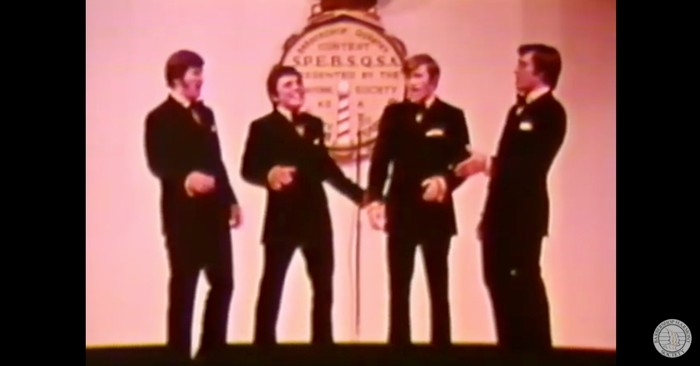 Take a step back in time with this classic performance of 'Good Old Days' from this talented barbershop quartet.
As you listen to these words, you will truly be transported to another place and time.
"Rah rah rumble seats and running boards
Them was the good old days
Knee pants and dime a dance girls
Oh Lord them was the good old days"
The Sundowners were a popular barbershop quartet in the 1970s. Today's classic performance comes from a taped recording in Atlantic City, New Jersey during the Barbershop Harmony Society's 1970 International Convention.
The Sundowners are belting out the words to 'Good Old Days' and the words are even more fitting now than they were back then.
"Them was the good old days
With Model A's and radios boh dee odee oh doh
Rah rah rumble seats and running boards
Them was the good old days"
It's so incredible to hear all of their voices combine for such a talented performance. They seamlessly blend together into this beautiful melody and each a cappella note becomes better than the next.
I know that it takes a lot of time and practice to perfect these types of arrangements, but The Sundowners pulled it off flawlessly. Years later, this performance still holds it own and is a welcome dose of nostalgia.
As our world faces troubling times, it's always nice to take a pause and appreciate the blessings that surround us. And thinking back on simpler times is definitely a comforting practice.
Credit: GodTube
Originally published Thursday, 14 October 2021.