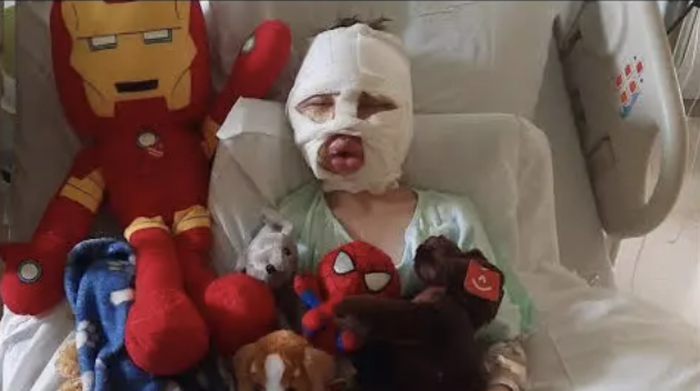 In this powerful video, strangers and friends in a community show up to reveal just how loved one special little boy is despite being burned with a tennis ball caught on fire.
A bully sends a six-year-old to the hospital, but kind strangers show up in the best way through a parade of cars outside his window. He could be seen covered in bandages and waving excitedly through the window! He says he loved the parade.
Dominick Krankall received an incredible outpouring of love from his community as hundreds of cars cruised through the hospital parking lot to show just how much everyone cares. But what made this moment extra special were the men in uniform who showed up with their police cars and fire trucks because Dominick wants to be a police officer one day.
He wants to stop the bad guys like the boy who set his face on fire with a gasoline-covered tennis ball. Dominick has been bullied mercilessly for the last year by the same boy who set his face on fire. But he isn't going to let this senseless act of cruelty get him down. Instead, he will fight the good fight and show up for other people, just like those who are showing up for him as he recovers even though the bully and the bully's parents claim innocence.
In fact, when the community heard Dominick had been bullied by the same child for the last year, a Go Fund Me page was set up in order to help his parents move him to a nicer neighborhood with over $350,000 raised. What an incredible act of kindness in big and small ways.
We pray Dominick makes a full recovery, and we pray his story will be a shining light to all parents to teach their kids it is never okay to bully. We also pray this story brightens your day. What an amazing outpouring of love and incredible kindness.
Galatians 6:9-10 "And let us not grow weary of doing good, for in due season we will reap, if we do not give up. So then, as we have opportunity, let us do good to everyone, and especially to those who are of the household of faith."
Photo Credit: ©SWN
Originally published Wednesday, 18 May 2022.