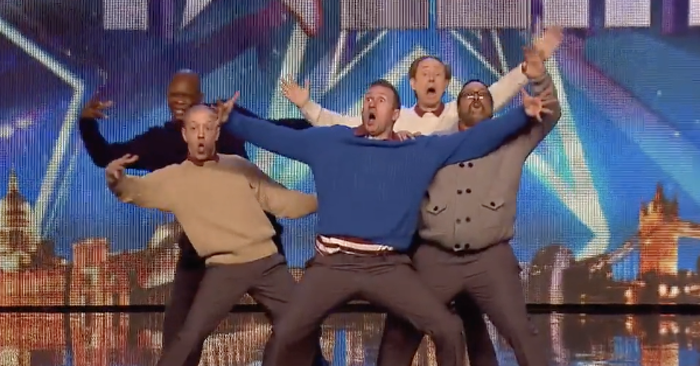 In this entertaining video, a dance group called 'Old Men Grooving' show off their sweet moves in the viral Britain's Got Talent audition.
When the dance group 'Old Men Grooving' hit the stage to audition, the audience laughed and Simon rolled his eyes. But when their music started, everyone realized how wrong they were. These dads can dance! Talk about teaching an old dog a new trick! The men in the group have different jobs like teaching or roles in the IT field, but they all have the love of dance in common. And it is clear that they have mastered many different styles of dance, including some of them doing breakdance moves on the floor! Now that's not something that you see a middle-aged man do every day! The energy of the group 'Old Men Grooving' is infectious, and they have the whole room smiling, laughing, cheering, and clapping along to their performance. We hope that this fun audition from Britain's Got Talent made you smile today, and you were able to enjoy watching these dancing dads bust a move on stage!
Psalm 149:1-9 Praise the Lord! Sing to the Lord a new song, his praise in the assembly of the godly! Let Israel be glad in his Maker; let the children of Zion rejoice in their King! Let them praise his name with dancing, making melody to him with tambourine and lyre! For the Lord takes pleasure in his people: he adorns the humble with salvation. Let the godly exult in glory; let them sing for joy on their beds. Let the high praises of God be in their throats and two-edged swords in their hands, to execute vengeance on the nations and punishments on the peoples, to bind their kings with chains and their nobles with fetters of iron, to execute on them the judgment written! This is honor for all his godly ones. Praise the Lord!
This content originally appeared at https://www.godtube.com/watch/?v=WZG7Y7NX; used with permission.
Photo credit: ©GodTube
Originally published Wednesday, 01 June 2022.