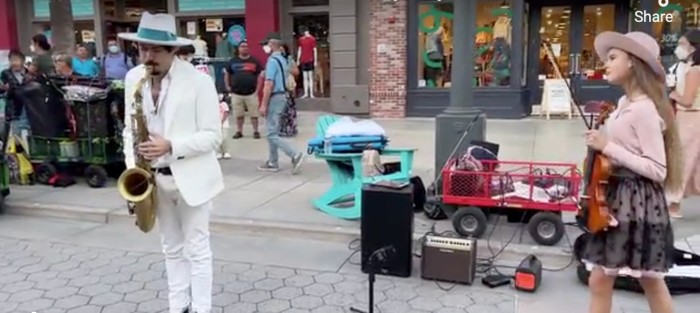 The powerful song was originally released in 1984, but it wasn't until Jeff Buckley released the song on his 1994 album, 'Grace' that the song really started to gain momentum.
*This content originally appeared on GodTube; used with permission.
Since that time, 'Hallelujah' become a worldwide phenomenon and truly cemented itself in music history. Over the years, many artists have covered the tune and it's a popular song selection for auditions and showcases. The unique tune sounds like a perfect blend of a rock ballad and a gospel song.
"Well it goes like this
The fourth, the fifth, the minor fall and the major lift
The baffled king composing Hallelujah
Hallelujah, Hallelujah
Hallelujah, Hallelujah"
Today, Karolina Protsenko and Daniele Vitale Sax are putting their own spin on this iconic tune while entertaining passersby on the street. You may recognize Karolina from one of her many viral violin performances.
For years, she has shared her musical talents with the world through incredible covers such as 'Unchained Melody' and 'Can't Help Falling In Love.' Karolina is truly a talented teen and the Internet seems to agree. With over 10 million views across social media, Karolina is making a name for herself as an artist on the rise.
So many people all around the world connect with Karolina and her unique talent.
One person said, "Another exhibition of brilliance is delivered by our cute little princess, Karolina your talent is absolutely unmatched and God gifted."
Another wrote, "Karolina and Daniele play Hallelujah so well. It truly is a emotional and beautiful song."
There's no doubt that Karolina has a special gift and I'm so glad to hear her teaming up with other talented artists and delighted people all over the globe.
Photo Credit: ©SWN
Originally published Friday, 17 June 2022.