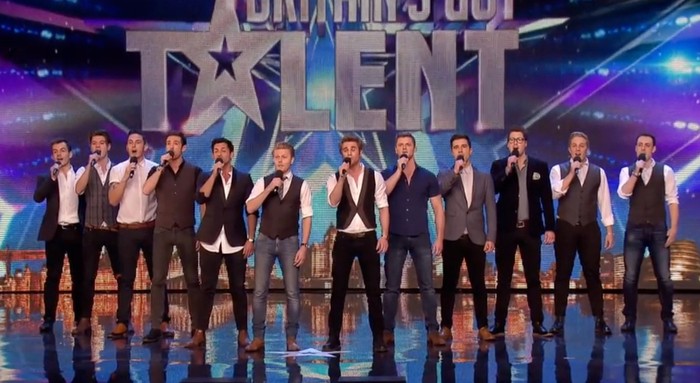 Listen to these 12 tenors sing a beautiful rendition of 'You Raise Me Up' for their audition on Britain's Got Talent.
When the group of 12 walked onto the stage, the audience immediately started cheering and whistling. The men had a boy band appearance even though the group was pretty big. The judges had to wait for the audience to settle down so they could talk to them!

Members of the Kingdom Tenors ranged from age 21 to 31 and all had regular everyday jobs. A mechanic, a teacher, a bartender, and other careers — wonder how they all met!

Once they introduced themselves and said they would sing 'You Raise Me Up,' the judges seemed to prepare for the worst. Not going to lie, I also didn't have high hopes. But keep watching! It's worth it!

'You Raise Me Up,' is a timeless song originally written in 2002 by the Norwegian-Irish duo, Secret Garden. You've probably heard Josh Groban's cover that made the tune popular across the world. His version won a Grammy in 2005, and he continues to perform the song to this day. I know I could listen to it over and over again and never get tired of the melody or his voice!

Tons of musicians have recorded their own renditions since then. Celtic Woman and Celtic Thunder, two different groups of Celtic musicians, released multiple versions over the years with different members, making the song a well-known Irish tune.

It seems impossible for this song to not sound beautiful. Just listen to the lyrics!

You raise me up, so I can stand on mountains
You raise me up, to walk on stormy seas
I am strong, when I am on your shoulders
You raise me up to more than I can be

The Kingdom Tenors received a standing ovation from the audience and judges and made it all the way to the semi-finals before getting eliminated. They were definitely a fan favorite!

I will lift up my eyes to the hills. Where does my help come from? My help comes from the LORD, which made heaven and earth. Psalm 121:1-2
This content originally appeared at Godtube.com; used with permission.
Originally published Tuesday, 28 February 2023.