10 Things Never Present in a Healthy Marriage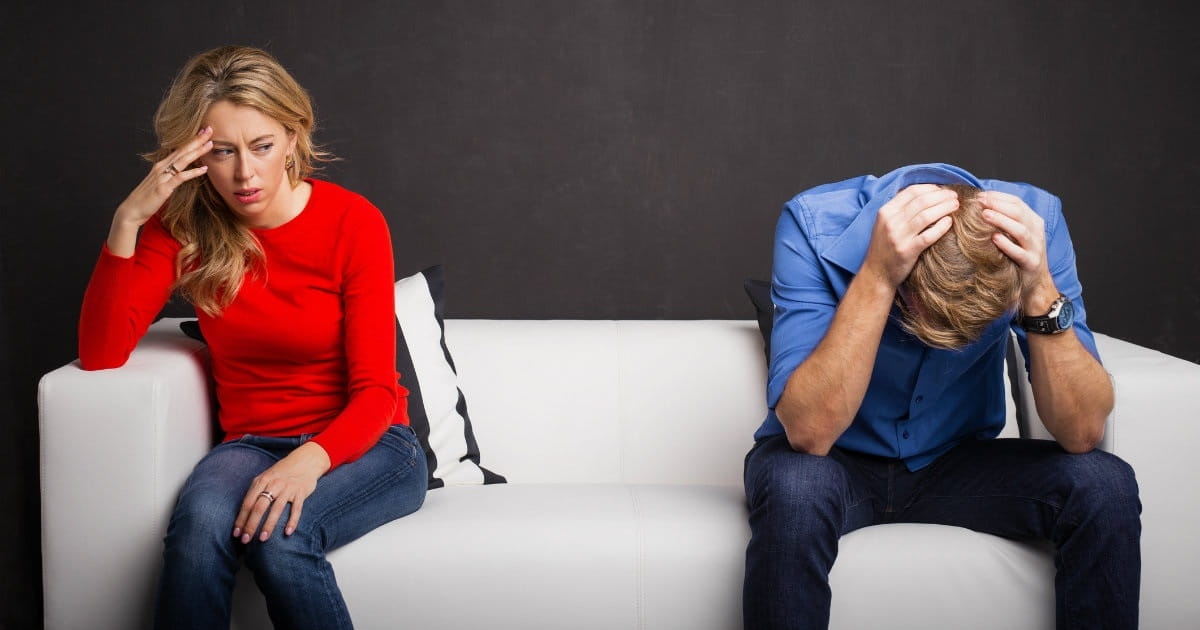 If there is one gift I am thankful for, it is the gift of a healthy marriage. My husband is my very best friend and I love that we get to paint the portrait of our lives together! From raising babies to building businesses and ministries, doing it all with him in a healthy and fulfilling marriage makes the journey so sweet!
With that said, where we are today is not where we started two and a half years ago. The first year of our marriage was pretty rocky and there were a lot of unhealthy habits and traits from which we needed to purge ourselves. With the help of the Holy Spirit, we were able to do the much needed heavy lifting on our hearts so that we could better serve one another in our marriage and actually enjoy it.
Doing life with another human isn't as glamorous as the movies make it out to be. Marriage takes much intentional work, sacrifice, and love. Sometimes, no matter how much we prepare beforehand, we can find ourselves in a union that lacks the health and vigor that God wants us to experience. Praise God that even when we find ourselves in a marriage that is unhealthy, he is able to redeem and restore our marriage to full life and strength. Here are 10 things, in no particular order, that are never present in a healthy marriage.
Image Credit: Thinkstock.com
Read more
1. Poor Communication

Slide 1 of 10

At the heart of the Father is His desire to know us and to be known by us. After all, when Jesus died, the veil that existed to separate us from Himself was torn, allowing us to have open access to communication with the Father forevermore. God cares about how you communicate with your spouse. A healthy marriage is one that aims to please God. Simply put, blurred lines don't please Him. If poor communication is present in your marriage, confusion may not be too far behind. Scripture tells us that God is not a God of disorder but of peace (1 Corinthians 14:33). One remedy to poor communication is clarity. So, sit with your spouse and desire to understand their point of view more than you want to be understood. Clearing the lines of communication isn't so much about agreeing with one another as it is respecting and understanding each other.

Image Credit: Thinkstock.com

2. Abuse

Slide 2 of 10

To abuse someone means to treat them with cruelty or violence, especially regularly or repeatedly. Abuse is never present in a healthy marriage because God calls us to love one another, and abuse opposes love. 1 John 4:7-8 says this, "Dear friends, let us continue to love one another, for love comes from God. Anyone who loves is a child of God and knows God. But anyone who does not love does not know God, for God is love." Whether mentally or physically, we should not abuse our spouse, whom we took an oath to love and protect, if we want our marriage to be healthy. 

Image Credit: Thinkstock.com

3. An "It's You, Not Me" Mentality

Slide 3 of 10

The blame game between two spouses is usually indicative of an unhealthy marriage. Each spouse plays a part in the health of the marriage and it's important to be accountable to one another. Earlier in my own marriage, I found myself blaming my husband for different situations that would have negative consequences simply because it was easier to not be held responsible for those things. However, doing that ended up making my husband feel alone and isolated in a union where there were clearly two of us. What I failed to realize was that my hubby and I were one, good, bad, and indifferent. Mark 10:7-8 says this, "This explains why a man leaves his father and mother and is joined to his wife, and the two are united into one. Take the next opportunity you have to blame your spouse, and come alongside them with understanding and encouragement instead! The blame game separates the two of you into "good guy, bad guy" camps, but in reality, the only bad guy against your marriage is Satan. Choose to fight together instead of fighting each other!

Image Credit: Thinkstock.com

4. Dysfunction

Slide 4 of 10

Your marriage is a ministry. The state of your marriage matters because the effectiveness of your marriage ministry will only go where God desires for it when it is strong and intact. Mark 3:24-25 states it plainly, "A kingdom divided by civil war will collapse. Similarly, a family splintered by feuding will fall apart." What is the vision for your marriage? If you don't know, pray with your spouse and ask the Lord to reveal his purpose for your marriage. If you do know, grab hands with your spouse and run toward the vision with him! Support, uplift, and encourage him! The sooner you and your spouse get in alignment with God's vision, the sooner you will dead the dysfunction in your marriage and the healthier it will be! 

Image Credit: Thinkstock.com

5. Absence of a Servant's Heart

Slide 5 of 10

A definition of the word manipulate is to control or influence a person or situation cleverly, unfairly, or unscrupulously. Manipulation is un-Godly and is never present in a healthy marriage. Trying to control a person or situation to our own advantage is divisive and undermines the whole purpose of marriage, which is to be intimate with another and to reflect the relationship of the Godhead. Hurting our spouse so that we may gain in some way goes against God's word which says, "No one hates his own body but feeds and cares for it, just as Christ cares for the church. And we are members of his body" (Ephesians 5:29-30). The presence of manipulation in a marriage could be a sign of other underlying issues, too. It's good to seek counsel from church leadership or a Christian marriage counselor to reveal what those issues are so that both spouses can be healed and made whole in those areas.

Image Credit: Thinkstock.com

6. Manipulation

Slide 6 of 10

There are two kinds of jealousy that can exist within a marriage. Jealousy of other people who are in relationship with your spouse (college friends, co-workers, family members, etc.) and then there's jealousy of your spouse. Jealousy is like cancer in the bones (Proverbs 14:30). It can ruin a marriage in the same way cancer spreads and damages the human body. Seeing as how marriage is one of the most important relationships we can ever have, it's super important to protect it from this disease! In my own experience, I've become jealous when I wasn't quite secure in my own role as a wife. Before anything else, knowing that you are a daughter of God should tell you something about who you are and how valuable you are! You don't have to allow jealousy to creep into your marriage when you are confident in the identity God has given you. Jealousy can also be indicative that boundaries may need to be present in the marriage to protect it from the decay that jealousy can cause. This leads us to point 8…

Image Credit: Thinkstock.com

7. Jealousy

Slide 7 of 10

Imagine a marriage where every injustice is accounted for, clung to, and never released. There would be bitterness, hurt, and one spouse would eventually grow to despise the other. Unforgiveness should never be present in a healthy marriage because in a healthy marriage, both spouses regularly practice amnesia and forgive one another's faults and mistakes! Scripture tells us that if we don't forgive others of their sins, then God won't forgive us of ours (Matthew 6:15). Gosh, that's really heavy. God cares about us forgiving our spouse and he holds it in very high regard. Forgiveness is freeing for both people involved and allows grace and mercy to do their perfect work.

Image Credit: Thinkstock.com

8. Little to No Boundaries

Slide 8 of 10

Boundaries should be a part of any healthy marriage. When my husband and I first got married, this was one of the areas that needed clear defining. Both of us were, and still are, pretty sociable people, so it was important for the boundaries we each needed to be communicated and respected. Boundaries will be different for different marriages, but the important thing is that they exist. Lack of boundaries can result in decisions being made that harm the trust and peace of the marriage. Also, when it comes to boundaries, it's honorable for us to respect the boundaries that our spouses have, and vice versa, even if we don't wholly agree with them. It is much better that our husbands know that they are protected by us within the marriage because we respect their boundaries, than to disregard the things that are important to them and carry on with life as if all will be fine. Things won't be fine unless you are intentional about guarding your marriage through the use of boundaries.

Image Credit: Thinkstock.com

9. Resistance to Submission

Slide 9 of 10

There is so much beauty in serving others. I'm convinced that the more we serve our spouses, the healthier our marriages will be. Lack of servanthood reveals a prideful heart. But where there is the desire to serve, there is humility, and humility always brings forth good and lasting fruit. Jesus should be the example for how we serve our husbands. Scripture tells us that even the son of man came to Earth to serve, not to be served (Mark 10:45). Serve your husband with joy because you love God and want the Lord to be pleased with the condition and attitude of your heart.

Image Credit: Thinkstock.com

10. Unforgiveness

Slide 10 of 10

Imagine a marriage where every injustice is accounted for, clung to, and never released. There would be bitterness, hurt, and one spouse would eventually grow to despise the other. Unforgiveness should never be present in a healthy marriage because in a healthy marriage, both spouses regularly practice amnesia and forgive one another's faults and mistakes! Scripture tells us that if we don't forgive others of their sins, then God won't forgive us of ours (Matthew 6:15). Gosh, that's really heavy. God cares about us forgiving our spouse and he holds it in very high regard. Forgiveness is freeing for both people involved and allows grace and mercy to do their perfect work.

Britnee is a free-spirited, Old Navy-wearin', coffee-shop lovin', wife and momma. She serves in the worship ministry with her husband at their home church in Glendale, AZ and writes with the sole purpose of pointing others to Christ. You can catch up with her on her blog or via Instagram and Facebook.

Image Credit: Thinkstock.com