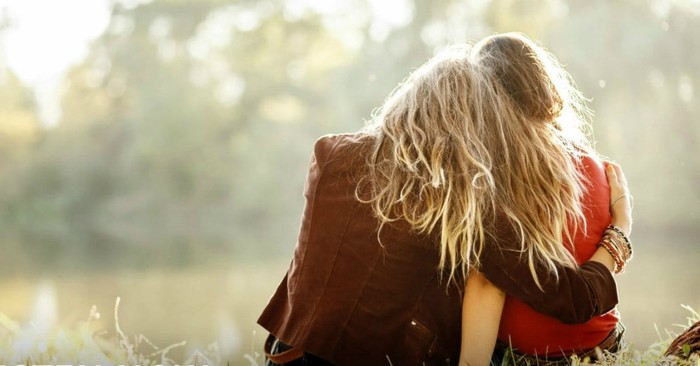 In his darkest moments, Jesus wanted His friends.
When pain overwhelms me, I long for companionship.
I want someone to talk to me, weep with me, sit with me. I want someone to put human flesh on God's comfort.
That may sound unspiritual to some people. It always sounded faintly unspiritual to me. It seemed weak to want comfort from other people.  I thought that if God alone were sufficient to meet my every need, I should never want anyone else.
And of course, He is sufficient. We need the presence of God more than we need anything else. He is the God of all comfort. My entire ministry is based on that fact.
Yet at the same time, I also long for the comfort of my friends. I need community. And I need it most acutely when I am suffering.
This need has always felt vaguely unholy. A part of my sinful flesh that would one day be redeemed. A weakness that would diminish over time. I assumed my role in community would eventually evolve just to serve, not to receive.
Then I saw it. When I first noticed it, it startled me.
In his darkest moments, Jesus wanted His friends.
Mark 14:32-35 says:
And they went to a place called Gethsemane. And he said to his disciples, "Sit here while I pray." And he took with him Peter and James and John, and began to be greatly distressed and troubled. And he said to them, "My soul is very sorrowful, even to death. Remain here and watch."
Jesus didn't want to be alone in His suffering. He wanted human companionship.
Jesus didn't ask His disciples to accompany Him when He was communing with His Father. He often arose early in the morning to be with God by Himself. But we see that in His hour of desperation, when He was facing unspeakable agony, He asked His friends to be with Him.
Since God the Father has always had unbroken fellowship in Trinity, He has never lacked community. But Jesus in the Garden knew that His fellowship with God would soon be completely severed, and He longed for companionship.
Clearly this longing was not sinfully weak or needy. It did not reflect a lack of trust in God or a fragile faith. It was simply human. God incarnate longed for fellowship. Because God created us to live in community.
In the same way, our friends often long for presence in their suffering. Caring for them from a distance is not enough. They aren't looking for answers to their deepest questions. Or solutions to their pressing problems. They just need our presence.
For some of us, that's a difficult task. Much harder than it sounds. It's easier to tell stories. Offer advice. Lecture about optimism. Recite a Bible verse or even deliver a mini-sermon. Those are easier than just being with someone in their grief.
We want instant relief, for ourselves and for our friends. So it's tempting to try to rush their healing, fix their problems, alleviate their doubts. Then we feel we've accomplished something.
Sitting seems so useless. So inefficient. So pointless.
And yet it is infinitely invaluable.
Our presence alone is a gift. As we sit, our suffering friends may not respond to conversation. Some communicate little in their grief. They process internally. They offer no words. Maybe a few tears. Maybe a vacant look. Or maybe just a chasm of emptiness.
Other people are verbal processors, flooded with words about how they are feeling and what they are thinking. Most of these words are not carefully thought out. Or wholly theological. They are at best painful groans not intended for evaluation or judgment.
No matter how they process, no one is requesting from us a deluge of words in response. They just want someone to be there with them.
Simply being present with our friends is more healing than we can imagine.
I still remember a friend who often stopped by the house after our son Paul died. She rarely spoke and mostly sat with me, unobtrusively. I loved having her there. I didn't feel that I had to make any conversation. But at the same time I knew she would listen if I wanted to talk. I didn't want to be alone, though I would never have verbalized it that way. I simply knew that her presence was a great comfort.
Author Joe Bayly had a similar experience after burying his second son. Bayly says:
I was sitting, torn by grief. Someone came and talked to me of God's dealings, of why it happened, of hope beyond the grave. He talked constantly, he said things I knew were true. I was unmoved, except to wish he'd go away. He finally did.
Another came and sat beside me. He didn't talk. He didn't ask leading questions. He just sat beside me for an hour or more, listened when I said something, answered briefly, prayed simply, left.
I was moved. I was comforted. I hated to see him go.
I understand Bayly's first friend. He wanted to make things better. He wanted to do something, and words seemed to be the answer. He thought they would bring comfort.
I am well familiar with that attitude. When there is something to be done, I want to do it. But when there is nothing else to do, I often flee. It's less uncomfortable. Less uncomfortable for me, that is.
Neonatal pediatrician Dr. John Wyatt does not flee. In his practice, he has had to make difficult and painful clinical decisions. Sometimes there are no treatments left for his tiny patients; his training and expertise can do no more. It is then that Wyatt simply sits and weeps with their grieving parents. And perhaps that is his greatest service.
He says in his book, Matters of Life and Death,
"Suffering in another human being is a call to the rest of us to stand in community. It is a call to be there. Suffering is not a question which demands an answer, it is not a problem which requires a solution, it is a mystery which demands a presence."
What a powerful reminder of how we can comfort those who suffering. And how others can comfort us as well.
For suffering is a mystery that demands a presence.
This article was originally published on Dance in the Rain. Used with permission.
Vaneetha Rendall Risner is passionate about helping others find hope and joy in the midst of suffering. Her story includes contracting polio as a child, losing an infant son unexpectedly, developing post-polio syndrome, and going through an unwanted divorce, all of which have forced her to deal with issues of loss. She and her husband, Joel, live in North Carolina and have four daughters between them. She is the author of the book, The Scars That Have Shaped Me: How God Meets Us in Suffering and is a regular contributor to Desiring God. She blogs at Dance in the Rain although she doesn't like rain and has no sense of rhythm.
Image courtesy: Unsplash.com
Publication date: March 30, 2016
---
---