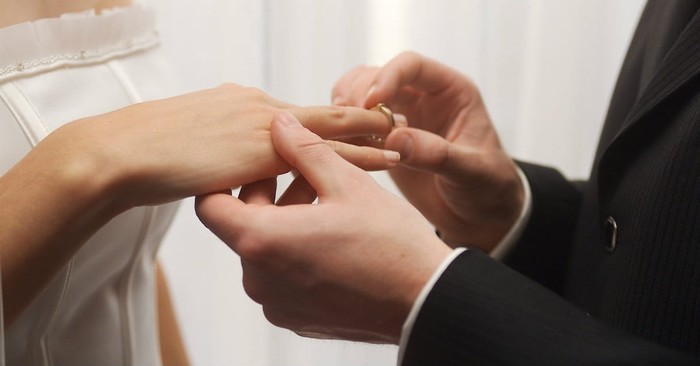 Traditional wedding vows include noble and Godly commitments. But they also have one glaring omission.
My wife and I just had the privilege of marking the milestone of 10 wonderful years of marriage. For many reading this who have been married two or three times as long, perhaps that's nothing remarkable. But when you think about the statistics, which show the average marriage in America being eight years, it's reason to celebrate. 
I'd say we have a good marriage. We love, respect and take care of each other. We make a great team raising our children. But, we deal with the same daily challenges most couples do – stress from work, children, health and finances. We have disagreements. I fail at being the husband I should be at times.
A major anniversary is a good time to reflect on the past and plan for the future. I was thinking back to our wedding day 10 years ago and the specifics of the ceremony. We chose to go with traditional wedding vows because we both, at the time, felt like it pretty much summed up our commitment. It was the basic, "to love and to cherish," "to have and to hold," "in sickness and in health," "for richer or for poorer," "for as long as you both shall live." declaration.
These are very noble and Godly commitments. But, there's one glaring omission from those marriage vows that has come to the forefront for me lately. Prayer.
We never publicly committed to pray for each other or with each other. As a result, a marriage that should have prayer as its cornerstone, has seen a husband and wife who live very separate prayer lives and who seldom join together in lifting each other and their marriage to the Lord. I've been challenged recently in this: to have a successful marriage, we should strive to pray daily for – and with – our spouse. 
Praying for Each Other
It has been said that a successful marriage consists of three people: husband, wife and God. Christian author Stormie Omartian writes about praying for our spouses: First, you should pray for your spouse's spouse. That's you! Pray for yourself first, that you will be the person God would have you to be.
"Create in me a clean heart, O God, and renew a right spirit within me" (Psalm 51:10 ESV). Only then — with a clean heart and a right spirit — will we be in a position to effectively pray for our spouse.
When we pray, we recognize the importance of praying for the needs of our partner — what they are going through at work, their troubles, concerns and physical ailments. God wants us to take everything to Him, to make our requests known to Him (Philippians 4:6). But there are other specific ways we can pray, and should be praying, for our spouse.
Here are three ways I try to pray for my wife:
1. That she will always love God more than she loves me. Our first love should be our Creator, the One who loves us more than any other person can. Pray that your spouse would love the Lord so much that it inspires you to love Him more. After all, it is the first and greatest commandment, as Jesus Himself says in Matthew 22:37-38.
2. That she will love me more than she loves the kids. It's easy to let our lives revolve around our children. The problem, which is well documented, is that when we do that as parents, we grow further and further apart as husbands and wives. Pray that your spouse will love you as much — actually, more than — he or she did on your wedding day. While their love for the children should be strong, pray that it never takes the place of their love for you.
3. That she will love others more than she loves herself. In Matthew 22, after Jesus identifies the greatest commandment, He speaks of a second, equally important, commandment: "Love your neighbor as yourself" (v. 39). Most of us have no problem loving ourselves. We show it by how we prioritize the things that directly benefit us. Pray that your spouse will love others more than they love themselves. We are reminded of Christ's example of this kind of humility: He "emptied himself, by taking the form of a servant, being born in the likeness of men" (Philippians 2:7). In that chapter, we are also reminded to "do nothing from selfish ambition or conceit, but in humility count others more significant than yourselves" (Philippians 2:3).
Pray with Each Other
I'm fortunate to be married to my high school sweetheart. She was my first date when I was fifteen. I remember it vividly. We met at the local movie theater – our parents driving us, of course. We saw The Preacher's Wife. There must have been nothing else showing that weekend.
All that to say, we've known each other for more than 20 years. Yet, I could probably count on my fingers how many times in our relationship we've prayed, out loud, together. I'm not talking about before meals or bedtime prayers with the kids. I'm talking about husband and wife, joined together in prayer before the Lord.
It's one thing to silently say a prayer for your spouse while lying in bed before you go to sleep. That's a pretty simple thing to do. If you've never prayed with your spouse, it's a completely different challenge to commit to praying together.
Recently, through a small group at church, we were presented with the 30-Day Oneness Challenge from FamilyLife. In the challenge, you commit to praying with your spouse every day. They will send you prompts if you need them. According to FamilyLife (and I now agree), "One of the greatest investments you can make in your marriage is praying together daily with your spouse." That's why a tool like this is so necessary.
As we went through the challenge, I found myself becoming more connected to my wife than I had ever been. I'm not a "vocalize-my-feelings" type of guy. The 30-Day Challenge forced us into sharing more as a couple. We had to talk about what was on our minds, things we wanted to pray about and things that were concerning us or stressing us out. 
What was truly remarkable was watching – together – as God answered. Praying together as a couple grows you closer to God and closer to each other. It made me realize what I've been missing for 10 years of marriage. I had been missing the joy that comes in a more intimate relationship with God and with my wife.
Too often, prayer is an afterthought or a last-resort lifeline when we've exhausted every other option. When it comes to my marriage, I hate to admit it, but prayer had taken a back seat. It had been lost in the daily routines and schedules. What I'm learning is that when we commit all of ourselves to God, including our marriages, He is waiting to show us things beyond our imaginations. It starts when we make a commitment to pray for and with our spouses.
Brent Rinehart is a public relations practitioner and freelance writer. He blogs about the amazing things parenting teaches us about life, work, faith and more at www.apparentstuff.com. You can also follow him on Twitter.
Publication date: November 18, 2015
---
---