9 Important Things to Know about Generation Z Relationships
For Gen Z, terrorist attacks, mass shootings, political riots, natural disasters and more have occurred across the United States and throughout the world. Gen Z is also the first generation who was born into a world of mobile technology and social media. So how has the world's tragic events combined with the convenience of technology influenced Generation Z and specifically, how they respond to relationships?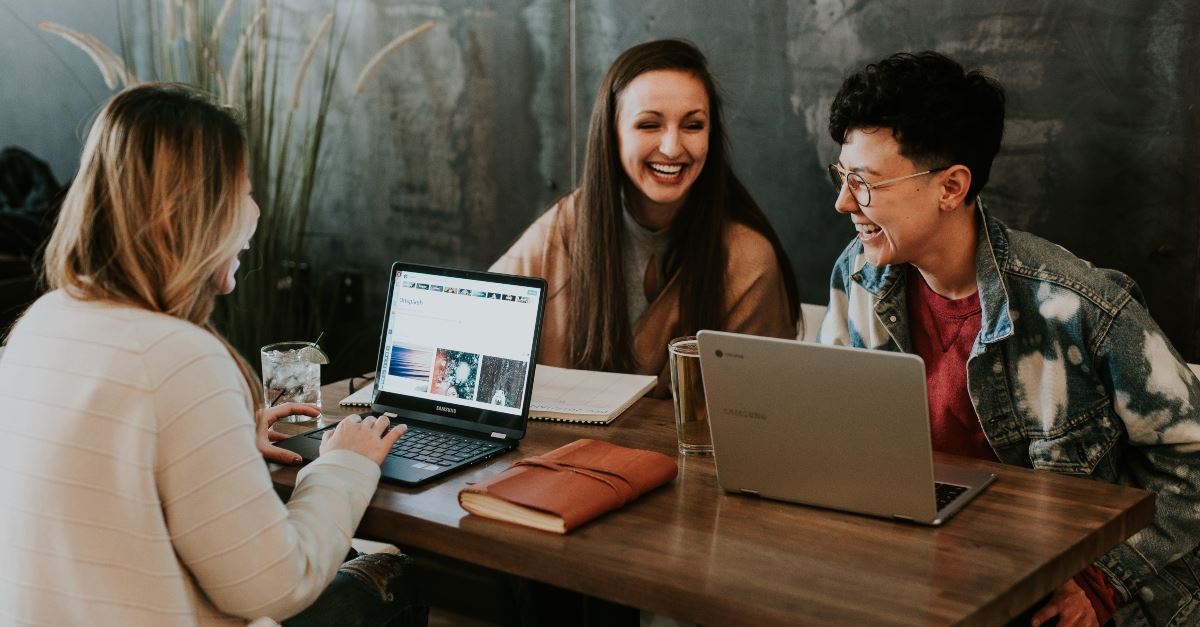 Talking about Millennials is so last year. As a Millennial, I am grateful for the spotlight to finally be taken off of my generation and the focus shifted onto the up-and-comers of the next generation – Generation Z.
Generation Z (also called Gen Z) is the name given to individuals who were born in the mid-to-late 1990s up until 2015. Like all generations, Gen Z has been shaped by the world they grew up in and has been directly impacted by the world's events around them. Even though most of Gen Z either doesn't remember 9/11 or perhaps wasn't even born yet, this event as well as the Great Recession have left a prominent impression on this generation.
For Gen Z, terrorist attacks, mass shootings, political riots, natural disasters and more have occurred across the United States and throughout the world in places they frequent such as schools, movie theaters, shopping centers, sports and entertainment arenas and their own neighborhoods, as Cyndie Claypool de Neve discusses in God-Confident Kids. Gen Z is also the first generation who was born into a world of mobile technology and social media. Think about it – landlines, dial-up internet, portable CD players and sitting through TV commercials are as foreign to them as black and white television, 8-tracks, and floppy disks were to Millennials.
So how has the world's tragic events combined with the convenience of technology influenced Generation Z and specifically, how they respond to relationships?
Here are 9 things to know about how Generation Z does relationships:
1. They Are Realistic
Generation Z is motivated by security and seeks structure, stability and consistency. Growing up in a post-9-11 era means Gen Zers are accustomed to terrorist attacks, mass shootings, political riots and more, occurring throughout their country and in common places they frequent. Furthermore, Gen Z tends to be more pragmatic and analytical about their decisions and beliefs than previous generations because they are the first generation with vast amounts of information available at their disposal. As a result, they are constantly informed and are able to control how they will react and interact with any situation they encounter. Additionally, being raised in a time of global economic stress has impacted their longing for job stability and financial security. Knowing this, we can understand why Gen Zers are practical in what they believe and in how they respond.
2. They Are Individualistic
Those in Generation Z have a habit of being self-reliant, self-assured, and self-righteous. Often this self-centered mentality is a product of being raised by helicopter parents, parents who believe their children can do no wrong or by lack of parental discipline (Hebrews 12:11). Moreover, their individualism can be seen as a result of growing up in a tech-driven world where information is readily at their fingertips and celebrity-fame is portrayed as attainable through a viral post or video. Likewise, Gen Zers value individual expression, avoid labels, and feel comfortable not having only one way to describe oneself. But this isn't all negative - their quest for authenticity through individualism creates a greater freedom of expression and an openness to understanding different types of people. 
3. They Are Competitive
Gen Z is highly driven and prefers independence rather than collaboration. Most often, this has contributed to Gen Z's competitive and overachiever nature. Their world revolves around constant comparison via social media along with the need to not just keep up but exceed all expectations and perimeters within academic and extracurricular activities. Think: rigorous class schedules, personal tutors, traveling sports teams, and private lessons. They are always trying to be the best, have the best or achieve the best and are often overworking themselves, becoming stressed or anxious, or are missing out on the carefree moments of adolescence.
4. They Are Lonely
Despite having the ability to be constantly connected to the world around them, Gen Z is reported to be the loneliest generation ever. Research has shown a direct link between time spent on social media and the increase of loneliness within an individual. Unfortunately, loneliness is causing many teens and young adults to turn to drugs, alcohol, sex, bullying and self-harm as they battle against depression, lack of confidence, and other matters related to mental health. However, this isn't entirely specific for Gen Z but for our current society as a whole. Many individuals today are experiencing a lack of connection and interpersonal relationship. We were never meant to do this life alone (Deuteronomy 31:6, Isaiah 41:10, 1 Corinthians 12:12-31).
5. They Crave Connection
Even though Gen Zers are the first generation raised on technology, face-to-face communication is their preferred method of interaction, as ITA Group points out. Perhaps this is because social media and text messaging filter away any sense of real communication and heartfelt relationships. Whatever it may be, we as a society need to come together to recognize a common desire to establish both interpersonal relationships and interactive local community (Hebrews 10:24-25).
6. They Are Authentic
Gen Z seeks real relationships and treasures transparency. They appreciate raw facts, ideas and concepts as well as people who are true to themselves. As a result, they are socially accepting of all types of people and are the most racially diverse demographic this world has ever seen.
7. They Want to Be Loved
In a world full of "likes," "friends" and "followers," Gen Zers yearn for true love. Face-to-face communication, physical touch and verbal affirmations are examples of the real love this generation longs for. We can love on this generation by limiting screen time, prioritizing verbal and physical interaction and removing any distractions that prohibit the developing or strengthening of interpersonal relationships.
8. They Are Religiously Unaffiliated
When researching this generation, I found it interesting that all Gen Z behaviors are anchored with one commonality – a search for truth. And it makes sense given the self-centered, culture-driven, tragedy laden, world of filtered perfection we live in. However, the majority of Gen Z has a more secular worldview than a biblical worldview. Furthermore, their personal beliefs and convictions are more feelings-based rather than grounded in truth, as Sean McDowell and J. Warner Wallace reveal in their book, So the Next Generation Will Know. They are more open to accepting new concepts and engaging those with experiences that are different than their own. Likewise, they desire authenticity and do not want anyone to feel judged or offended. These are all wonderful qualities to possess except when lacking solid foundation to ground themselves on (Matthew 7:24-27).
9. They Want a Voice
Gen Z individuals are socially aware and genuinely concerned about the world they live in and desire opportunities to create, contribute and lead as a way to be seen, heard and known. Chaos and unrest throughout the United States over this generation's lifetime have motivated Gen Z to be doers – they are prone to get involved, form an opinion, and strive to make a difference. 
It is clear there are many distinctions between Generation Z and their predecessors, Millennials. Like all generations, it is wise to not generalize an entire people group based on the many similarities they possess from the environments they were born into and grew up in.
Remember that every person has a unique story, understand where they are coming from, consider the commonalities you share and how you can relate to one another. Whether you are 82 years old or 22 years old, the world we live is a broken, unstable place that is fast-paced and full of things that vie for our attention. Life can be overwhelming, depressing and lonely. Think positively about the present – I personally believe this current generation can change our world for the better. Perhaps, they are coming of age for a time such as this (Esther 4:14).
Sources:
God-Confident Kids by Cyndie Claypool de Neve
So the Next Generation Will Know by Sean McDowell and J. Warner Wallace
Growing Up Social by Gary Chapman and Arlene Pellicane
Faith for Exiles by David Kinnaman and Mark Matlock
Fearless Parenting by George Barna and Jimmy Myers
---
Christen Fox is a blogger for https://seekinggraceandgratitude.com, an online ministry that encourages Christian women to live purposeful, unfiltered lives that embrace human imperfection within God's perfect design. Christen resides in Grand Rapids, MI with her husband and four (soon-to-be 5) children. When not "momming," you can find Christen at a local fitness class, curled up with a book, hosting small groups and other events, cooking in her kitchen or wandering around her happy place – the farmers market.
Photo Credit: Unsplash/Brooke
Comments