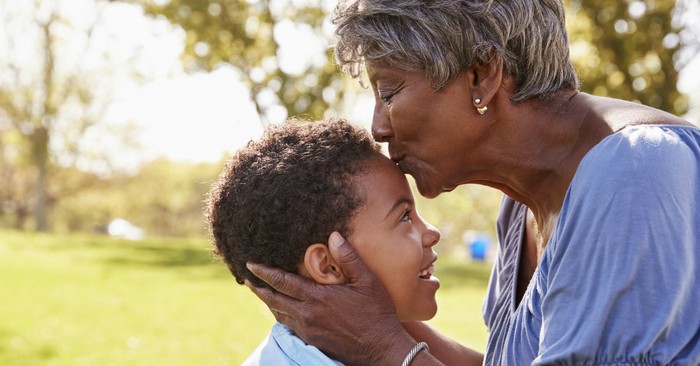 You don't have to take your grandkids to Disney Land to be an awesome grandparent. It's often the simple things that make the biggest difference. Here are 7 simple ideas to be more intentional with your grandchildren.
When my oldest boys were little, their grandparents took them on a week-long trip to Disney Land. Back then, I had no clue what a huge endeavor that was. But now, as a grandparent, the thought of taking my grandchildren on any kind of trip feels overwhelming!
Fortunately, there are wonderfully simple ways to be a grandparent that don't include expensive trips or week-long adventures. If you are wondering how to be more involved in your grandchildren's lives, here are 7 simple ways to do just that.
1. Share Your Traditions
Whether it be baking, gardening, scrapbooking, or playing the violin, share the traditions that you grew up with! Your grandchildren will love learning about their family history while spending quality time with you (and learning something new). These memories will become precious memories passed down from generation to generation. Here's a list of "sharable" traditions to consider:
Family recipes
Favorite hobbies
Skills and talents
Holiday celebrations
Birthday traditions
Photos and journals
For more about sharing your traditions, check out this interesting article.
2. Pray for Them
I can't think of a more important role than being a faithful intercessor for your grandkids. Prayer can make all the difference! Spend regular time praying for your grandchildren, and in turn, teach them how to pray. Keep a prayer-and-praise journal to record how the Lord answers. This is not only a simple way to be a grandparent, it's one of the most wonderful ways you can make a difference in their lives. Here are some specific things to pray for:
Their hearts toward God
Their minds
Their health
Their friends
Their education
Check out this article, 4 Powerful Ways Praying Grandparents Make a Difference.
3. Read to Them
Reading is a timeless treasure that never loses its value. Make books a priority in your home! To keep your grandchildren engaged, rotate your book collection and visit the library to check out new books to share. When your grandchildren learn to read, ask them to read their favorite story to you! Here are a few ideas to make reading time extra fun:
Make finger puppets to go along with the stories.
Create dioramas of the scenes in the book.
Record your voice reading the story.
Have your grandchildren put on a play for you.
Here's a list of 35 Classic Children's Books Even Adults Love.
4. Go Outside
A nature walk is a simple, healthy way to spend time with your grandchildren. Turn it into a treasure hunt by looking for leaves, pinecones, flowers, and stones. Collect items and discuss each of them as part of God's creation. Here are more ideas to make outdoor time extra special:
Have a tea party on the front lawn.
Camp out in the backyard.
Walk to a nearby park to have a picnic.
Take sketchbooks along and stop to sketch birds, trees, and flowers.
Play "I spy" as you walk along the road.
Check out this article called 50 Fun Things to Do Outside.
5. Learn from Them
Take an interest in your grandchild's hobbies and learn from them. Try your hand at the latest video game. Dance to their favorite song. Ask questions about their life, school, and friends. You never know, you might just learn something new! Try one of these conversation starters to get the lines of communication flowing:
Tell me all about your best friend.
What is your favorite video game and how do you play it?
What did you learn at school today?
Can you teach me how to do that dance?
Here are 10 Things Grandparents Can Learn from Their Grandchildren.
6. Send Mail
Today, with social media, and most things done digitally, getting actual mail is a real treat. Send notes, cards, and care packages to your grandchildren. Consider enrolling them in a book club or gifting them a magazine subscription. Your grandkids will love getting snail mail from you! Here are simple things you can send in the mail:
Stickers
Sticks of gum
Photos
Activity pages
Poems
Jokes and riddles
Check out this resource for 9 Creative Ideas for Long-Distance Grandparents.
7. Show Them How to Love God.
One of the simplest and most important ways to be a grandparent is to show your grandkids how to love God. Using Matthew 22:37 as your guide, teach them how to live out God's greatest commandment. Keep in mind, your example will be the thing that sticks with them more than anything else. Let them see how much you love the Lord and His Word. Here are a few more key Bible verses to share with your grandkids:
Here are 10 Things Grandchildren Need to Hear.
You don't have to take your grandkids to Disney Land to be an awesome grandparent. It's often the simple things that make the biggest difference. Don't make grand-parenting more complicated than it needs to be. Start with loving God and teaching your grandkids to do the same. Everything else will fall into place!
---
Jennifer Waddle considers herself a Kansas girl, married to a Colorado hunk, with a heart to encourage women everywhere. She is the author of several books, including Prayer WORRIER: Turning Every Worry into Powerful Prayer, and is a regular contributor for LifeWay, Crosswalk, Abide, and Christians Care International. Jennifer's online ministry is EncouragementMama.com where you can find her books and sign up for her weekly post, Discouragement Doesn't Win. She resides with her family near the foothills of the Rocky Mountains—her favorite place on earth.
---
---