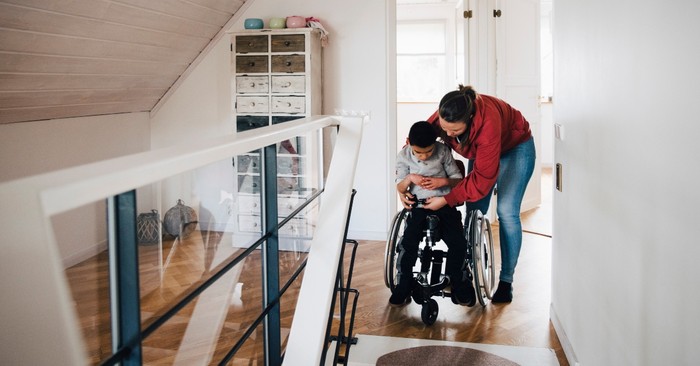 I pray daily that my son will learn to speak. I don't know if he ever will this side of heaven, just like Mephibosheth remained disabled, but I do know that God allows him to eat at the king's table!
As the mother of a child with developmental delays, it is easy for me to do two things that the Bible clearly says I am to avoid: fear and worry. When I find myself caught in the cycle of fear and worry about my son's future, I use Scripture to remind myself that:
1. God formed him.
"For you created my inmost being; you knit me together in my mother's womb. I praise you because I am fearfully and wonderfully made; your works are wonderful, I know that full well. My frame was not hidden from you when I was made in the secret place, when I was woven together in the depths of the earth. Your eyes say my unformed body; all the days ordained for me were written in your book before one of them came to be." (Psalm 139:13-16)
2. God has a plan for him.
"'For I know the plans I have for you,' declares the LORD, 'plans to prosper you and not to harm you, plans to give you hope and a future.'" (Jeremiah 29:11)
3. God uses his weaknesses for good.
"'My grace is sufficient for you, my power is made perfect in weakness.' Therefore I will boast all the more gladly about my weaknesses, so that Christ's power may rest on me. That is why, for Christ's sake, I delight in weaknesses, in insults, in hardships, in persecutions, in difficulties. For when I am weak, then I am strong." (2 Corinthians 12:9-10)
The Bible is full of examples of special needs. Blindness is mentioned several times—Isaac's sight failed him when he was an old man (Genesis 27:1); Samson was also blind due to being attacked (Judges 16:21); Paul was temporarily blinded after encountering Jesus (Acts 9:8-9); and Jesus interacts with multiple people who are blind, like Bartimaeus in Mark 10:46-51. Jacob wrestled with God in Genesis 32:22-32 and limps away with a hip injury. Mark 9:14-29 tells about a boy who has seizures and is possibly deaf and mute. Elijah's desire to die in 1 Kings 19 has led to speculation that he was dealing with depression after some very difficult times. God tells him to eat something and then comes to him in a gentle whisper. Each of these people was known and loved by God, and they spread the truth of God's love to the people around them.
Here are three more people from the Bible who had different needs and how God used them for His glory:
1. A Blind Man (John 9)
This is my favorite story about special needs in the Bible. In line with the beliefs of the time, Jesus' disciples ask about a man who was born blind, "Rabbi, who sinned, this man or his parents, that he was born blind?" (v. 2). Going against the culture, Jesus responds, "Neither this man nor his parents sinned, but this happened so that the works of God might be displayed in him" (v. 3). After Jesus heals the man of his blindness, the Pharisees ask the man a lot of questions to try to trap Jesus in some way. There is a back and forth between the Pharisees, the man, and the man's parents, and eventually, the previously blind man answers in verse 25 with what has become a famous line: "I was blind but now I see!" After this interaction ends, Jesus finds the man again and describes spiritual blindness and spiritual sight (v. 39-41).
This story is an example of miraculous healing, but most of our stories don't end that way here on earth. The bigger takeaway from this is Jesus letting us know this disability was not a result of sin, was not too much for Jesus to overcome, and physical blindness was not as detrimental as spiritual blindness.
The only information we have about Moses' speech difficulty comes from Exodus 4:10: "Moses said to the Lord, 'Pardon your servant, Lord. I have never been eloquent, neither in the past nor since you have spoken to your servant. I am slow of speech and tongue.'" A commonly accepted idea is that Moses stuttered, but it is unclear from this verse if that was his challenge. What we do know, however, is that Moses had some kind of difficulty speaking and was aware of it.
Even more aware of it, even responsible for it, and willing to provide help was God Himself. "The Lord said to him, 'Who gave human beings their mouths? Who makes them deaf or mute? Who gives them sight or makes them blind? Is it not I, the Lord? Now go; I will help you speak and will teach you what to say.'" Moses went on with his brother Aaron, and through the Lord, they led the Israelites out of slavery in Egypt and, eventually, to settle in the Promised Land.
This reminds us that God made all of us and is all-powerful and all-knowing. He may not take away our troubles, just like He didn't change Moses' speech, but He will be with us to guide us as we journey through life.
3. Mephibosheth's Feet (2 Samuel 9)
In 2 Samuel 4:4, we learn that when Mephibosheth was five years old, his nurse picked him up to flee from the Philistines and, tragically, "he fell and became disabled." Later, in 2 Samuel 9, King David is looking for anyone from the house of Saul he can show kindness to for the sake of his dear friend Jonathan, and a servant tells him that Jonathan's son Mephibosheth is alive and is "lame in both feet" (v. 3). David brings Mephibosheth to Jerusalem and shows him and his family and all of his servants great kindness. David gives Mephibosheth everything that belonged to Saul and allows him to always eat at the king's table. 2 Samuel 9 ends in verse 18 saying, "Mephibosheth lived in Jerusalem, because he always ate at the king's table; he was lame in both feet." Mephibosheth, his family, and his servants were all blessed by God through David, and an example was given to all who witnessed this friendship that disabilities should be accepted and not outcast.
This story exemplifies God providing for us without offering healing on this earth. I pray daily that my son will learn to speak. I don't know if he ever will this side of heaven, just like Mephibosheth remained disabled, but I do know that God allows him to eat at the king's table!
"Brothers and sisters, think of what you were when you were called. Not many of you were wise by human standards; not many were influential; not many were of noble birth. But God chose the foolish things of the world to shame the wise; God chose the weak things of the world to shame the strong. God chose the lowly things of this world and the despised things—and the things that are not—to nullify the things that are, so that no one may boast before him." (1 Corinthians 1:26-29)
Photo Credit: ©Getty Images/Maskot
Megan Moore is a military spouse and mom of 3 (through birth and adoption). A speech-language pathologist by training, she now spends her time moving around the country every couple of years. She is passionate about special needs, adoption, and ice cream.
Related podcast:
The views and opinions expressed in this podcast are those of the speakers and do not necessarily reflect the views or positions of Salem Web Network and Salem Media Group.
Related video:
You can read Rhonda's full article here!
---
---