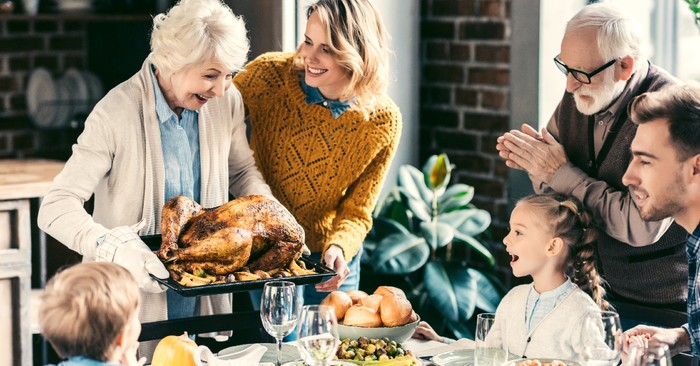 Ultimately, we need to recognize that God is the source of all good gifts, and our gratitude is aimed toward Him.
The savory aroma of turkey baking, spicy pumpkin pie, and mounds of mashed potatoes: whether you celebrate the traditional way or have your own cultural favorites, Thanksgiving Day is a favorite holiday for many because of the focus on family, enjoying time together, and being thankful. But do we take time to think about the benefits of giving thanks?
Gratitude is appreciating the blessings in our lives. It focuses my attention on the giver rather than myself. There's an element of humility to gratitude in that what we're thankful for wasn't necessarily earned, deserved, or expected. If we demand something from God or others, then it's not a gift. Thankfulness is acknowledging all we have, realizing no one is obligated to give it to us.
The greatest Giver is our Creator. Scripture reveals, "Every good and perfect gift is from above, coming down from the Father of the heavenly lights, who does not change like the shifting shadows" (James 1:17 NIV). All good things in our lives, from the next breath we take to food, drink, the sun above, and the oceans below: everything in creation is a blessing from Him. Love, peace, joy, laughter, and all we care about are gifts from God. Our family, pets, art, and all things we find fulfilling are from above.
We always have a choice to focus on what we have and be grateful or fret about what we don't have and be discontented. There are many reasons to choose gratitude. As we look forward to celebrating Thanksgiving Day, consider how gratefulness blesses us in spirit, soul, and body:
1. Gratitude Strengthens Our Spirits
When we live with a grateful spirit, we're living in obedience to God. Those who love God are instructed, "Give thanks in all circumstances; for this is God's will for you in Christ Jesus" (1 Thessalonians 5:18 NIV). We're to thank Him in all circumstances, not necessarily for all that happens. New Testament writer Paul also taught: "And whatever you do, whether in word or deed, do it all in the name of the Lord Jesus, giving thanks to God the Father through Him" (Colossians 3:17 NIV).
The Old Testament book of Psalms is filled with directives for us to give thanks. Here are a few:
"Enter His gates with thanksgiving and His courts with praise; give thanks to Him and praise His name" (Psalm 100:4 NIV).
"Praise the LORD. Give thanks to the LORD, for He is good; His love endures forever" (Psalm 106:1 NIV). **This verse is repeated throughout the Psalms.
"Let them give thanks to the LORD for His unfailing love and His wonderful deeds for mankind" (Psalm 107:8 NIV).
The Psalmist also models that thankfulness is a choice:
"I will give thanks to the LORD because of His righteousness; I will sing praises of the name of the LORD Most High" (Psalm 7:17 NIV).
"I will give You thanks, for you answered me; You have become my salvation" (Psalm 118:21 NIV).
"At midnight I rise to give You thanks for Your righteous laws" (Psalm 119:62 NIV).
Notice the focus is on God and all He's done for us: His love, act of creation, word, and salvation. Thanksgiving to our Lord focuses our hearts on Him.
2. Gratitude Enriches Our Souls
God is our wise and loving Father. He perceives what's best for us. His instructions are not meant to keep us from having fun. He understands what will give us the most joy and peace. When He commands gratefulness, He recognizes this lifestyle is most fulfilling.
Research supports the benefits of living with thankfulness:
Consistently focusing on what we're thankful for improves our mental health. Harvard Health reported, "In positive psychology research, gratitude is strongly and consistently associated with greater happiness."
Greater Good Magazine noted, "After 15 years of research, we know gratitude is a key to psychological well-being. Gratitude can make people happier, improve their relationships, and potentially even counteract depression and suicidal thoughts."
Another study found, "In general, more grateful people are happier, more satisfied with their lives, less materialistic, and less likely to suffer from burnout."
We need each other, and expressing gratitude strengthens our relationships. Researcher Tasha Howard writes, "Couples who show gratitude for their partner, and who express it regularly, feel more positive toward the partner." Take time to thank your spouse for simple things: mowing the lawn, washing dishes, doing laundry, or other daily chores. Notice the good and be thankful.
Growing in gratitude also helps develop stronger bonds and builds community, according to Reasons EDC.
3. Gratitude Promotes Health for Our Bodies
Many studies have shown that stress, depression, and anxiety have a negative impact on the heart and our overall health. We've all heard that "Type A" people might be at risk for stress-related diseases, but does focusing on what we're thankful for improve our health?
Studies done at the University of California reveal, "Those patients who generally have a more grateful disposition...sleep better, are less depressed, have less fatigue, have more self-confidence to take care of themselves, and have less systemic inflammation...this work suggested that grateful people are indeed healthier, as previous studies also suggested."
According to gratitude expert Robert Emmons, people who practice gratitude consistently experience many benefits, including stronger immune systems, fewer aches and pains, lower blood pressure, and better sleep.
Those with chronic pain might argue that they have little to be thankful for. Yet, studies in Positive Psychology have shown that practicing gratitude can have benefits such as decreasing sensitivity to pain and improving pain tolerance. Bruce F. Singer, PSY.D believes, "Gratefulness will not make pain go away but it will help loosen the bonds of suffering."
How Can We Grow in Practicing Gratitude?
We can learn to be more grateful through intentional and consistent practice. These activities have proven to help: daily prayer, keeping a gratitude journal, and writing thank you notes or making gratitude visits.
1. Daily prayer
Begin each day thanking God for being alive and for the gift of another day. Thank Him for salvation, forgiveness, grace, and love.
Thank Him before meals and throughout the day as you're aware of His many good gifts. End the day with a prayer of thanksgiving.
Sample morning prayer:
Good morning, God! Thank You for giving me another day. I praise You and thank You for Your great love for me. Thank You that Jesus died for me and has forgiven me of my sins. Thank You for Your Holy Spirit who lives in me and for another opportunity to love You and others. In Jesus' name, I pray.
Sample prayer before bed:
Thank You for this day, Lord. I give everything to You. I thank You for all Your blessings (name at least 3 from the day – food, safety, beauty, etc). Thank You that You've promised never to leave me and that Your love never fails. I trust myself into Your care.
2. Keep a gratitude journal
Make it a goal to write down a minimum of three "thankfuls" every day, if possible, or at least twice a week. Research has proven this to be effective. Mills and Redwine found, "Even a brief 10-minute bout of journaling on the topic of gratitude improves the energy profile of the heart and the cardiovascular system at large."
Emmons provides some suggestions for keeping a journal. We should focus on depth by noting details instead of trying to list numerous items. Think about why you're grateful. For example, instead of simply writing my husband's name, I might write: I'm thankful for the way my husband encourages me and tells me he loves me every day.
He suggests focusing on people and reflecting on what your life would be like without certain blessings. If I think about what challenges I would face with no plumbing, I'm suddenly extremely grateful I can turn on the faucet and get clean water.
If writing in a journal seems too challenging, consider recording your thoughts. Another possibility is to make a visual board. Take photos or use Pinterest. Gratitude mapping involves creating a visual mood board of all you're thankful for.
Consider reading Ann Voskamp's beautifully written book One Thousand Gifts for inspiration. She writes, "Thanksgiving creates abundance; and the miracle of multiplying happens when I give thanks."
3. Write thank you cards and letters or thank someone in person
Writing a thank you note or letter is an effective tool for showing thanks. Researcher Imed Bouchrika found, "Writing a letter of gratitude or even a thank you note to at least one person a week helps significantly improve mental health." Try a goal of one card or letter a week for six weeks. Emmons suggests it's even more effective if you deliver the note in person.
If writing a note feels overwhelming, try sending a thank you text or e-mail. Look for things you're genuinely thankful for. Insincerity will be recognized.
Whatever method you implement, experts say, "To truly derive long-lasting benefits...you should make it a part of your daily or weekly routine." Neuroscientist Glenn Fox makes this comparison: "It's very similar to working out, in that the more you practice, the better you get."
Keep this in mind: "Gratitude has one of the strongest links to mental health and satisfaction in life of any personality trait—more so than even optimism, hope, or compassion." – Robert Emmons, Gratitude Works!
What gratitude is not:
The focus on gratitude doesn't mean pretending life is great when you're in pain or ignoring all that's wrong. It's not magical thinking or pasting on a smile. Thankfulness doesn't erase our problems or guarantee health or success.
Gratitude means choosing to focus on what's good and what you're thankful for, even if it's as basic as waking up this morning or seeing the sunrise; or having a bed to sleep in or water to drink.
To truly live a life of gratitude, one must have someone to thank. We can appreciate and acknowledge the people in our lives who bless us. Living a thankful life is beneficial for the unbeliever as well as the one who trusts in Christ.
But who does one thank for sunshine, beauty, love, joy, peace, and all we receive so freely?
Ultimately, we need to recognize that God is the source of all good gifts, and our gratitude is aimed toward Him.
Photo Credit: ©GettyImages/LightFieldStudios
Susan Aken writes devotions and articles for Wholly Loved Ministries, is an Oklahoma native who's lived in Nebraska since 1987 and has been in public education for over thirty years. She and her husband have one son and a wonderful daughter-in-law. Besides writing she has a passion for special needs and prayer ministries. She enjoys time with family, reading, photography, movies, walking in nature, and a nice cup of tea. She believes life is a journey and we're all in different places. Jesus is everything to her and it's all about grace. Visit her at susanaken53.wordpress.com or on Facebook.
---
---