10 Easy Christmas Decorations That Point You to Jesus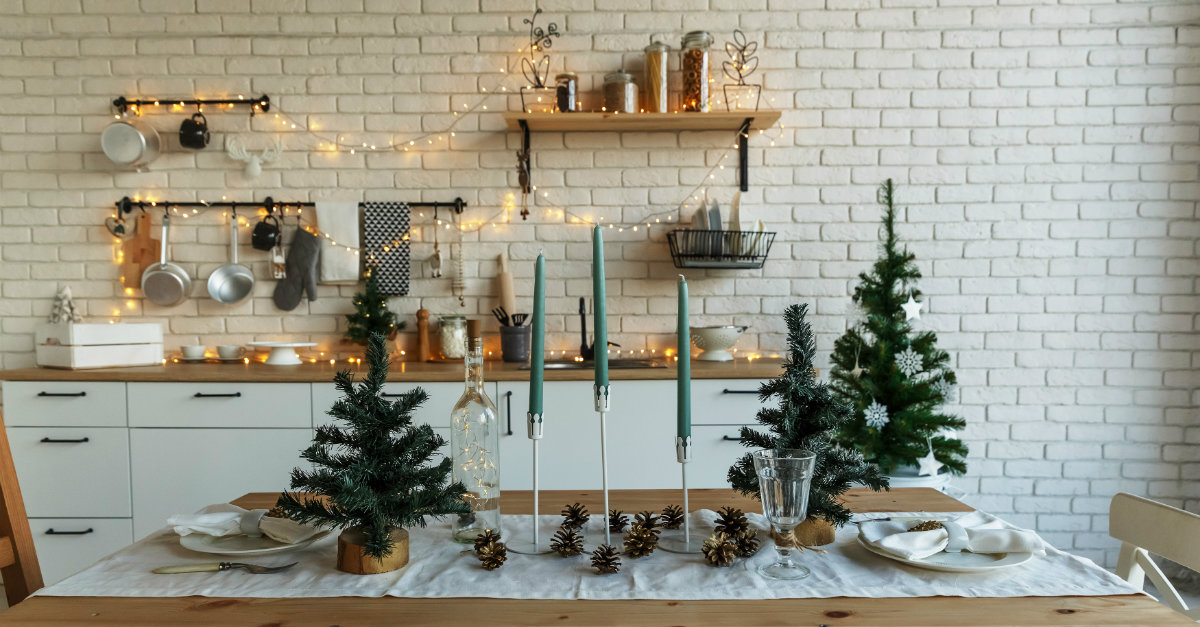 "The Word became flesh and blood, and moved into the neighborhood." (John 1:14a MSG)
It seems like we often begin to decorate for Christmas out of habit, or to make our houses look pretty for Instagram, or to impress our neighbors or coworkers who are coming over for a holiday get-together. Or maybe we're decorating because we're truly excited about the holiday season, the magic and joy of it, and we want our homes to reflect how our hearts feel.
But I wonder, how many of us look at our stockings, our trees, the lights strung up or the swag wrapped around and think of how these things can point us to Christ?
This year, consider how your decorations point you to the One for whom Christmas is all about. Run your hands along the branches of the tree, over the soft stockings and twinkling lights, and know God's abundant love for you, his joy at your joy, and his peace – which, just like his grace, is a gift you can only receive, not buy or earn.
Here are ten easy ways to decorate for Christmas while remembering Who is behind our reason for comfort and joy:
1. Christmas Lights

Slide 1 of 10

"I am the light of the world. Whoever follows me will never walk in the darkness, but will have the light of life." John 8:12 (NIV)

The simplest way to bring a festive glow to our homes is by adding light to the dark and long winter days during the Christmas season.

Place a strand of battery-operated lights on the front door wreath, or aim a spotlight on it.
Line walkways pathway with lights attached to yard stakes for easy set-up.
Adorn a small Christmas tree by the door or on the porch with a strand of lights.
Light up a tree or two in yard.
Without adding any extra decorations, a Christmas tree placed in front of a window can be seen from the outside, too!

On the inside, Christmas lights give our homes a warm glow during dark December days.

Add a strand of lights to a wreath and hang it indoors, in place of a framed picture for the Christmas season. Simple touches of light can be added inside and out during the to create a festive atmosphere, and every time we notice them we are reminded of Jesus, the true Light of the world!

Image Credit: ©Getty/Nastco

2. Nativity Scene

Slide 2 of 10

"So they hurried off and found Mary and Joseph, and the baby, who was lying in the manger." - Luke 2:15 (NIV)

The nativity scene is available in all shapes, sizes and price ranges. Consider looking for one the week of Christmas when stores usually mark down Christmas décor. If you want to avoid shopping, call the store up or look online at their inventory.

Wait until Christmas Eve or Christmas morning to place the baby in the manger, and in the days leading up to it place a piece of straw or grass each day in preparation.
Set a manger scene in an entertainment center, mantle, or cabinet that lights up, to spotlight it during the evening and early morning hours.
Add a couple of miniature Christmas trees, a little greenery or seasonal flowers behind or around it to add a festive spirit, or set it on some artificial Christmas snow. The famous scene of Christ's birth continues to be told!



Image Credit: ©Getty/manaemedia

3. Christmas Trees

Slide 3 of 10

"They will be like a tree planted by the water that sends out its roots by the stream. It does not fear when heat comes; its leaves are always green. It has no worries in a year of drought and never fails to bear fruit." - Jeremiah 17:8

If there is only time for one decoration, let it be the festive and traditionally decorated Christmas tree. Here are a few ways to make your tree special.

Add a few strands of lights and a few large ornaments to an outside evergreen.
Inside, even a small Christmas tree is enough to bring warm memories to the surface during the season. Keep it simple, with lights and a ribbon twirled around the tree, and some bulb ornaments.
Candy canes add charm to any Christmas tree's branches, and remind us of the shepherds in the fields on that first Christmas night.
Even just a tiny fresh evergreen on the kitchen table, with repurposed a Christmas light necklace lighting its branches, adds a bright touch of hope to any home.



Image Credit: ©Getty-Sinenkiy

4. Christmas Countdowns

Slide 4 of 10

"For to us a child is born, to us a son is given, and the government will be on his shoulders. And he will be called Wonderful Counselor, Mighty God, Everlasting Father, Prince of Peace." - Isaiah 9:6

Christmas countdowns have evolved since the paper chains made to keep track of the days remaining until that treasured morning Jesus was born. Now, there are decorative countdowns, and interactive calendars that involve the whole family.

Whether it's a simple piece of chocolate to commemorate each day as Christmas day creeps closer, or a candy cane moving closer to the number 25, marking the days of Advent brings a special anticipation to the season and adds a simple decorative touch to any home. Advent calendars remind us of the Christmas story, verse by verse, and many printable versions are available online.

©Getty/subwaytree

5. Pictures

Slide 5 of 10

Technology allows us to capture more of life's moments than ever before.

Take some time this holiday season to print out favorite holiday memories and place them around the house. It's not always necessary to buy new picture frames, just replace the pictures already on display with Christmas photos.
If sifting through photos and printing them off is too daunting of a task, Christmas themed picture frames can add the same touch.
Or, simply grab a page of window clings and add them to the frames without doing anything else!


No matter how we choose to display our moments and memories, it reminds us to prioritize gratitude for our blessings during the Christmas season.

©Getty/g-stockstudio

6. An Advent Tree

Slide 6 of 10

"And this is the testimony: God has given us eternal life, and this life is in his Son." - 1 John 5:11

Advent is the sacred remembrance of the Christmas season, and all Jesus means to us. God's greatest expression of love, the greatest Gift, came down from heaven the night Jesus was born.

To commemorate the season, dedicate a Christmas tree to this special time.
Add a star atop the tree to represent the star that led the shepherds to Jesus.
For each day of Advent, read a chapter of the Gospel of Luke, and add an ornament to the tree. They can be store-bought ornaments, or handmade depictions of the scenes of the Christmas story.
There are many online printable options available for those wanting to add a home-made touch to their Advent tree.



©Getty/Michael-Reeve

7. Christmas Cards

Slide 7 of 10

"Love one another. As I have loved you, so you must love one another. By this everyone will know that you are my disciples, if you love one another." John 13:34-35

Christmas cards are great decorations! Stick them to the fridge, clip them to a ribbon or string, or purchase one of the many decorative card holders available.

Fill extra picture frames with some of the beautiful scenes on the front of cards, or set them up on the mantle or entertainment center.
Keep a stack of Christmas cards, and send one each time one is received. It's an old tradition worth keeping alive, even if only to walk a card and a plate of cookies over to our neighbors.


Sending a simple Christmas card is a great way to show someone God has placed in our lives that we love them. Especially in the digital age with live in, every piece of snail mail is a small treasure!

Image Credit: ©Getty-DGLimages

8. Window Decor

Slide 8 of 10

"Let your light shine before others, that they may see your good deeds and glorify your Father in heaven." - Matthew 5:16 (NIV)

Window clings are a simple way to add a festive touch to any home at Christmastime. They are easily accessible and simple to decorate with. One of my favorite memories from childhood involves a window cling we had someone how saved for several Christmas seasons. It had hundreds of pieces that came together to display the entire manger scene.

There are many Bible verse available as window clings, too! Choose a few Christmas favorites and place them where they will be seen often through the holidays. Clings are also a good way to add a little Christmas spirit to a bathroom or a bedroom mirror, or a refrigerator that has a cling-able surface. Displaying our faith in the true meaning of Christmas allows the Truth to speak through our lives.

Image Credit: ©Getty/sofiaworld

9. Greenery and Signage

Slide 9 of 10

"A shoot will come up from the stump of Jesse; from his roots a Branch will bear fruit." Isaiah 11:1

Artificial evergreen branches, and seasonal flowers, are a great way to add holiday charm to any home.

A simple recycled jar adorned with a ribbon and filled with Christmastime flowers makes a great accent on mantles, bookcases, entertainment centers, and end tables.
Attach greenery to staircase banisters with red ribbons.
Add holiday florals and greenery to a decorative bowl to use as a table centerpiece.
Signs of all sizes to fit every Christmas theme add charm to holiday displays. These easy touches can surround a single Christmas decoration to create an entire scene.

The colors of the season added to normal, everyday spaces reminds us of how Christ fills our lives with color and life when we walk with Him. Despite the heaviness that some days bring, holiday season or not, He is always there adding a special touch to our lives.

Image Credit: ©Getty/andreonegin

10. Christmas Books

Slide 10 of 10

"The Word became flesh and made his dwelling among us. We have seen his glory, the glory of the one and only Son, who came from the Father, full of grace and truth." - John 1:14

For families that have accumulated children's Christmas books over the years, clear out a shelf on the bookcase for them this holiday season.

Spotlight old favorites by placing them in view, with a few other decorations placed around them.
Set the advent book the family reads through together on the ottoman or the coffee table beside the couch.
Christmas devotionals collected from years past can be displayed on end tables, kitchen counters, and tucked into many different places we glance every day.

They are sweet reminders of our journey with Christ each Advent. No more important during the Christmas season is reading the story of our Savior.

No matter how we choose to decorate our homes this Christmas season, the important thing to bring into focus is the Christmas story. When we make an effort to remember Jesus in every piece of our holiday celebration, He magnifies all of the efforts we take to embrace His love …and the Gift that He is. The greatest gift of all time.

Meg Bucher writes about everyday life within the love of Christ. An author, freelance writer and blogger at Sunny&80, she earned a Marketing/PR degree from Ashland University. Her first book, "Friends with Everyone," is available on amazon.com. Meg leads/teaches Bible Study in Women's and Youth Ministry. Living in Northern Ohio, she's been wife to Jim for a decade and counting, is mom to two tween daughters, a distance runner, photographer, and avid Cleveland Browns fan.

Image Credit: ©Getty/SonerCdem