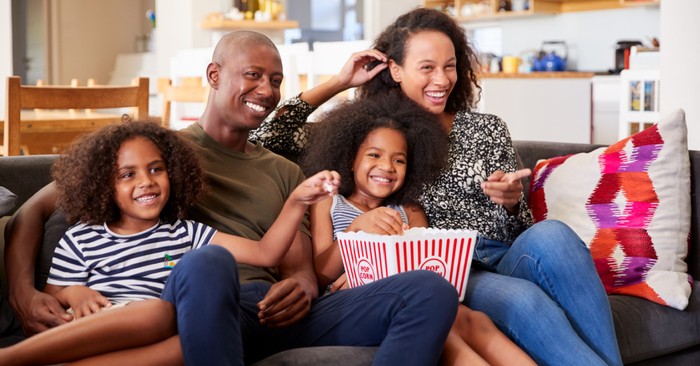 The best romantic movies are those that are wholesome for all ages to enjoy.
Valentine's season is the perfect time to watch romance movies with the family. The best romantic movies are those that are wholesome for all ages to enjoy. Unfortunately, many romantic movies are not safe for families to watch as they promote lust and include inappropriate sexual content. Below are five family-friendly-approved, even unexpected, romance movies for Valentine's:
1. Wall-E
Disney's Wall-E is the perfect Valentine's Day film for the entire family. Wall-E is short for "Waste Allocation Load Lifter Earth-class," and he is the last robot living on earth after all of the humans have left the unsafe planet. It is up to Wall-E to save the day; however, in the process, he falls in love with Eve, which is short for "Extraterrestrial Vegetation Evaluator." When Eve first meets Wall-E, she is quite hostile towards him and she doesn't have time for love—she is dedicated to the job given to her. In Eve's eyes, she does not have time for a love life. After Wall-E and Eve spend more time together, Eve warms up to Wall-E and she also falls in love with him. In addition to this cute romance, there is also adventure and comedy. Wall-E is definitely a must-see movie this Valentine's Day, promoting healthy values of sacrifice, bravery, and love.
2. A Charlie Brown Valentine
A Charlie Brown Valentine is another family-friendly romance for Valentine's. Do note—this special is more of a mini-movie rather than a full-length movie. However, it is perfect if you have younger kids or if you are short on time. In this adventure, Charlie Brown's little sister, Sally, is still eagerly trying to get Linus (her "sweet baboon") to fall in love with her and to be her Valentine. Headstrong Lucy is also trying to find love in this romantic special. Schroeder is Lucy's crush, but Schroeder is not that interested in Lucy and doesn't want to give her the time of day. Charlie Brown is looking for love, but sadly, he doesn't receive a single Valentine card… unless you count the Valentine card Snoopy gives Charlie. Who needs love when you have a dog?
3. Cinderella (Live Action 2015)
Disney's Cinderella has always been a fan favorite from the time it originally came out in 1950. While the original is always the best, the live-action Cinderella, which came out in 2015, is equally amazing and well-written. Lily James stars as Cinderella, and in this live-action adaptation, Cinderella goes by "Ella." Without the knowledge of her wicked stepmother and step-sisters, Ella goes to the grand ball with the help of Fairy Godmother. At the ball, Kit and Ella dance, although Kit doesn't know who Ella is at the time. The romance between Ella and Kit is magical and spellbinding. When Kit asks Ella her name, the midnight clock strikes, and Ella has to run back to her magical carriage. At 12 midnight, all of the magic enchantments cast by her fairy godmother wear off. When Ella runs out, one of her shoes slips off and the slipper is the only item Kit has to find his lost love. The movie is magical, whimsical, and captivating as Ella and Kit reunite.
4. The Princess Diaries
The Princess Diaries is a family-friendly movie filled with love, adventure, and a hint of romance. This film follows the account of Mia, played by Anne Hathaway, who suddenly finds out she is a royal princess. Her grandmother, Clarisse (Julie Andrews), is the current ruling Queen of Genovia and she informs Mia that she is the heir to Genovia, which was given to her after her father Philippe passed away. Mia is shocked by the news and at first, refuses to go with her grandmother; however, after talking with her mother, Mia's mother convinces her to try the "princess lessons" from her grandmother. Part of the "princess lessons" includes getting a makeover, etiquette training, and being chaperoned around in a limousine by Joe.
After having the elaborate makeover, Mia's school peers start treating her better and she enjoys it. However, after getting much more positive attention from the popular kids, Mia's best friend becomes jealous of her new social status. Mia's high school crush, Josh, becomes infatuated with Mia and asks her to go with him to a beach party, which she happily accepts. A whole scandal breaks out, which compromises Mia's dignity, not to mention her two true friendships. Over the course of the film, Mia finds true love, but in the most unlikely of places. If you and your family enjoy this first installment of The Princess Diaries, you should check out Princess Diaries II.
5. Lady and the Tramp
The fifth family-friendly movie is the classic Disney film, Lady and The Tramp. The original 1955 version is truly delightful for audiences of all ages. In this classic tale, a street dog named Tramp falls in love with a dignified, pampered dog named Lady. Tramp and Lady have two totally different upbringings. Tramp lives on the street as a stray and has had to hold his own throughout his entire life. Lady, on the other hand, was a gift from a husband to his wife. A life of pampering, love, and comfort was the norm for Lady… that is until Lady's owners bring a baby home. Tramp tells Lady that once a baby comes into the picture, it's not long until the dog is thrown out. The baby comes home and Lady automatically adores the tiny little baby. In fact, Lady becomes quite protective of this little bundle of joy.
Later in the film, Lady gets in trouble with Aunt Sarah after being framed by the evil Siamese twin cats for trying to harm the baby. Aunt Sarah takes Lady to the pet store to get a muzzle, but Lady freaks out and runs down a street where she is pursued by many shady dogs. Tramp comes to her rescue and teaches her how to live a life on the streets. He offers for her to live with him on the streets, but she insists that she needs to go home to help take care of the baby. Throughout this movie, their relationship takes turns, develops trust, and finds love. After all, who could forget about the iconic romance scene featuring Lady and Tramp dining with spaghetti? This film has a happy ending that is sure to bring joy into your heart this Valentine's Day.
A Word of Caution
Though these are only five family-friendly romances to see this Valentine's, there are many more. Disney movies are normally safe, clean productions and have a wide variety of romances in addition to the titles I mentioned above, such as Beauty and the Beast, Snow White and the Seven Dwarves, Sleeping Beauty, and more. However, you need to be cautious before watching any film, both with the kiddos and adults. There are many romances and romantic comedies out there, but they are filled with sexual content, inappropriate behavior, and profanity.
Before you watch a movie, do some research on the movie or check the rating. Websites like Focus on the Family's PluggedIn offer healthy takes on films. For physical movies, such as DVDs, Blu-Ray, and VHS, the rating is normally on the back towards the bottom. However, a word of caution: the rules behind ratings have recently changed, subjecting PG-13 movies to include more language and sexual content.
Whether you pick one of the movies I listed above or another family-friendly romance movie, I hope your Valentine's Day is filled with joy, laughter, and love.
Photo Credit: ©Getty Images/Monkey Business Images
---
Vivian Bricker loves Jesus, studying the Word of God, and helping others in their walk with Christ. She has earned a Bachelor of Arts and Master's degree in Christian Ministry with a deep academic emphasis in theology. Her favorite things to do are spending time with her family and friends, reading, and spending time outside. When she is not writing, she is embarking on other adventures.
---
---