When I posted that selfie on my social media profile, I had no idea what would happen next. Miles away, out of sight but still under God's sovereignty, his wife somehow saw that selfie.
Dots would be connected.
A confrontation between them would ensue.
And he would begin to realize what was at stake.
The photo seemed innocent, and was aesthetically appropriate. On the surface, there wasn't anything unusual: just a smiley single woman posing with a bouquet in a selfie.
But this was not just any selfie.
And I wasn't exactly a single woman:
It was the week of Valentine's. There was a surprise snowstorm, and he was in the area, so he offered to pick me up and safely see me home from work. As I climbed into the cab of his truck, there it was: a bouquet for Valentine's.
For a moment, the gesture eclipsed the stress and strain of keeping up our affair. I was grateful to be out of the cold, and in the warmth of his car – and care. And though I couldn't thank him again once he was home (with her) for the evening, I could discreetly reiterate my gratitude through social media. (Or so I thought.)
So I snapped a selfie later that afternoon, looking proud and grateful beside the bouquet. I posted it thinking he would know – and that others would be none the wiser to what the photo really represented.
I can't fully explain the details of how she saw it – and saw it so quickly – but I do believe God allowed it. And unbeknownst to me, He allowed her to see me with the gift that had the same hallmarks of a similar gift he had brought home.
The next time he could talk freely with me, he revealed all of this – including that she had confronted him. Again, I don't know all the details of what transpired between them, but I know that she suspected enough.
It was enough to cause him to second-guess his decision to seek a divorce. It was enough to chip more rose-colored scales from my eyes. And it was enough to make me think differently about selfies, even all these years later.
That was not just a selfie.
That was me hiding in plain sight.
As sad as this may be, for some people social media is one of the only access points into their lives. The day that I posted that selfie was during one of the most isolated seasons of my life. I was ashamed, afraid, and closed off – but I was still online.
There should be as much grace expressed in the virtual world of social media, as in the physical world. Especially since we're still dealing with real people in both instances. And sometimes those real people use selfies to express real moments:
From moments of worldly insecurity, to ones of confidence in Christ.
From moments that cry for help, to ones that rejoice in life and love.
Even from moments that suggest sin – to ones that proclaim victory.
The Church should learn to shine through, not shy away from, social media.
At its heart, social media is still a means by which people express themselves and connect with others. Social media is not inherently good or evil (kind of like how money isn't inherently good or evil – but how we use it is one or the other).
Yes: let's encourage modesty, exercise wisdom, and enforce healthy boundaries. But before you rush to remove someone because you're sick of her selfies, let's spur each other on to be less critical, and more Christ-like. It's okay that self-portraits are one way in which people express themselves on social media. It's also okay to compliment someone's selfie.
I'm not suggesting there aren't sometimes legitimate bones to pick about certain types of selfies (namely, suggestive ones). But what irks me more than most selfies out there, is "selfie condemnation" and "selfie righteousness".
Let's start a conversation in the comments below, but let's take our cues from Jesus and – yes – the adulteress in John 8. His example here works especially well with something as public as selfies and social media:
The scribes and the Pharisees brought a woman who had been caught in adultery, and placing her in the midst they said to him, "Teacher, this woman has been caught in the act of adultery. Now in the Law Moses commanded us to stone such women. So what do you say?" This they said to test him, that they might have some charge to bring against him. Jesus bent down and wrote with his finger on the ground. And as they continued to ask him, he stood up and said to them, "Let him who is without sin among you be the first to throw a stone at her." And once more he bent down and wrote on the ground. But when they heard it, they went away one by one, beginning with the older ones, and Jesus was left alone with the woman standing before him. Jesus stood up and said to her, "Woman, where are they? Has no one condemned you?" She said, "No one, Lord." And Jesus said, "Neither do I condemn you; go, and from now on sin no more."
For me, I learn so much from the way he doesn't allow her public stoning, but he also doesn't avoid a private and personalized exhortation. He treats her with dignity, but doesn't avoid the difficult conversation of advising her to leave her life of sin.
Please do not take this as permission to assume that your friend is posting selfies out of blatant sinfulness. There may be a woundedness or tenderness that they're trying to lessen through people's approval, instead of God's affirmation.
Or maybe they're simply sharing a smile and some joy.
Bottom line: Let's exercise as much discernment in how we react to someone's selfies, as we do with any type of photo that we ourselves post publicly online.
Whichever type of selfie-moment a friend is having, please remember it's not an accident or coincidence that you're seeing it. Instead, it's an opportunity for you to help make it a moment in her day, when she (or you) encountered that much more of God's love.
Related Articles:
3 Positive Ways Christians Can Use Social Media
Getting the Most from Your Selfies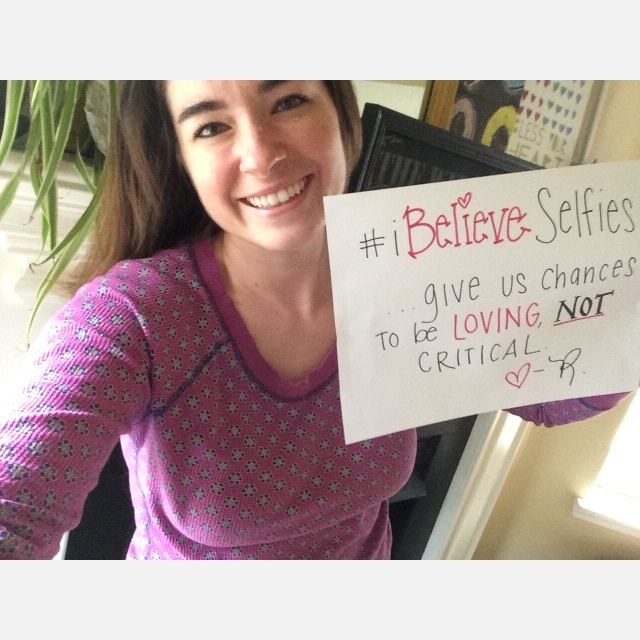 Now It's Your Turn: Tell me in the comments what this post evoked for you—what did you agree or disagree with? Let's talk! I'd also love to see your smiling face for myself, so post your best (modest) selfie on Twitter and use #iBelieveSelfies

Rebecca Halton is a professional copywriter specializing in SEO and social media, and the Author of Words from the Other Woman. She lives in Nashville, where she's been known to take a selfie…or two.