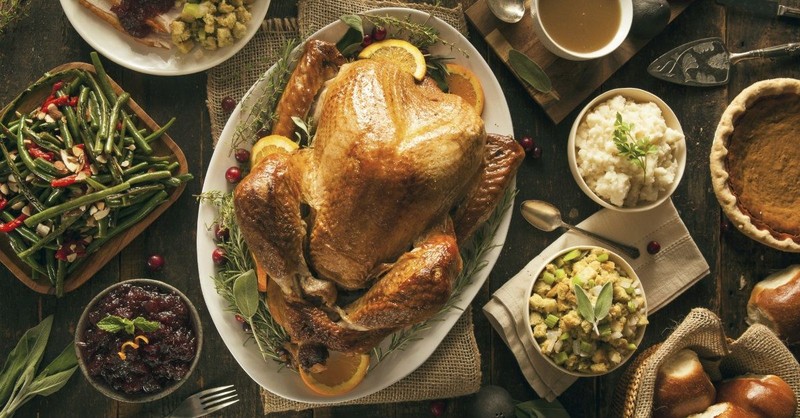 Why it's Okay to Feast on Thanksgiving

We live in a culture of excess... so why am I all for a day celebrating overabundance?
I love Thanksgiving.
Every year that I have been able to do so, I spend the better part of Thanksgiving week preparing. I make everything from scratch. I use a lot of cream, a lot of butter, a lot of sugar.
"Couldn't we just have steamed green beans with slivered almonds?" someone asks.
No, we could not. We will have green beans baked in mushroom cream sauce that I have made from scratch, topped with onions that I have breaded and browned to perfection.
"I saw a recipe for roasted sweet potatoes. We could just roast the sweet potatoes and drizzle a bit of maple syrup over them, instead of a sweet potato casserole."
You can, but I won't. I will beat butter and sugar and eggs and vanilla into sweet potatoes that have been roasted and mashed and bake it into something like pudding, topped with crisp pecans and brown sugar.
"Don't go to all this trouble -- we don't really need potato dumplings on top of everything else."
It's true. We don't need two or three kinds of pie, either, and I don't really need to make everything from scratch. We certainly don't need stuffing and mashed potatoes and dinner rolls.
We could eat oatmeal and salad on Thanksgiving. We could even make it a day of fasting, in protest against the excess consumption in American culture and in solidarity with the millions of people who struggle with hunger and malnutrition.
You may be thinking that my menu sounds terribly rich and indulgent; excessive, over-the-top, outrageous. And to that I say, of course it is: Thanksgiving is a feast day.
In America, every day can easily be a feast day. This is a land of massive portions, enormous appetites, and little in the way of balance when it comes to food: we tend toward the extremes. Either we give in to every craving or we refuse even to eat our own birthday cake.
The impulse to simplify holiday meals comes out of this, surely. Often this impulse is born of a sincere and admirable desire to push back against the oppressive overabundance of our culture to reign in our appetites and better steward our health and our resources.
I understand all of that and am in sympathy with much of it. I have been a missionary in one of the poorest countries on earth. I have seen the effects of hunger and malnutrition with my own eyes. And I know that children are developing Type 2 diabetes in this country at unprecedented rates.
But I am not sure that cutting back on Thanksgiving is the solution to excess. After all, it comes but once a year. And it is a feast day.
In other times and other places, including when Thanksgiving first began to be celebrated in America, sugar and butter and cream and meats -- things we eat on Thanksgiving -- were not everyday foods. They were for special occasions.
"Christmas comes but once a year," Ma Ingalls says as she loads the childrens' plates with as much rich food as they could possibly eat. Other days, cornbread with gravy will serve as lunch and dinner, but feast days are for feasting.
Recently I heard the observation that every time Jesus serves a meal in the Gospels, he welcomes everyone who desires to come -- he even eats with Judas when he knows Judas is about to betray him -- and there is always much more than enough. We should remember that Jesus was called a glutton and a drunkard, which is not the kind of reputation one gets for dining on steamed green beans and plain baked potatoes.
And I realized that one of the reasons I love a big, bountiful, Thanksgiving is that it is so delightfully unnecessary. No one needs the variety that a full Thanksgiving spread offers.
And yet, to me, it is a reflection of the delightfully unnecessary generosity of God, who certainly could have made all flowers alike, or no flowers at all; who could have made one kind of fish or one kind of bird instead of thousands; who could have made one color or flavor instead of infinite complexities of both; and who gave us exquisitely delicate senses so that we may enjoy it all.
I delight in an abundant Thanksgiving because it moves me to do just that: to give thanks for the beautiful, delicious, fragrant, colorful variety of it all.
Our ordinary days could -- and often should -- be much simpler than they often are. Many of us, including me, could do better at sorting out our wants from our needs, and putting more aside to share with others instead of indulging our own desires.
We could keep ordinary days ordinary, and even, now and then, fast.
Fast, and be moderate in ordinary times, so that when we keep the feast, we can be free to feast fully -- so that we may taste and see how very good, how very generous, how very delicious, varied and rich God really is.
Related Posts:
Eat with Joy: Looking at Food from a Biblical Perspective
Rachel Marie Stone is a regular columnist for The Englewood Review of Books and has contributed to Christianity Today, InTouch, OnFaith, Books and Culture, The Christian Century, and Sojourners, among other publications. Her first book, Eat With Joy: Redeeming God's Gift of Food, won the CT Book Award for Christian Living. She is also the author of The Unexpected Way, a book about the Gospels for children. Rachel lives near Philadelphia with her husband and two sons. You can find her blogging on food, family, faith, and justice at Patheos and follow her on Twitter at @Rachel_M_Stone.
Comments
---
---