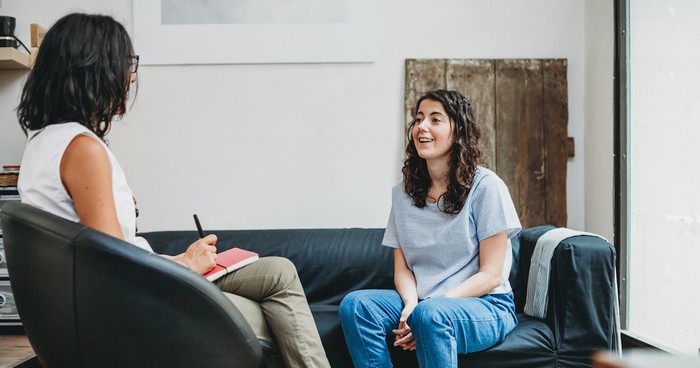 What a beautiful thought that when we embark on the path of Christian counseling, we are doing so hand in hand with the God who says, "Behold I am making all things new" (Rev 21:5).
As life's ups and downs happen, the thought may occur: Should I go to counseling? Do I need help? Should I go to a Christian counselor? First, I want to normalize this. So many people have had this same thought! It can be scary to take the first step in scheduling your appointment and finding the right clinician is important. To truly find the right fit, it takes a little bit of trial and error. It's important to understand what you are looking for in your counselor. Let's look a little more into what Christian counseling can provide and if it may be time to finally schedule that appointment.
What Is Christian Counseling?
Christian Counseling is biblical counseling. Christian counseling intentionally promotes spiritual understanding and growth. Faith and psychology are married in Christian counseling to provoke thought and discussion centered around biblical truths. It is not counseling that is unsupported by evidence-based practice. It should align at the center of tension between science and the Holy Spirit. These two things are not mutually exclusive concepts or practices, rather when joined in a counseling session they lead to healing and hope.
Someone with anxiety or family difficulties may think since it is not an overtly "spiritual" difficulty that they may not be appropriate clients for Christian counseling. However, all licensed counselors who are trained in biblical counseling are able to address each of these issues. Most Christian counselors use the same theories that other counselors use while in session. The difference between the two is that Christian counseling sees every single difficulty, struggle, and mental illness in light of the gospel.
When or Why Should You Get Christian Counseling?
Just like going to any health professional, there is a wide range of reasons and severity of struggles that bring people to Christian counseling. Christian counseling is appropriate for all mental health struggles. It is not limited to talking about specifically "spiritual" struggles. In Christian counseling, all struggles are viewed in light of the gospel. This means everything that may bring a person to counseling is appropriate for Christian counseling.
If you are debating going to counseling, it is probably already time to set up that appointment. Many people wait in hopes of their struggles "clearing up" or it being a "phase" and end up having to do more work in therapy. Just like a cut that turns into an infection, problems fester and become larger when unattended.
What Can Someone Expect from a Christian Counseling Session?
Each counselor has their own unique approach to a session. This is true for counselors who specialize as Christian counselors. If you want to know what to expect, call beforehand and gather information. Ask how they set up their appointments, and they will be able to walk you through before you begin. This will also allow you to know if they would be a good fit as your Christian counselor.
When you go to your first session, you will likely start with an assessment. This will allow your counselor to gain a better understanding of what is going on and how long it has been affecting you. As your sessions progress and the relationship between therapist and client develops, you will be able to direct the counselor in what you desire. For instance, in Christian counseling, you may ask or allow your Counselor to pray for you as you end the session. Or you may desire for your counselor to work through and compare biblical examples or characters that struggled with what you are currently facing. This is completely determined by you and your preferences.
How You Can Find a Christian Counselor
The best way to find a Christian counselor is to ask trusted individuals for references. These references may come from your pastoral staff, friends or other believers. There is, in many states, a Christian Mental Health Network that will direct you to a Christian counselor who specializes in what you need. The best way to find a Christian counselor is to be upfront in what you desire. If you want a counselor who works from a biblical perspective, ask the counselor before your appointment if they are comfortable with that. If they do not conduct sessions that way, they will tell you and have other references for you. Don't be afraid to ask! A counselor who wants what is best for you will not hesitate to direct you to a clinician who is a better fit.
Is it Wrong for Christians to Get Other Types of Counseling?
It is not wrong to receive other types of counseling. Many counselors who are operating from a Christian standpoint will be able to help you a great deal. They can be incredibly skilled in cognitive-behavioral theory, family systems or attachment. There is so much to learn from counselors who use these theories with excellence.
It is important to know what your counselor wants to focus on in the session. If their focus does not align with your beliefs, then there will be a counselor that does! Sometimes it takes a little time and research to find the right fit. As a believer, I have grown from many different types of counseling. It is important to me to find a Christian counselor that pushes me spiritually. However, I would not want to go to a Christian counselor if they were not trained and licensed by the state. A Christian counselor should prioritize excellence, as they are called to work as "unto the Lord" (Colossians 3:23). This should draw more people to Christian counselors, not simply because their beliefs align but because they are the best in their profession. You do not have to compromise good counseling for your belief in God.
Christian counseling is a gift. Over and over again in Proverbs, we are told to seek counsel. Proverbs 19:20 says "Listen to advice and accept instruction, that you may gain wisdom in the future." When we place our thoughts and feelings before a counselor who has placed their own life before the Lord, we are led by the Spirit to then place our own thoughts and feelings at the foot of the cross. This act allows us to work through our hardships in the presence of the Lord, rather than sorting through our problems apart from the Holy Spirit. This understanding helps us to invite Jesus into the healing, rather than trying to heal on our own.
There is success and healing through all types of counseling and there are a lot of studies that reveal this to be true. But, because of what Jesus did on the cross, Christian counseling is able to operate under the principle that Christ has already defeated the hardships we face. This allows us to work through the hurt the world brings, in confidence that this is not our home. This is not forever, and we will be free of all hurt and suffering in Heaven. What a beautiful thought that when we embark on the path of Christian counseling, we are doing so hand in hand with the God who says, "Behold I am making all things new" (Rev 21:5).
Photo credit: ©GettyImages/lorenzoantonucci
Allison Auld is a young professional living in SC. She is a clinical counselor with a passion to help others grow and heal. She enjoys spending time with her friends, family, and good coffee.
---
---